Back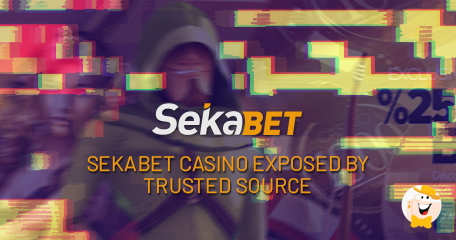 Sekabet Casino lands head-long into the dark depths of the LCB Blacklist! It is due to unpaid winnings, rude support managers and pirated video slots that the troublesome brand find themselves crossed out from the 'good guys of the iGaming industry' list.
What to do when a casino looks and acts suspicious from the get go?
What if right away there's this uneasy feeling that something is very wrong?
You listen to your gut and run the heck away, that's what!
Sounds simple, but for the victims of Sekabet Casino's unscrupulous practises, the signs and symptoms of corruption - though clearly there - were not always obvious enough.
Founded in 2015, Sekabet uses a truly massive gaming and betting platform to attract punters from all corners of the world. Over 50 providers supply casino and live dealer games, poker, bingo and sportsbook. This is where the perks stop, however, and problems begin.
Where to start?
Let's look at the games and license first. Until recently, and during an intense period of many complaints that we have received, the brand has operated under the iGaming laws of Curacao.
Now:
Everyone knows Curacao is not the pillar of online gambling integrity. As long as operators are able to pay for the permit, there are NO serious assessments, evaluations or inquiries into the business practises of their licensees. There might be some penalties, but a loss of license is not among them!
In August 2018, we noticed that the status of the brand on the website of the Curacao Commission is no longer active. We are still waiting for the official confirmation from the regulator itself, but things are certainly not looking up for this casino's fragile reputation, if they really did fail to extend the license.
Although...judging by the behavior of this brand and their many misconducts, we can say that any licenses they might be boasting are only incidental.
Another BIG issue:
Among other products, the integrated software is made up of Novomatic video slots. Can you tell what's wrong with this picture?
Luckily for players, we live in the age of information, easily available to anyone who asks. With the help of Dr. Google, you can quickly find out that Curacao-licensed sites should NOT be offering Novomatic software!
Our sister site, World Casino Directory, did an extensive search of Sekabet's platform...
...noting the presence of what appear to be pirated Novomatic slots, even though nowhere on the casino web page do they mention the provider, or the incriminating products, by name. WOD team DID manage to place real money wagers on the compromising games.
We should emphasize that Sekabet vehemently denied any piracy accusations, saying they do not offer any fake games.
Our team has a vast experience on the subject of fake games, especially counterfeit versions of Novomatic slots, which are so often targeted and exploited by black market groups. On March 20th 2018, our team sent an email asking for clarification on the origin and legal status of the integrated software, however...the operator never replied. It was on this exact date, that Sekabet was deservedly placed on the LCB Warning list!
Payments
Among the biggest issues we have personally handled are unpaid winnings. Since March 2018, we have been receiving plenty of complaints regarding slow or no payments whatsoever.
As it seems, Sekabet likes to leave their winning customers waiting for earnings for months at a time. Their modus operandi comes down to delaying withdrawals with the excuse of necessary identity verification procedures, that take unacceptably long to complete.
Unless a disadvantaged player keeps pushing, asking for their winnings and demanding answers, the casino is more than likely to never pay at all.
As for LCB Direct Support, we have been able to help several of our members reach a satisfying conclusion and most importantly, receive the money that is rightfully theirs!
One on May 29th, and the other on August 4th:
It took over 4 months of difficult negotiations with the site for the first, and over 40 days for the latter complaint to successfully resolve... but our efforts paid off and we are happy to see the complainants well off!
To summarize:
Sekabet Casino is now BLACKLISTED due to all of the above, and also the following reasons:
We currently have one pending complaint regarding unpaid winnings, with the payout request first filed as far back as February 28th!
The official Sekabet representative is ill-mannered and difficult to reach for discussion
Their Curacao license is no longer valid
Fake Novomatic games have not been removed from the website
As you can clearly see, there are fair too many troubles with this site, and almost none of the willingness to fix them. Honest players have no business with a venue as shady and rogue as this one so stubbornly wishes to be.
After all we've tried to reason with the operator, there is nothing left to do but to blacklist this site fully, and issue a public warning for punters to steer clear. Some will undoubtedly be tempted by the large selection of games that are available in all parts of the world, but once the time comes for the site to play fair...
... you'll be left dazed, confused and empty-handed.
"Sekabet Casino is now BLACKLISTED"
Casino Warnings & Rogue Reports
Back to articles