Back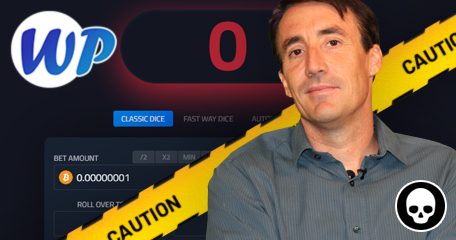 Following a player's doubts on whether Wixiplay.io displays genuine and non-manipulated Dice games, Michael Shackleford, industry's renowned expert, and top-class mathematician conducted research on his own. Upon opening the account, he followed the same steps as the punter who initially questioned the fairness.
Besides confirming the suspicions that this online casino rigged the Provably Fair system by interfering with hash functions, Mike also had a negative experience with one of the attempts to withdraw his winnings. Altogether, it was more than enough to label this brand as blacklisted and warn players to stay clear of Wixiplay.io.
Keep reading to find out details of the investigation!
Getting to Know Hash Functions
Before we share more specific details regarding Mike's experience, let's explain what are hash functions, hash matches, and hash mismatches.
The hash function is a mathematical algorithm that maps data of arbitrary size (the "message") to a bit string of a fixed size (the "hash value", "hash", or "message digest") and is a one-way function, meaning- impossible to invert.
So, the hash match is when a SQL Server combines/mixes the columns involved in aggregation or a join to match the columns either to each other or other tables.
Therefore…
…when an algorithm is being rejected because the Pre-Shared Key (password for VPN gateway) is used wrong, it indicates that there's been some errors or manipulation, resulting in a hash mismatch. It means that the hash a gateway calculated doesn't match the hash that VPN Tracker calculated- or to apply to this situation, it confirms that system was rigged.
Is Provably Fair REALLY Fair?
If we were to name one of the biggest and most widely-spread concerns among iGaming clientele, it's the fairness and randomness of the games.
Though not yet accepted as a mandatory standard…
…the system has gained a wide popularity thanks to the expansion of Bitcoin parlors. Based on the hash function and its algorithms, Provably Fair represents a mathematical method implemented to ensure that no one, neither players nor casinos, can know the result of the game before it starts, furthermore guaranteeing the venue cannot tamper with the random operation of the game.
There are numerous questions regarding the system, with some members of the community advocating the hubs use it as a replacement for a license or lab approvals. Some establishments proved that they implement an authentic system, whereas Wixiplay.io cracked the system, influenced hash matches and raised doubts about whether visiting PF online hubs is safe or not.
Wixiplay's Version of Fairness
Upon visiting this website, you will undoubtedly encounter the part where they claim that PF "adds to the transparency of our games by verifying in real time that each bet is mathematically fair and manipulation free."
There's even a separate section…
…accompanied by screenshots which should ensure punters that every roll is random and genuine and "verify the absence of deceit in the proposed games." Moreover, they state that "some users tend to take advantage of our system", which will result in account ban or closure, without notice.
On top of that…
…they delete the accounts if it has been more than 1 month since the last connection. No notice, no reminder, just BANG- account is gone, after such a shamefully short time.
WHAT happens if the situation is vice versa?!
Though we aren't authorized to close such a venue immediately, we can expose them and show the community an example of disrespectful treatment.
Long story short…
…this venue was busted for violating the system. Though certain numbers of rounds turned out to be fair, one about every ten rounds displayed hash mismatch. As explained in the thread, the player wanted to be completely sure, so he performed multiple checks.
One of the main reasons this member persistently tested the game was an attractive rebate. Since the venue proudly stressed out that "respect towards players is (our) main motivation", and offered 25% recovery from any deposit in case of loss, there were no reasons not to check this out.
If you are interested in checking out more on this, take time to see the video where Mike gave a thorough explanation regarding the issue where you will see how they changed the server seed and influenced the outcome of the game!
Troubles with Withdrawal
When BTC casinos appeared, the main reason why they became so popular was instant withdrawals. Besides top-quality releases, consumers appreciate getting their rightfully won money ASAP.
Mike was generous enough…
…to share his bad experience regarding an unsuccessful attempt to cashout the money. Some requests were immediately processed while one of them was kept on hold for more than 24 hours, only to be rejected and returned to account again.
Transaction ID leading to a non-existent page, venue accepting deposits but not processing withdrawals was a huge signal that something wrong's going on out there.
A Cautionary Tale
It could have been a good one, but unfortunately, they've chosen to take the wrong path. An example like this, unfortunately, questions the whole online gaming and puts shade on fairness and safety.
However…
…it also serves as an alert to players on what should be taken into consideration when visiting a digital entertainment hub. There will always be those trying to get away with such behavior and it's our duty to label them as a rogue and direct players to some trustworthy brands.
"Wixiplay.io cracked the system, influenced hash matches and raised doubts"
Casino Warnings & Rogue Reports
Back to articles