Back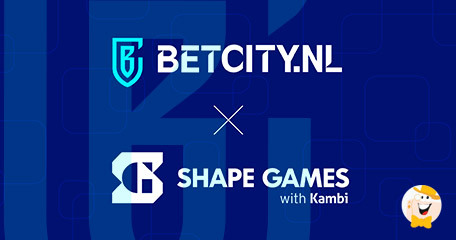 Shape Games is delighted to announce a fresh collaboration with BetCity, an esteemed Dutch online casino and sportsbook operator. The official product launch took place in August 2023, signifying a momentous stride in the Dutch gaming domain.
BetCity, a member of the Entain Group, ranks among the forefront brands in the Dutch online gaming landscape. Swift to seize the opportunity, they were among the first to introduce their offerings after online sports betting and casino gaming were legalized in the Netherlands in October 2021.
Drawing on the specialized expertise of Kambi for sportsbook services and Oryx for Player Account Management (PAM) and Casino offerings, BetCity has solidified its presence with a robust web desktop and web mobile experience accessible on its Netherlands-facing site.
More About Cooperation
With an unwavering commitment to delivering unparalleled gaming encounters, Shape Games is privileged to spearhead the development and launch of BetCity's all-new native mobile applications. These apps, compatible with both iOS and Android, empower users to partake in dynamic sportsbook and casino experiences on the go, courtesy of Shape Games' cutting-edge technology.
It's worth acknowledging that BetCity's debut coincides with a testing phase in the Dutch gaming realm. Since July 1, advertising has been banned in the Netherlands creating a challenging environment for new entrants. Despite these hurdles, Shape Games and BetCity remain steadfast in their dedication to providing Dutch players with a secure, enjoyable, and responsible gaming journey.
What Was Stated
Léon Voogt, Product Director at BetCity, says that the brand is thrilled to unveil their app to the wider audience. Having an app has been a longstanding desire for BetCity, and it's immensely gratifying that it's now a reality! Their objective was to offer complete product range through a single app, encompassing sportsbook, casino, and live casino – all consolidated in one convenient place.
He added:
"This made the development process a challenge, but with Shape Games, we found an excellent partner who helped us bring this vision to life. We are confident that with this app, we can provide an even better experience for our players and have faith in a successful partnership between Shape Games and BetCity.".
About:
BetCity stands as a prominent figure in the world of online gaming, with its roots deeply entrenched in the Dutch landscape. As a distinguished online sportsbook and casino operator, BetCity has made a significant impact within the industry.
A part of the esteemed Entain Group, BetCity has emerged as a leading brand in the Dutch gaming sphere. Recognizing the potential of the market, the firm swiftly seized the opportunity to launch its offerings shortly after online sports betting and casino gaming were granted legal status in the Netherlands in October 2021.
Source:
"SHAPE GAMES PARTNERING WITH BETCITY TO TRANSFORM IGAMING IN THE NETHERLANDS", shapegames.com, August 16, 2023.
"forefront brands"
General Gambling News
Back to articles