Back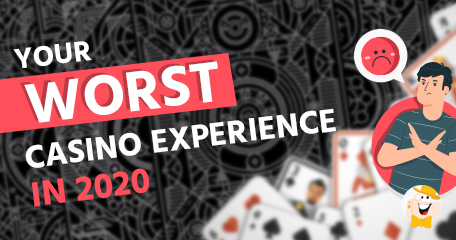 We don't normally want our esteemed forum members to revisit or relive their most painful memories and experiences. This time, though, it's for a good cause.
No, not for science. We have a brand-new contest going on until the very end of February and the theme is succinct and as straightforward as it gets: tell us about your worst online casino experience!
Season of Flashbacks
Sadly, partaking in digital gambling isn't all sunshine and butterflies, or a bed of roses, bouquet of kittens… we don't know; you get the gist.
Rogue casinos, predatory terms and conditions, refusal to pay their dues, agonizingly slow support, the lot - these are all common occurrences we get to write about every now and then and warn you about.
Chances are YOU are among the unfortunate souls who now have the one opportunity to stand up, be counted with the downtrodden and say: "Yes, I have had a horrendous online casino experience and I am still taking therapy for it."
If you did, and you do - why don't you shout it from the rooftops? It will make you feel better AND you will likely win a tempting prize.
The rooftops being our Forum, specifically THIS topic, the official place of our $500 LCB February Contest: Your Worst Online Casino Experience.
What you need to do is simply share, in your own words, the worst online casino experience you've ever had in the above Forum thread. We will take care about the rest: by entering, you become eligible to win $100 in LCB chips!
Help a Fellow Out
By sharing your negative online casino experience, you are also directly helping LCB fulfill its duty and mission of bringing value to players. We dedicate our time to combating gambling malpractice and your testimony will warn fellow players about certain casinos.
In order to enter the contest, you must be an LCB Forum member from no later than January 1, 2020.
You will find the rest of terms and rules for entering the contest at the specified Forum topic.
So, let's get honest about our bad experiences this month and win something in the process. Dive deep into your most repressed recollections. Reminisce. Revisit bad guys that deserve punishment (and they just might). Get the harmful memories out of your system.
And good luck!
"a brand-new contest"
LCB News
Back to articles