Back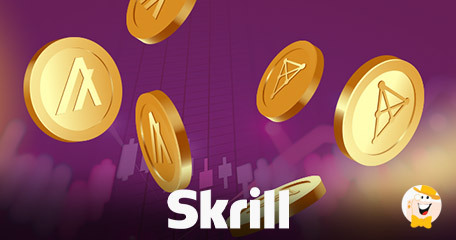 Digital Wallet with Multiple Online Payment Services Accepting New Cryptocurrencies
After adding AVAX, ICP, IOTX, and AXS in November 2022, Skrill is pleased to announce that both Algorand (ALGO) and Chiliz (CHZ) are now also available for trading in the wallet.
In case you're an avid user of Skrill and want to learn more about these two cryptocurrencies, keep reading!
Why Add Algorand?
Recognized for high performance and sustainable technology, Algorand is a Layer-1 blockchain aiming to become the first carbon-negative crypto technology in the world.
According to the CEO, Silivio Micali, ALGO is already successfully transforming economic models and fintech. The high–performing Layer-1 blockchain is delivers fast, frictionless, and inclusive quality to all customers and it is also the tech of choice for 2000+ global organizations.
The Algorand Foundation is working on becoming the Greenest Blockchain with a carbon-negative network now and in the future. The company is a highly energy-efficient partner of ClimateTrade, whose mission is to set the industry standard for blockchain sustainability.
As one of the leading digital wallets in the world, Skrill decided to add ALGO last year after the Algorand foundation announced their partnership with FIFA for the Qatar 2022 World Cup.
"The agreement means Algorand will become the official blockchain platform of FIFA and provide the official blockchain-supported wallet solution," said a spokesperson of the international governing body of association football at the time.
On top of that, Algorand will also be a FIFA World Cup Qatar 2022 Regional Supporter in North America and Europe, including FIFA Women's World Cup Australia and New Zealand 2023 official sponsor.
An even bigger reason for adding ALGO is that the new FIFA NFT platform (FIFA+ Collect) is also powered by the Algorand blockchain.
Therefore, all users ready to start trading ALGO can open a Skrill account and make some transactions.
What is Chiliz?
As announced, apart from ALGO, Skrill is also adding Chiliz (CHZ) to its ewallet. This ERC-20 token runs on an Ethereum-based blockchain developed for sports and entertainment.
From now on, fans can purchase and trade branded fan tokens and participate directly on the platform. The new virtual asset also serves as currency that allows users to purchase NFTs at Chiliz' Socios fan token marketplace.
CHZ is also trading against popular fan tokens such as AC Milan, Argentina and Portugal.
Source:
"Introducing Algorand and Chiliz", skrill.com, January 20th, 2023.
"Algorand (ALGO) and Chiliz (CHZ) are now also available for trading in the wallet"
Casino Banking
Back to articles