Back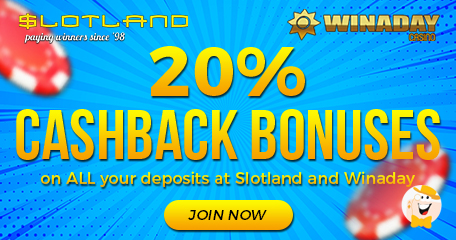 Reaching certain milestones is always a wonderful thing and we like hearing about it – what we at LCB are most fond of, however, is when these history-making moments are player experience-oriented. Slotland and Winaday Casino are among such operators who care for their players so much that they award them for awarding them!
What we're talking about, of course, is the recent cashback program milestone these two casinos hit last week. A total amount of $250,000 in cashback has been given away so far, with the magic line transgressed in late May – with Sir Jack, the representative who is active on our forums, kindly giving a $100 gift to Yan Jiang who pushed the cashback amount over the $250,000 milestone line!
Here is how their cashback plan works: for every $250 deposited by registered members, 20% is given back (which is $50). If there is any "excess" deposit over the $250 amount, that is carried over to the next time a player wishes to claim the cashback. That amounts to 20% on every deposit members make for each of the casinos separately! The cashback program started way back in 2012 and is, obviously, active today with great success.
For any of our fellow LCB members interested in joining this amazing cashback program, look no further than this thread on our forums:
You are in for a treat, because Jack is so generous he will even give away free cash when certain milestone pages are reached (pages 300, 333, 400 etc.). All you need to do if you're interested in receiving the cashback is post your username and deposits – the rest is on Jack.
"A total amount of $250,000 in cashback"
Promotions & Bonuses
LCB News
Back to articles