Back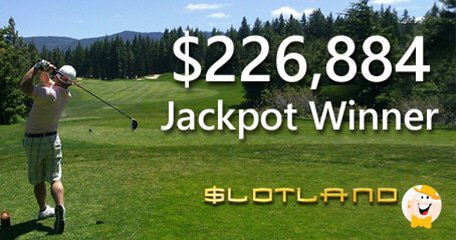 Popular Gaming Spot Throws in Bonuses After Jackpot Reset
Known for bringing unique games to the iGaming world and an even better customer support service, Slotland is considered as one of the entertainment hot spots in the online gambling sector for over 22 years.
Recently, a player has won a $226,884 progressive jackpot and the operator is ready to throw him a party with bonuses on progressives, running from 26 May to 1 June, 2021 while his idea is to play golf and take his luck to the gambling capital of the world, Las Vegas.
From Tracks to Tables
Jackpots don't come for free and they certainly don't occur often. However, a regular player at Slotland has just won a $226,884 jackpot playing Jacks or Better Progressive, a video poker variant and one of 29 games tied to the unique casino's site-wide progressive jackpot.
Thanks to this streak of luck, the winner plans to help out his son, buy a golf course membership and throw a party with friends to celebrate this special event.
The story of our winner, Jack R., a property development advisor, goes way back to winning a few dollars at the tracks. However, this time, he's won a large prize, big enough to make a significant change on quality of his life.
"I picked a winner in the Kentucky Derby once, but that was years ago," said the winner to a customer service agent at Slotland.
Jack R. was convinced that wins like this only happen to someone else.
He shared some of the details from his personal life and reflected on his son's difficult situation who has been out of a job for a few months. Jack admitted he's been helping him out for some time now, so he wanted to surprise the whole family with a vacation.
"I haven't told many people about this yet. I'm going to throw a big surprise party and tell everyone then," added the winner.
"I love golf. So, I'm also going to get myself a membership at the best golf course in Kentucky!"
A Card Player's Luck
Although Slotland is primarily known for its selection of unique slot games, such as Alice in Wonderland, Ninja Power, Neon Reels and Phantom of The Opera, Jack usually goes for some table games, since he is a skilled card player.
"I've loved playing cards since I was young. I started playing online last year when all the casinos closed. I got my vaccine, so I might just go to Vegas soon and see how this luck goes on the strip," explained the winner.
Commenting on the $226,884 win, Jack had this advice for other players:
"Play for fun. Don't play in bad mood. Just hope for the best!"
Since Slotland's progressive jackpot increases with every bet placed and resets to $50,000 after a win, the operator wanted to help other enthusiastic members by launching a spree of bonuses that are available until Tuesday, 1 June.
To claim this offer, players must place a deposit between $30 to $300 and use the bonus code WINNER. Offers can be played on any progressive jackpot game and there is even a special 125% deposit bonus for all slots & keno up for grabs.
Log in to your Slotland account today and see if luck is on your side.
"Recently, a player has won a $226,884 progressive jackpot "
Promotions & Bonuses
Back to articles