Back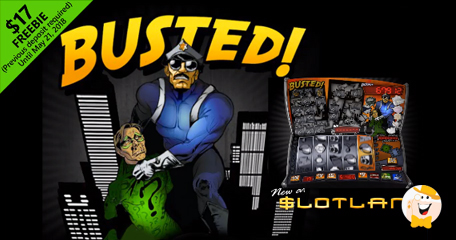 An entirely new addition to the portfolio is on the horizon at Slotland, as the famous online casino launches, Busted, a cops-and-robbers inspired story with fast-paced features and two spin buttons. Additionally, the operator is getting ready to announce fascinating introductory treats, freebies and crypto-bonuses, available until Monday, May 21st. Grab a chair and have a more detailed look at the promo details in our brief report:
Players who want to celebrate the newly released Busted slot will be offered a selection of early access bonuses including a $17 freebie (bonus code, 17FREEBIE) and an exclusive cryptocurrency treat for deposits in Bitcoin, BCH or Litecoin (bonus code, CRYPTOSPINS). Moreover, the venue is throwing a special contest with $2,650 in prizes – the top 25 players that make the most spins on the newly added, Busted, between May 15th and May 21st, will claim awesome cash prizes up to $350!
Whilst revealing some of the game's highlights, Slotland's manager, Michael Hilary, said that players should direct all attention at The Double Up and Cops and Robbers bonus features, which might just increase all wins beyond their wildest dreams. There are two spin buttons in the game – Cop and Robber. To trigger the game's special features, punters must collect extra symbols that correspond to preferred characters and when all five symbols are in place, the bonus game begins. However, further rolling of the dice on the board helps the cop in catching the robber, which ultimately leads to the reward.
Lastly, Busted has an incredibly wide betting range, and players can begin for just a penny, ending up with a maximum of $68 per spin. Bear in mind that the game is bound to the casino's progressive jackpot, which is currently at $275,000. To discover more details, visit the promotions page and grab each one-time deposit bonus, including 40%, 77% and magnificent 120% for placing a wager. Good luck…
"want to celebrate the newly released Busted slot"
Promotions & Bonuses
Back to articles