Back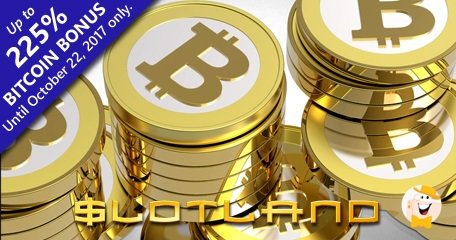 Slotland is still at it. We reported a couple different batches of 19th birthday festivities in recent weeks, and the casino STILL isn't done. The site has made the official announcement that it now accepts Bitcoins for deposits and withdrawals. Bitcoin deposits are credited instantly, and withdrawals processed the next business day. Such deposits are automatically converted to USD as well.
Site manager, Michael Hilary, commented, "Bitcoins are perfect for online transactions. We can process Bitcoin transactions really quickly – players have their withdrawals by the very next business day. For many players, Bitcoins are the easiest, safest and quickest way to get their winnings!"
Hilary added, "You know you're always getting the current Bitcoin exchange rate. Our system takes the average of the top three Bitcoin exchanges and updates every 15 minutes."
Players will have the opportunity to get accustomed to the new currency with several BITCOIN deposit bonuses:
Receive a 225% Match Bonus by using the code, BTC225.
Use code, BTC75 to claim 75% Match Bonus.
Finally, snag a 50% Video Poker Bonus by inputting the code, BTC50.
All bonuses may be claimed twice daily and are valid through October 22nd.
The site is still celebrating its recent Chinatown slot premiere, with additional bonuses continuing through the end of the month.
Use any deposit method for this week's exclusive Birthday Bonuses (valid through 10-22):
Input code, BDAYDEAL200 to claim a 200% Deposit Bonus.
BDAYDEAL110 can be used to receive a 110% Deposit Bonus.
Finally, a 70% Deposit Bonus is up for grabs when you use the code, BDAYDEAL70.
"What would really make this birthday party complete would be a big progressive jackpot win! It often goes much higher than $130,000, where it's at right now. But fingers crossed someone gets lucky and hits the jackpot before our birthday party ends," continued Hilary.
"new currency with several BITCOIN deposit bonuses"
Promotions & Bonuses
Bitcoin
Back to articles