Back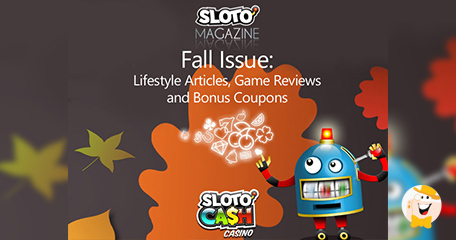 Fall Bonuses, Great Tips & Many Other Surprises
In Europe and North America, the days are getting shorter, and leaves are soon to change color. These are sure signs that the fall is soon to arrive, but they also indicate one more thing- The Fall Issue of Sloto Magazine is to hit the shelves as well.
Just like the previous issues, this one accommodates an abundance of excellent lifestyle tips and game reviews. On top of that, there's a Calendar of fall bonuses in the centerfold, giving players a unique opportunity to claim some of the hottest promos on the market.
Launched in Spring 2016, Sloto Magazine is one of a kind magazine that gives players much more than just a collection of run-of-the-mill info. This authentic e-publication by Sloto'Cash Casino is distributed to consumers via e-mail four times a year.
The Season of Transitions
As usual, we shall introduce you to a couple of lifestyle tips found in the Fall issue of Sloto Magazine. There's an interesting article on "How to become a sweetheart," which emphasizes the power of communication, positivity, and actions as key guidelines for transforming yourself into a sweeter person and fulfilling all your goals and dreams.
Casino manager Stephen Vaughn pointed out as follows:
 "The change of season means all kinds of transitions. This issue of Sloto Mag has articles on how to enhance your well-being and optimize your way of life."
Leafing through the Sloto Life section…
…players can also find out how to get the most out of autumn and learn how to "carpe diem". Roasting chestnuts, baking pie, and sipping cider are just some of the best ways to have fun in one of the most colorful seasons of the year.
In addition to this, The Fall Lifestyle article gives tips on saving energy and reducing utility bills by checking for air leaks, drying the clothes on a clothesline, and so on.
If you are a fan of the Life and Adventures of Mr & Mrs. Sloto, then you will most definitely enjoy Chapter 26, which sees new parents returning home with their little robo-baby.
An Interesting Presentation of Nine New Slot Games
Powered by Realtime Gaming, Sloto'Cash Casino accommodates quite a colorful selection of slot games, with new adventures being added regularly. In the Fall issue of Sloto Mag, the editor picks three favorite releases - Meerkat Misfits, Lil Red, and Fortunate Buddha, giving a complete insight into all the mighty features.
Plus, there's a bonus coupon for 100 free spins on the new Meerkat Misfits, as well as a full review of the new Sweet 16 Blast also with a coupon for 100 free spins. Also, players can find a password for the $4000 Free Roll Slot Tournament that begins September 15th.
For those who want to boost their knowledge on slots…
…the new Sloto School article features the editor's insightful lesson on four types of slots (3-reel, 5-reel, All-Ways-Pay, and Progressive Jackpot), suggesting their favorites in each category.
Finally, readers can have fun solving this issue's cryptocurrency-themed crossword puzzle. A correctly solved crossword puzzle reveals special bonus coupons.
What's your favorite section of Sloto Magazine? Let us know in the comment section below!
Source:
"Sloto'Cash Casino Players Are Watching Their Post Boxes -- the Fall Issue of Sloto Magazine is in the Mail", Sloto'Cash Casino press release, August 24, 2022.
"more than just a collection of run-of-the-mill info"
General Gambling News
Back to articles