Back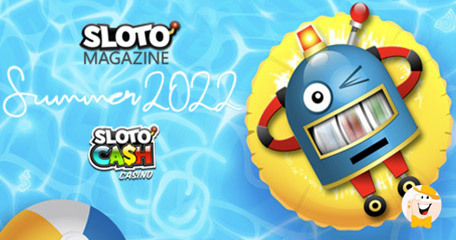 Coo Bonuses, Hottest Tips, Insightful Reviews & Much More
It's that time of the year when the summer issue of Sloto Magazine goes live, and we are more than happy to fill you in with all the surprises hidden beneath its covers. Inspired to make the world a better place, the freshly released edition features lifestyle articles, game reviews, and tips for online casino players, along with lots of coupons and bonus offers.
As a small reminder, all players registered at this US-friendly online casino receive a complimentary copy of Sloto Magazine four times a year. The Summer issue has already been mailed to players all over the world, equipping them with new knowledge and opportunities to collect some rewards.
Part of the iGaming industry since 2007, Sloto'Cash Casino is widely famous for its frequent and rewarding promotions and bonuses. Teamed up with Realtime Gaming and Visionary iGaming, the operator accommodates the most colorful selection of slots, table games, and live dealer content.
Making the World a Better Place
One of the central themes of the newly launched magazine is finding inspiration to make this a better world and ways to embody a peaceful attitude that spreads to others.
Commenting on the summer issue of the magazine, casino manager Stephen Vaughn said:
"At Sloto'Cash, we believe in the power of positivity and of our contribution in making this a better world. We're living in a troubling time so it's important to strengthen our minds and bodies and to work together to rebuild our world with peace and justice for all."
In the "Be the Change" section…
…readers can find the very best tips on becoming a better person by contributing to not only their own but the well-being of others as well. It gives links to organizations dedicated to fighting injustice, preserving nature, and many others.
Leafing through the "The Laughing Cure" section, players can learn more about how and why laughter really is the best medicine. Also, this edition teaches players how to cultivate inner calm and positive energy during turbulent times.
Boosting Knowledge
For those among you who are into science, the Sloto Space feature explores some of the coolest findings in recent months including icy craters on Mars, volcanoes on, and global cooling on Neptune. Aside from taking a closer look at those findings, players can claim a set of space spins by entering a bonus code.
There's no better way to learn something new and have fun at the same time than to solve a crossword puzzle, isn't that so? That's why this edition comes with two of those- one is dedicated to Julius Caesar while the other is crypto-themed.
Brief Review of Newest Addition to the Portfolio
Like in all other previous issues, players have the opportunity to check out reviews of hot new games. This edition brings lots of info on Copy Cat Fortune, Penguin Palooza, Fortunate Buddha, and Run Rabbit, Run. Review aside, there are bonus coupons, to have a couple of spins and feel the atmosphere.
As a final surprise, the centerfold displays a Calendar of Bonuses available through the summer.
If you are curious to catch a glimpse of the summer edition of Sloto'Cash magazine, take a look at the video. Let us know which section is your favorite one in the comments below.
Play responsibly!
"We are more than happy to fill you in with all the surprises hidden beneath its covers"
Promotions & Bonuses
Back to articles