Back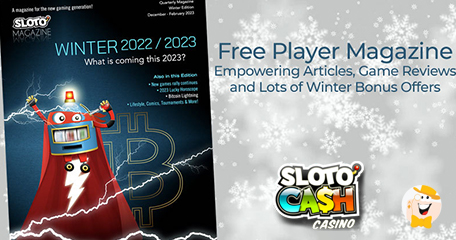 Newest Issue of Player's Favorite Magazine Crowded with Surprises
Mornings are getting chillier, which means that winter is just around the corner. This season is all about decorating your home and preparing gifts for your loved ones. When taking a break from those entertaining activities and warming yourself with hot chocolate or tea, here's what you can do- catch a glimpse of the newest issue of Sloto'Cash Casino's player magazine.
That's right, you've read it well, the winter edition of one of the most popular e-publications is out, bringing a plethora of surprises for its fans. In addition to a multiverse of coupons for free spins and bonuses, the magazine displays exciting Trivia Contests, as well as passwords for tournaments and all kinds of tips for empowering life.
As a small reminder, Sloto'Cash Magazine is distributed to players all over the world via e-mail four times a year. The idea for this authentic publication designed by Sloto'Cash Casino was born a couple of years ago, with the first issue going live in the Spring of 2016.
Catching a Glimpse of Action-Packed Games
One of the most interesting sections of the magazine is The Games Rally, which brings re-caps of recently introduced games. This time, players can take a closer look at Count Cashtacular, Merlin's Riches, Divas of Darkness as well as this year's new Christmas game, Santa's Reel Wheel.
Casino manager Stephen Vaughn commented on the newest issue of the magazine:
"As we wrap up another year, we take a look at the Hottest Games of 2022 - the slots that have had the Most Spins, Most Wagers, and Best Payout Rates. Since we're always looking forward too, this issue also gives a sneak peek at what we have in store in the coming year."
Speaking of, there's a brief preview of new games that will hit the shelves this winter- Goblins: Gluttony of Gems and Mermaid Royale. As you can probably assume, The Santa vs Rudolph slots trilogy is always popular during winter holidays, which inspired the operator to come up with a special surprise for players. There are Double Comp Points on Return of Rudolph, Rudolph's Revenge, and Rudolph Awakens.
What's even more, this issue includes its annual Luck Horoscopes with interesting suggestions for the best games for players born under each sign of the zodiac.
Lots of Opportunities to Score Prizes and Learn More About BTC
If you are a fan of bonuses (and who isn't, by the way?), don't miss the opportunity to take a look at the centerfold. There's a three-month calendar of bonuses, with plenty of coupons to get extra play time this winter. We also mentioned contests and tournaments, as additional opportunities to lay hands on valuable rewards.
Furthermore, there's a unique opportunity to catch a glimpse of the new and exciting developments in the works at Sloto'Cash Casino. One of the most promising upcoming addition is the Bitcoin Lightening and the new Mr. Sloto's Crypto Site. Find out how quick and easy it is to use cryptocurrency for online casino deposits.
Coolest Tips for Better Life
Sloto'Cash Magazine is much more than just a collection of bonuses and game reviews- it's also a place where a variety of handy tips for a better life are found. That's precisely why players love this publication so much.
To start with…
…there are Tips for Climate Action, to help mitigate climate warming, such as the advice to plant a tree, drive less, and so on. The Sloto Lifestyle section brings ideas for being financially smarter in the New Year, such as the idea to run a financial calendar.
As the 22nd edition of FIFA's World Cup has already begun, all eyes are on Qatar this year. That's what inspired the magazine's editor to share some World Cup predictions. Take a look at their favorites for the Top 5 and a couple of underdogs the team believes could really surprise the world.
Source:
 "Sloto'Cash Casino's Free Player Magazine Has Empowering Articles, Game Reviews and Lots of Winter Bonus Offers", Sloto'Cash casino press release, November 28, 2022.
"distributed to players all over the world via e-mail four times a year"
Casino Software
Back to articles