Back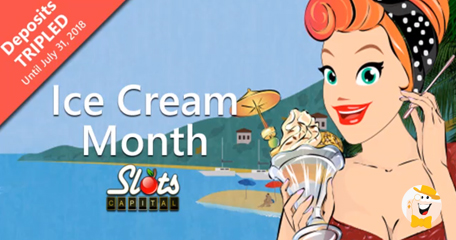 Each year, July is celebrated as Ice Cream Month all over the planet, but for those who are not familiar with the U.S. tradition, here's a short lesson in history: National Ice Cream Day is celebrated on the third Sunday in July, thanks to the Joint resolution 298, that was sponsored by Senator Walter Dee Huddleston of Kentucky on May 17, 1984. In similar fashion, Slots Capital is celebrating the occasion with a 300% deposit bonus until the end of July. Additionally, the platform is launching a new game from Rival Gaming called, Lucky Labyrinth.
So, to increase the flavor of your favorite ice cream during hot summer nights, the casino's blogger, Slots Lotty invites you to have a taste of tripled deposits at the venue and read her latest blog about the origins of ice cream called "Lotty's Adventures." Gelato or ice cream is widely considered as the perfect dessert, but who invented it? Unfortunately, there is no written evidence of how it all started, but it is said that the ancient Greeks set up a basic recipe for what is now known as a magical summer treat by mixing snow, honey and fruit. Sounds incredible, does it not?
However, there is a lot of rumor among the historians that the first true ice cream was introduced by Catherine de' Medici in the 16th century. A century later, King Charles I of England paid to keep the formula secret, making ice cream a royal treat, unobtainable by common people. To correct this injustice and provide triple benefits to players, Slots Capital encourages all participants to enjoy the month of July at the hub and claim three times as much money to play with.
Grab the opportunity, use the coupon code LOVINGJULY300 and place a deposit up to $500 to enter. There are no maximum cashouts imposed, but further wagering requirements apply. Check the terms and conditions before you proceed and have a wonderful time at Slots Capital in July!
"National Ice Cream Day is celebrated on the third Sunday in July"
Tournaments, Promos & Bonuses
Back to articles