Back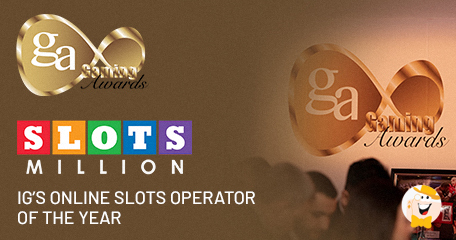 Broadly beloved online casino, SlotsMillion, has snapped up an esteemed accolade during this year's International Gaming Awards ceremony held this past week at London's Savoy Hotel.
Coming on top of a tough competition, they were named Slots Operator of the Year and henc, wrapped up their spell at IGA's 12th iteration in grand style.
Unofficially referred to as "The Oscars of the gaming industry" to point out just in how high a regard this event is held among iGaming companies...
...IGA celebrates the very finest of both the online and land-based casino world. During this year's event, renowned developer, Yggdrasil, also took home laurels for Innovator of the Year.
Two in a Row
This particular acclaim is the second consecutive one for SlotsMillion and its parent company, ALEA – last year, it was them that won the Innovator award. In total, over the past three years, the brand was shortlisted for nine IGA awards in total.
The casino's official statement regarding this triumph goes as follows:
"We are truly honoured and proud to have been given this award, especially among such stiff competition. Everyone here at SlotsMillion is dedicated to creating the best possible gaming experience for our players, and we're thrilled to have our hard work recognised while simultaneously being able to give something back to our community."
The final ceremony event included the charity auction (sponsored by ALEA) whose proceeds went to Care International, Children with Cancer UK, Breakthrough Breast Cancer and The Responsible Gambling Trust, among others.
Three Turning Points
SlotsMillion is revered for having one of the most majestic selections of slot games in entire business...
...and that feat is accomplished through continued strategic efforts, such as the one signed with ORYX Gaming in October. This turnkey solution provider's platform contains gaming content from multitude of operators, resulting in a colossal library of over 6,000 titles – now available at SlotsMillion!
Merely a month later, this online gaming spot became available in the Nordic region...
...right after the launch of the brand's first Virtual Reality Casino, clients in Norway, Sweden and Finland who are more inclined to enjoy traditional online gaming gained access to site's inexhaustible slots collection.
As a cherry on the proverbial cake, the year ended with ALEA's forging of alliance with Groove Gaming https://lcb.org/news/alea-and-groove-gaming-enter-partnership, prompting co-founder, Alexandre Tomic, to state:
"Our philosophy at SlotsMillion centers around providing the best possible gaming experience to our players, and that involves offering high-quality games from top providers, which is why we sealed this deal with Groove Gaming."
Source:
"We are IGA's online slots operator of the year!", slotsmillion.com, February 5, 2019.
"SlotsMillion, has snapped up an esteemed accolade"
General Gambling News
Back to articles