Back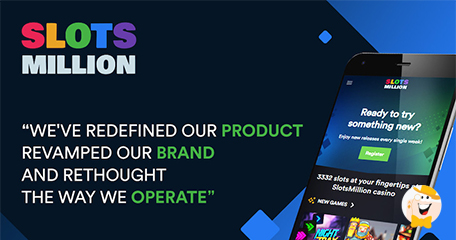 International online casino provider SlotsMillion has just enhanced its Responsible Gambling strategy with the presentation of a new Player Protection team. This year is the most important for the provider, as it has already marked huge milestones in the industry.
The last two years were incredible for SlotsMillion as it has completed multiple projects while also building its customer base by delivering games and regular entertainment with a focus on security and responsible gambling strategy. The brand split the B2C and B2B operations, conducted a full rebranding, and launched a new user interface across all operating markets.
What Else Was Achieved?
SlotsMillion has also gone live in Sweden while modifying its offering to the UK market via a new offer that has been well accepted by customers. The company has also added up to 1000 games for its players, continuing with its brave ambitions. The provider of versatile content has also reaffirmed its focus on social responsibility via the introduction of the new Player Protection team. The new squad will perform Anti-Money Laundering and Responsible Gambling functions and mitigate risks of excessive and criminal spending.
SlotsMillion will continue to train and teach other members and operational departments to ensure that RG is integrated into customer interactions.
Speaking on the new milestone, SlotsMillion's CEO, Charles Gross said:
"The past year has been enormously ambitious and significant for SlotsMillion. We have redefined our product, revamped our brand, and completely rethought the way we operate in an increasingly saturated market.
"It could even be said that it has been one of our most important periods in terms of reshaping our modus operandi, our objectives, and paving the way to an entirely new phase marked by innovative projects and the recruitment of new talent to join our team in order to achieve our many goals."
Additional Observations
SlotsMillion is also focused on providing responsible gambling solutions to its players. Speaking on that occasion, Gross added that Responsible Gambling has been one of the key strategies of the company, even before the industry changes from the past years. They have been focused on refining and improving the approach to Responsible Gambling. He continued:
"Even though we carried out a rebranding process, our core values have remained intact: to offer a remarkable online casino experience to players marked by the variety and quality of choice, and a customer-first approach in everything we do."
The company is proud to see that the diligence from the last year has opened the doors for a promising future. The company believes that its capacity and innovation will bring to light even more success.
Source:
"SlotsMillion Launches new Player Protection Team Following Most Significant Year to Date", europeangaming.eu, July 14, 2021.
"SlotsMillion has just enhanced its Responsible Gambling strategy"
General Gambling News
Back to articles