Back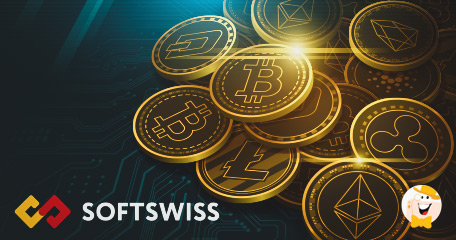 Growing Popularity of Digital Payment Assets
SOFTSWISS, one of the leading software developers of crypto-friendly online casino solutions has shared trends from Q3 2021 regarding this popular payment asset. Compared to the same period last year, the most recent data clearly indicate continuous growth.
In addition to this, the company has conducted a large-scale survey, wanting to evaluate the level of customer satisfaction. What distinguishes this brand is top-level customer service, a wide spectrum of aggregated content, and a diversity of cryptocurrencies.
Being part of the industry since 2009, SOFTSWISS is the very first online gambling software company to start working with cryptocurrencies. Its ever-growing network has more than 900 employees and is present in multiple countries. At the time being, the inventive solutions provider gathers 300+ brands.
Total Bets Placed in Crypto
One of the key conclusions made from the Q3 2021 data is that that the volume of bets placed in cryptocurrencies is on the continuous rise. Compared to the figures which encompass the same period last year, the growth was 2.8 times.
To be precise…
…6,741,932,212 represent total bets placed in Q3 2020, while Q3 2021 amounts to an impressive 18, 914, 645, 507. As for the current year, Q2 14,702, 290,641, which compared to Q3 represents more than a solid increase of 28.65%.
According to Andrey Starovoitov, COO at SOFTSWISS, the increasing share of crypto in iGaming is due to the following:
"This strong growth is not only due to SOFTSWISS' organic development but also owes itself to increased digital consumption around the world. iGaming companies are investing more and more into marketing. This leads to an increase in the popularity of online gaming and betting among female audiences and young players over the age of 21 who actively use cryptocurrencies in their daily lives in general and for online betting in particular."
Supremacy of Crypto over Fiat Currencies
Cryptocurrencies seem to be the payment method of choice for a growing number of consumers. Compared to Q3 2020, the share of bets in crypto versus fiat has increased by 27.6% in the same period in 2021.
Expressed in exact percentages…
…84.3% of customers opted for fiat currencies, while 15.7% selected crypto during the second quarter of 2020. In 2021, 56.7% of clients chose fiat currencies, while 43.3% of them placed bets using crypto assets.
Analyzing data from Q2 and Q3 this year, the results show a 10.3% rise. from 33% to 43.3% respectively. According to Starovoitov, the continuous increase is most likely due to the development of new digital currencies.
What's the Situation Like in Sportsbook Sector?
Unlike the casino sector, fiat currencies are still predominant in the sportsbook sphere. In Q3, 98.76% of bets were made in fiat currencies, compared to only 1.24% in crypto.
Aleksander Kamenetskyi, Sportsbook Product Owner, believes that the reason for the lack of cryptocurrencies in this sector is that the companies launching their services and products were not initially focused on this banking option. However, he's positive that this method's popularity will gradually grow in the future and become a currency of choice in this niche as well.
Source:
"Crypto Trends in iGaming SOFTSWISS Insights", softswiss.com
"the most recent data clearly indicate continuous growth"
Bitcoin
Back to articles