Back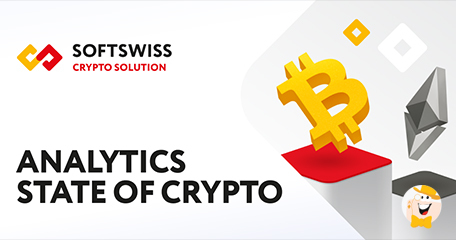 SOFTSWISS, an aggregator and provider of excellent gaming solutions, has just presented in-depth analytics on the status of crypto gambling in 2021, as well as the forecasts for 2022.
SOFTSWISS is the first company to start dealing with cryptocurrencies for online casinos back in 2013. Currently, the brand has the position of the iGaming industry leader in the crypto gambling sector. The enterprise unveils statistics and reports on the evolution of cryptocurrencies in the industry providing customers with detailed reviews.
The data introduced in the article is a part of the brand's report on the state of crypto in 2021. It shows the results of the SOFTSWISS Aggregator and its Casino Platform.
What About Crypto Bets?
The rise in the number of wagers in cryptocurrencies during the year confirms the international trend that cryptocurrencies have become stronger in the market after becoming more popular for casino customers. Compared to January 2021 when the share of wagers made in crypto was at 23%, December of that year shows that number almost duplicated to 40.1%. In addition, the volume of wagers in crypto over the same time enhanced by over 2x, precise by 259.21%.
COO at SOFTSWISS, Andrey Starovoitov says that Cryptocurrencies have long been not only a trend in the gambling sector but an apparent stage in the evolution. With important benefits connected to transaction speed, as well as market boundaries, the utilization of cryptocurrencies creates significant chances for players and operators. This leads to regular growth. The industry representatives who won't build their business in this direction in the future risk losing an advantage in the competition for users and the statistics are clear.
About Crypto and Fiat Currencies
Fiat currencies are the first choice of most players but crypto is slowly taking over. During the year, the percentage of wagers in fiat currencies reduced by 23.6%: from 88.2% in 2020 to 64.6% in 2021. At the same time, cryptocurrencies recorded a growth of 20.1%.
The COO added:
"Cryptocurrencies have long ceased to be an attribute of IT geeks. This is a global phenomenon and its impact on the global economy cannot be denied. The iGaming market is adapting to a new reality in which cryptocurrencies will become as important (if not more important) than fiat in the next couple of years.
Convenience, speed, and usability are their huge advantages. SOFTSWISS took into account all these factors and created an entire ecosystem for its clients, which, in part, is made possible by the Cryptoprocessing solution by CoinsPaid,".
When it comes to the top choice, Bitcoin is still the number one option with about 80.11% of all wagers in crypto being made with bets BTC. It is followed by Ethereum and Litecoin.
As for the providers working with crypto, the list includes BGaming, Platipus, Evolution, Booming, and Betsoft.
Source:
"Crypto Analytics: Trends and Tendencies of the iGaming Market", softswiss.com, March 24, 2022.
"reports on the evolution of cryptocurrencies"
Bitcoin
Back to articles