Back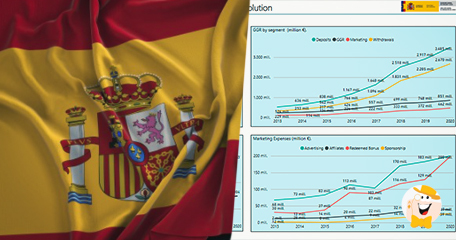 Spanish national gambling regulator, DGOJ, has published the full annual financial report for 2020 and revealed that, as a compendium of the quarterly gambling report, is a step that precedes the publication of the Spanish Gambling Market Data.
In the report, it was revealed that the total gross gaming revenue for the gambling market in 2020 was EUR 850.78 million, which is a 13.7% year on year increase.
Increased Spending
Both deposits and withdrawals were on the upswing, with a boost of 19.48% and 21.10% year over year respectively.
2020's marketing expenditure was EUR 462.12 million, which is up 24.23% in comparison with the previous year.
Promotions were boosted 52.94%, advertising boosted 9.14%, sponsorship went up 28.78%, affiliates decreased 2.15%.
From the total revenue of EUR 850.78 million, EUR 336.14 million is attributed to sports betting which is 42.92%, EUR 16.52 to bingo, EUR 350.80 million to online casinos, EUR 8.01 million in contests and EUR 110.3 million in online poker.
Slots and Sports Betting
On a yearly basis, sports betting has actually declined 3.48%. However, during 2020, in Spain there was a major increase in other betting types - over 80%.
Also, in respect to the year before, bingo went up 30.16%.
Casino segment, which grew 28.39% on a yearly basis. The slots were the genre that contributed the most to this rise. In 2020, slots represented 55.91% of the entire casino segment, which is a 25% rise year-on-year. Live Roulette also grew 62.21%, while regular Roulette declined.
Poker grew 35.72% on a yearly basis, as Poker Tournaments represent a 70% share of this segment.
Since it was opened in 2018, poker share liquidity with Portugal and France, five of these platforms have been in Spain.
Marketing Spending Rose Too
In terms of marketing expenditure, 2020 saw the leap to EUR 461.12 million: EUR 38.51 million in affiliation expenses, EUR 26.64 million in sponsorships, EUR 197.26 million in promotions and EUR 199.71 million in advertising.
Monthly average of active game accounts was 871,829 which implies a 3.48% decline.
Two pivotal events in Spain in 2020 were from April 4th to June 10th, a major restriction on advertising and promotions, which were part of the social and economic measures during the pandemic. The other was approval of Royal Decree on November 3rd regarding commercial communications of gambling activities.
Source:
"National online gambling market", ordenacionjuego.es, March 30, 2021.
"the total gross gaming revenue for the gambling market in 2020 was EUR 850.78 million"
General Gambling News
Back to articles