Back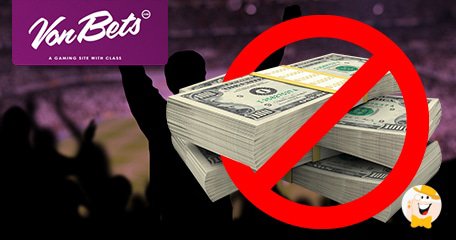 ''Your satisfaction is our top priority, no question is too big, no problem is too small''. VonBets may have a way with words, but they seem to have lost all sense of direction in what should have been a proper casino management. Barely a year old, it wasn't long before the site started giving players a lot of trouble over sports betting and earnings, perhaps even with other gaming brackets that we are not aware of at the moment. It would not come as a surprise, since customers are reporting unpaid or delayed winnings, and unresponsive support. The agents no longer acknowledge players' inquiries, and it's been a while since we ourselves last heard from them, so we took the silence to mean they are not interested in discussing or solving these issues. We're not happy it has come to this, but you all know what happens next - a warning sign.
All is not Fair in Love and Sports
The problems with this site seem to have started two months ago, at the end of April, when we received the first in a series of complaints, from a player who won two bets on a football match between Barcelona and Osasuna. Ovca, as he is registered at LCB, received winnings from both after the event was over, but the one for €1000 was mysteriously gone from his account balance the next day. It took three e-mails to support to get an explanation finally - the bet in question had an odds mistake due to a technical error and was voided according to VonBets terms and conditions.
As far as Ovca could understand, it was implied that he was ''comparing odds in an odds field'' and seeing the mistake, attempted to take an ''unfair advantage''. However, he was already a registered member who deposited and played before this event even happened. Additionally, the bets were placed a whole seven hours before the match started - plenty of time for the casino to notify him about the alleged mistake.
Here is what their terms of service say about this particular occurrence:
''7.19. Vonbets reserves the right to declare a Bet void, totally or partly, if it is obvious that:
Bets have been offered, placed and/or accepted due to an Error;
Bets has been made to an odds that clearly is wrong and stands out from odds offered by other gaming companies
Bets have been placed after the event has started or after any deadline set by Vonbets (Live betting excluded where these are allowed by Vonbets);
Syndicate betting has occurred;
Player has influenced the outcome of the match in any way;
The result has been affected by criminal actions – directly or indirectly.''
While the rules are clear, it is our opinion that Ovca's case should be exempt. Due to the following reasons: a) his bets were accepted before the match started; b) he won and received the money to his account; c) the casino failed to notify him that the odds were wrong, which they obviously knew about. It looks like they've made their decision assuming that the player surely knew the odds were not correct, but you can't disadvantage a customer based purely on assumptions. The least they could do is offer compensation; however, we were informed in the last e-mail received from the site, that their decision is final.
A Pattern Emerges
Even though this complaint was not resolved, other players chimed in with their own problems, and so we spent the entire month of May trying to get through to VonBets. In a similar fashion, once a player sends verification documents, the casino cancels their withdrawals, without a word of explanation, and stops responding altogether. Winnings are either confiscated, or stuck in a perpetual pending status. A few complainants have eventually received money, like Xapiguapi and Avatron, who managed to withdraw after several failed attempts and no assistance whatsoever from the support.
The most frustrating thing about all of these cases is the complete and utter SILENCE from this site! Not even after processing long-awaited withdrawals, do they bother to let players know their issues have been dealt with. If they are having problems with payment processing, technical malfunctions, or maybe lack qualified support agents, the least they can do is post a notice. We doubt this is the reason, however, simply because they are always on the ball when confiscation of winnings is in order. Due to this, we have no reason to doubt delays and aloofness are very much intentional.
Best Stay Away
We will keep you updated about any future developments, as we are quite anxious to finally hear what they have to say on the matter, although one can't be too hopeful. Until then, it is in your best interest to refrain from either betting or playing games at VonBets.
Update June 16th, 2017: VonBets Casino has suspended operations and the website is no longer available. Upon trying to access the site, a notification comes up, advising customers to contact the license holder, WL Services N.V, and request deposit refunds via the following e-mail: vonbets.payments@wlservices101.com. At this moment, wo do not know if anyone has had success retrieving deposits.
"it wasn't long before the site started giving players a lot of trouble over sports betting and earnings"
Casino Warnings & Rogue Reports
Predatory Terms
Back to articles