Back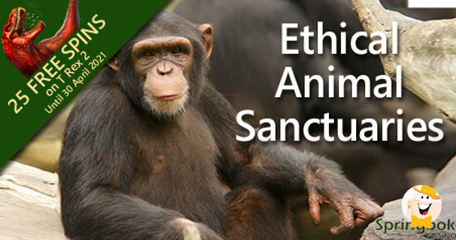 Springbok Casino has introduced another promotion, saluting ethical animal sanctuaries for Orphaned and Injured South African Wildlife. As part of the deal, players can take 25 casino spins on the T-Rex 2 slot until April 30th.
Animal sanctuaries across South Africa save and rehabilitate orphaned, confiscated, or injured animals. All around the continent, there are shelters for endangered elements including elephants, lions, rhinos, chimps, monkeys, birds, and reptiles. Springbok Casino has presented its latest deal, honoring the heroes at havens from Limpopo to the Western Cape.
On this occasion, Springbok's manager, Daniel van Wyke said:
"A big red flag is the promotion of lion cub petting. These places aren't sanctuaries. They're breeding and exploiting animals for profit!"
The promotion will see famous casino showing videos about 11 Ethical Animal Sanctuaries such as:
Bambelela keeps orphaned and injured monkeys saved from troops and replaces them with monkey-friendly farms.
C.R.O.W. (Centre for Rehabilitation of Wildlife) in Durban has supported over 3000 orphaned and injured species including mongoose, genets, and antelope.
The Jane Goodall South Africa Chimpanzee Sanctuary is the shelter of chimpanzees saved from the bush meat trade, traded in the black pet market, orphaned, or rescued from circuses.
Lions from awful environments live out their lives in tranquility and dignity at Drakenstein Lion Park.
Traumatized rhino calves, just a few days old, are taken to The Rhino Orphanage where they get specialist care.
To find more about Springbok's Ethical Animal Sanctuaries check this page: http://springbokcasino.co.za/animal-sanctuaries
Available Promotion
As part of the animal sanctuaries mission, Springbok casino invites players to check the new T-Rex 2 slot and qualify for the 25 bonus spins. The promotion is available under the Coupon Code: SANCTUARIES and valid until April 30, 2021.
More About Famous Site
Springbok is an excellent casino from South Africa, featuring versatile games and a remarkable offering. Apart from accepting local players, the site is a perfect place for all interested customers worldwide who can enjoy the home atmosphere. The platform includes regular promotions and campaigns, which promote the continent and present the South African world, culture, animals, and tradition.
Playing at Springbok is always exciting thanks to the powerful graphics and eye-catching features. Moreover, the site is accessible both from desktops and mobile devices, allowing users to enjoy full convenience. When it comes to the catalog, the site features over 300 casino games and 150 mobile titles and promise to become a player-favorite.
"take 25 casino spins on the T-Rex 2 slot until April 30th"
Promotions & Bonuses
Back to articles