Back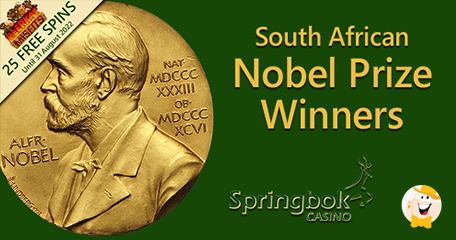 Meet SA Nobel Prize Winners and Explore a Feature-Filled Game by RTG
Wanting to offer its players much more than just ordinary online casino bonuses, Springbok Casino came up with a wonderful idea for its monthly campaigns and, we can freely say so, turned it into an authentic tradition. Every month, this popular South African operator launches a promotional campaign where players can not only score a generous amount of free spins but learn something new about this wonderful country as well.
Until the end of August, players can take a look at the retrospective of SA Nobel Prize winners and their immense contribution to various fields. Max Theiler, Aaron Klug, and Nadine Gordimer are just some of the widely acclaimed individuals from this corner of the world. In addition to boosting their knowledge, customers can claim a bonus on Meerkat Misfits, a feature-filled slot adventure by Realtime Gaming.
Let's Salute the Great Ones!
Springbok Casino did excellent research and compiled a list of exceptional people who received Nobel Prizes for valuable contributions in literature, medicine, chemistry, and many other fields.
To start with Dr. Max Theiler, who became the first African-born winner of the prize in 1971, 71 years ago, when he successfully developed a vaccine to combat yellow fever.
While in the field of Medicine…
…we should also mention Dr. Allan Cormack (1924–1998). He won the Nobel Prize for Medicine in 1979, (shared with Godfrey Hounsfield) for the integral role he played in the development of X-ray computed tomography (the CAT scan). Then, Sidney Brenner was part of the team that created the first computer matrix analysis of nucleic acids using TRAC. The team received a Nobel Prize for Medicine in 2002.
Sir Aaron Klug's work with electron microscopes earned him the Nobel Prize in Chemistry in 1982, while Michael Levitt won the Prize in the same category in 2013 for his molecular research.
Nadine Gordimer won the Nobel Prize for Literature in 1991. She edited Mandela's "I am prepared to die" speech and wrote novels related to the issues of apartheid and other political issues. John Maxwell (JM) Coetzee was justifiably awarded in the same field in 2003 for his dozens of acclaimed essays, critiques, and novels.
Albert Luthuli led the ANC for 15 years between 1952 and 1967 during their non-violent Defiance campaign. He won the Nobel Peace Prize in 1960 for his non-violent resistance against the apartheid regime. Desmond Tutu led many anti-apartheid marches and lobbied many world governments and received the Prize in the same category in 1984.
How to Claim 25 Casino Spins on Meerkat Misfits Slot?
If you are interested in laying your hands on 25 free spins, all you have to do is enter a coupon code: NOBELPRIZE. This promo is active until August 31, 2022, and can be used on the Meerkat Misfits slot only.
Developed by Realtime Gaming, Meerkat Misfits is a high volatility slot game with four meerkats whose mission is to protect the animals of the African savannah from poachers. Organized as a 5x3 grid, this game accommodates 30 fixed paylines and a maximum win per paid spin of 50,000 times the bet per line.
Aside from a gang of memorable characters…
…this game is all about action and rewards, mainly thanks to an inventive feature named Stages features. Every time the feature is activated, a player can progress through 4 different stages each equipped with more valuable increasing win multipliers. Meerkats themselves act as Wilds, and serve as a replacement for all the other icons, except for Scatter, which is in charge of triggering the said Stages feature.
As usual, Springbok Casino has prepared an insightful video, so take time to watch it and find out more about SA Nobel Prize winners. Play responsibly!
Source:
"Springbok Casino Salutes S. African Nobel Prize Winners + free spins on new Meerkat Misfits slot", Springbok Casino press release, August 1, 2022.
"enter a coupon code: NOBELPRIZE"
Promotions & Bonuses
Back to articles