Back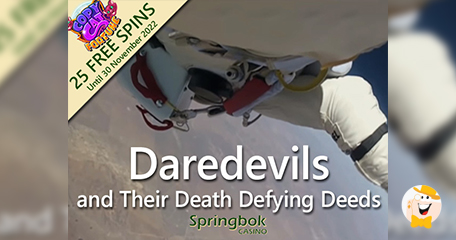 South African Casino Pays Tribute to the Biggest Single Stunts in History
The most educative South African online casino is back in November to pay tribute to death-defying daredevils and look back at some of the most dangerous stunts ever performed by humans.
Springbok is also celebrating their once-in-a-lifetime success by giving away 25 promo spins on Copy Cat Fortune until November 30th, 2022. The cartoon-themed slot machine from RTG comes with mystery stacks, reel copy feature, super and mega complimentary minigames, so make ready for action!
"I Shouldn't be Alive" Moments
There are no boundaries to human spirit. We have always looked for ways to leave a trace in history, but some brave souls even took it to the next level.
Although it's not in our psyche to pursue high risk behavior and expose ourselves to mortal danger, there are people in this world who just love the thrill of daring the devil.
In this month's educative article by South Africa's favorite iGaming destination, Springbok Casino, we will learn more about unbelievable Daredevils and their Death-Defying Deeds.
Have a look at the list of some of the most inconceivable stunts ever to be performed by humans:
Sebastian Steudtner is famous for surfing the biggest wave ever on 29 October 2020, reaching an impressive 26.2 meter called Nazaré wave in Portugal
Victor Vescovo, an explorer and businessman, descended nearly 11 kilometres into the Pacific Ocean at the southern end of the Mariana Trench to make the deepest dive ever
Manjit Singh broke a world record as strongman at Battersea Park in 2012 by pulling a double-decker bus 21.2 metres with his hair
Robbie Knievel, son of America's most popular stunt performer was the first person to jump the Grand Canyon on a rocket-propelled motorbike
Back in October 1829, the Yankee Leaper, Sam Patch, became the first person to survive jumping over Niagara Falls with no protective devices
Perhaps the most famous stunt ever occurred in 2012 when Felix Baumgartner made the highest skydive ever from the edge of space, jumping 38,969 meters
Sounds incredible, right? You can find out more on Springbok if you're mindblown by these facts!
A Little Something for Gaming Daredevils
As a special gift for its reader fanbase (and other members of course), Springbok is giving away 25 promotional spins on Copy Cat Fortune from Realtime Gaming.
Launched in February 2023 in a cartoon style, the provider's hit title comes with a Reel Copy feature that can duplicate symbols to create multiple chances for winning.
If you want to claim some complimentary spins on this game in November, follow the instructions below:
Log in or sign up and go to the Promotions section on Springbok
Select the Copy Cat Fortune offer from the list and
Use the coupon code DAREDEVILS to claim the offer until November 30, 2022
You can find out more about this fantastic offer over at Springbok by looking the video below:
Good luck!
"some of the most dangerous stunts ever performed"
Promotions & Bonuses
Back to articles