Back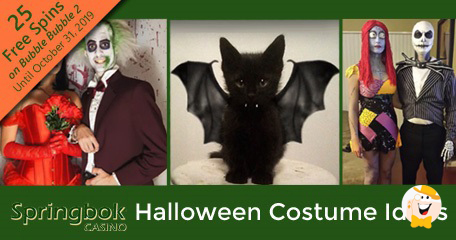 The world's favorite October holiday is slowly but surely sneaking up on all of us and even though some of you are still enjoying those last beach days or poolside chill sessions, it's time to make a run-down of the upcoming fashion trends for Fall… or strictly speaking, Halloween.
To help us define the fashion landscape for October 31st, South African Springbok Casino is bringing some freestyle costume ideas for couples, families and pets… from Disney movies to Marvel super heroes.
Let's see what styles they had in mind and whether their costume ideas can really live up to their names, since leaving a mark on Halloween fashion trends this year is not an easy task.
Funny, Scary and Downright Cute
Decoding the most important fashion trend that will filter you into a zombie, witch, pirate, unicorn, ghost or something even more relevant to pop culture, such as a superhero, a Star Wars character or perhaps Wednesday Addams can be a challenge. To narrow it down, South Africa's biggest and best online casino Springbok has come up with an inspiring collection of Halloween costume ideas, aiming to help everyone's juice flow, ranging from baby and pet outfits all the way to couple and family disguise.
The casino's guide to key Halloween trends for couples includes fashion looks that appear to be part of the same story, regardless of the genre. Whether you're a sci-fi fan or perhaps crave for cartoons, comics, toys, celebrities, artists, animals or social media, being open to all these outfit ideas is a good start.
However, if you're planning to find favorite matching outfits for an entire family, see what Springbok's Family Halloween Costumes video has to offer – you can get the whole fam in the spirit by picking ideas from Disney movies together or you can become the next Avengers simply by combining superhero cosplays.
Likewise, pets can be fun to dress up! Springbok has made a special video about Halloween Costumes for Pets featuring a cat as a bat and a dog as a ballerina. In other videos, you can find more ideas about the funniest, scariest and the most creative outfits for this year's spookiest holiday, all in one place!
October Spins Warmup!
To get its players into the mood before they update their wardrobes and get ready for one of the largest commercial holidays around the world, South Africa's favored online casino is launching a free spins October casino bonus.
The offer is available until October 31st, 2019 and it features 25 extra spins on Bubble Bubble 2, a very popular Halloween slot by Realtime Gaming. Players can claim it with coupon code, COSTUMES, and for those of you who are not familiar with this 2017 release, let us just say that it features two sexy witches, Winnie and Wanda, plus three deluxe bonus rounds that increase winnings and playtime. Apart from the expanding wilds with 9x multipliers, scatters can trigger up to 33 free games.
Slots at Springbok are played in Rands and customer support is available in Afrikaans and English. Trick or treat?
"freestyle costume ideas for couples, families and pets"
Promotions & Bonuses
Back to articles