Back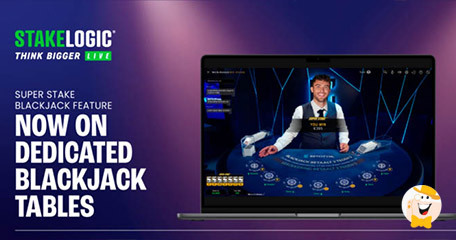 Stakelogic Live, the foremost provider of top-tier live casino content, is poised to revolutionize the live casino blackjack experience.
Since its launch in November 2022, Super Stake Blackjack has garnered immense popularity among both operators and players. Its success has prompted Stakelogic Live to integrate its standout features into all dedicated American Blackjack games.
The Super Stake feature introduces a game-changing element, allowing players to amplify their primary bets anywhere from double to a staggering one hundredfold, significantly augmenting the potential for winning on every hand. To activate this feature, players will need to place an additional 50% bet on top of their initial wager. Subsequently, up to six Multiplier Cards will be displayed on the player's user interface, each revealing a multiplier of up to fifty times.
In the event that the player emerges victorious and possesses one or two of the displayed cards, their winnings will be multiplied by the corresponding multiplier.
Official Statement
Speaking on the latest launch, Dejan Loncar, Head of Live Casino at Stakelogic Live, says that given the tremendous success of Super Stake Blackjack for Stakelogic Live, incorporating its features into other Blackjack tables was a straightforward decision. This enhancement to dedicated live blackjack tables is poised to elevate the blackjack experience to new heights, ensuring blackjack tables remain the most thrilling offerings in the market.
A Word About Company
Stakelogic is a prominent software provider in the world of online gaming, known for its commitment to innovation and delivering top-notch gaming experiences. With a focus on creating visually stunning and engaging casino games, Stakelogic has carved out a significant presence in the industry.
What sets Stakelogic apart is its dedication to pushing the boundaries of technology and design. The company's games are characterized by cutting-edge graphics, immersive soundscapes, and unique gameplay features that keep players coming back for more. Whether it's classic slot games or modern video slots, Stakelogic consistently delivers high-quality content that captivates players.
One of Stakelogic's standout features is its "Super Stake" mechanic, which allows players to increase their bet for the chance to trigger extra features and bonuses. This innovative approach to gameplay adds an extra layer of excitement and engagement to their games.
Stakelogic's commitment to fairness and security is evident in its adherence to strict licensing and regulatory standards. Players can enjoy their games with confidence, knowing that they are playing on a platform that prioritizes integrity and transparency.
With a diverse portfolio of games that spans various themes and genres, Stakelogic caters to a wide range of player preferences. From fruit-themed classics to adventurous video slots, there's something for everyone in their extensive library.
Source:
"SUPER STAKE BLACKJACK FEATURE TO BE ADDED TO ALL DEDICATED STAKELOGIC LIVE BLACKJACK TABLES", stakelogic.com, September 6, 2023.
"standout features"
General Gambling News
Back to articles