Back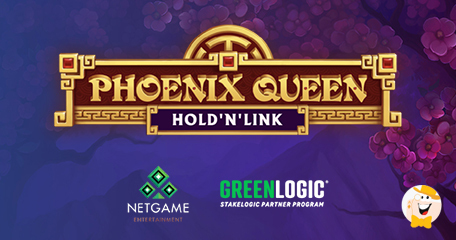 Stakelogic, a fast-increasing provider of casino games, has joined forces with NetGame Entertainment to take players into the world of mystery in the latest game, Phoenix Queen Hold 'n' Link.
The online slot comes with high volatility and has been created to bring back the power of the phoenix. Its design is focused on myths and magic with every single spin.
When it comes to the main elements of the game, you can see The Lotus and Queen symbols. As for the typical symbols here, the user will find a Money Tree and various bird symbols with special color schemes.
More About Features of the Game
The bird topic is another excellent feature of the game. The combination of incredible colors and designs makes the title special for players.
The main game consists of Wild symbols that replace the highest paying elements in the winning combo. In addition, the Base Game also enables the player to activate bonus features of the title. For example, Hold 'n' Link is set in motion via Base Game. However, the Bonus Spins feature can also be entered after the Hold 'n' Link bonus.
By landing 6 or more Bonus Spin symbols, a player will enter the HOLD 'N' LINK bonus game. During the game, all Bonus Spin symbols stay in their places as they were in the main game. Hold 'n' Link experience is taking place only with Bonus Spin symbols.
Comments from Officials
Speaking on the newest release, Salvatore Campione, Head of Greenlogic® at Stakelogic, said:
"Phoenix Queen: Hold 'N' Link is another great example of how our Greenlogic® Partner Program allows us to partner with some of the most exciting up-and-coming studios to produce thrilling slots that deliver exciting and entertaining players experiences.
NetGame Entertainment has been able to stick to the phoenix theme and create a slot that takes players on a mythical adventure where big win potential can be discovered with every spin. This is a great addition to our portfolio and a game that will be a big hit with players."
More About the Leading Brand
Stakelogic is a forward-thinking innovative brand that delivers state-of-the-art online games. Its creative themes, excellent graphics, powerful animations, and strong features are one of a kind in the sector. The company has been in operation since 2014 and it is specialized in Casino Software, 2D and 3D Graphics, Mobile Casino Software, Land-based Casino Software, and Casino Slots.
Source:
"Bow down before the queen in Phoenix Queen: Hold 'N' Link by Stakelogic", stakelogic.com, May 5, 2022.
"find a Money Tree and various bird symbols"
Casino Games
Back to articles