Back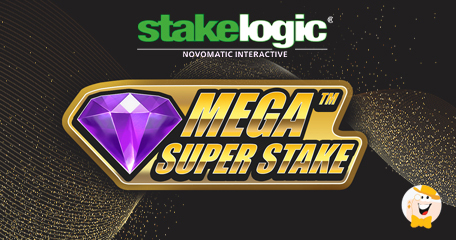 Popular and inventive sport developer Stakelogic has revamped their hugely loved Super Stake feature, making it deliver even more excitement and thrills than ever before.
The Mega Super Stake, as it's called, allows placing a side bet and turns on another feature that provides very high payouts in every 35 spins, approximately.
2 in 1
The side bets themselves allow players to multiply each bet 2.5 times for more winning potential…
…which is a change from the standard Super Stake feature which only allows players to double their bet.
Whatsmore, to make the deal sweeter - both original Super Stake and the new Mega Super Stake can be integrated into the same slot game.
How Mega Super Stake Works
To understand how Mega Super Stake functions, here is an example:
The player stakes $1 and activates the Mega Super Stake feature, so a side bet of $1.50 is also placed. The player is now wagering on two games, the base game and the feature game.
When the Mega Super Stake feature is triggered, it will activate one of the slot's bonus features to deliver an incredibly large prize payout which is combined with the base game win.
Lion Gold will be the first slot game to utilize Mega Super Stake…
…and it will launch in the next few weeks. The feature will be a part of additional game launched over the rest of the year and beyond.
At the Vanguard
Stakelogic is continuing to establish themselves as one of top-tier slot developers and provider to important operators in the iGaming market.
The brand has rolled out some truly groundbreaking solutions recently…
…such as Quattro, allowing players to play up to four games at the same time.
Their striking design, complex math and innovative approach have made them stand out against their competitors.
Says CEO of Stakelogic, Stephan van den Oetelaar:
"Super Stake has been an absolute game-changer for us and our players so we wanted to build on this and deliver even more entertainment.
Mega Super Stake takes the big win anticipation and potential to the next level, allowing players to land massive wins at a regular hit rate from a relatively small stake.
Mega Super Stake will debut with our next release, Lion Gold, and will then be built into other games where our developers and mathematicians feel it will add the most value."
Source:
"Stakelogic revamps its highly innovative Super Stake feature", Stakelogic PR, September 22nd, 2020.
"revamped their hugely loved Super Stake feature"
Casino Games
Back to articles