Back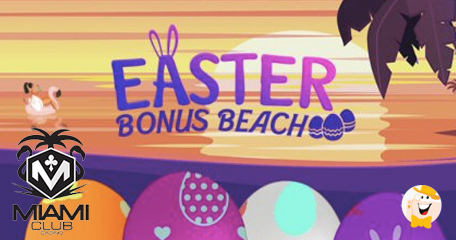 The upcoming holiday season is slowly initiating a true avalanche of creative promotional offers and over at Miami Club Casino, players have been invited to an Easter Egg Hunt each Sunday until April 1st. While spending some time on the Easter Bonus Beach, active members will be given a chance to participate in a raffle and earn their chance to strike an exclusive deposit bonus or free spins clusters.
Only two more prizes remain hidden on the beach, so get ready to crack the eggs open on March 25th or April 1st and redeem your lucky coupon! Participating members have already claimed 110% on more than 120 unique slots from the casino's portfolio, which is powered by WGS. According to Linda Hernandez, casino manager, there aren't too many online betting sites with the supplier's top-ranked titles which distinguish Miami Club from other betting platforms.
Hernandez also highlighted the company's featured and most played games including Agent Cash, Cleopatra's Pyramid, Funky Chicken and Cool Bananas. Apart from standard 5-reel slots with gambling options like exploding wilds, extra spins and bonus rounds, there is also a nice selection of three-reel, fruit-themed slots with single paylines. For instance, progressive jackpots in these releases can generate massive payouts and even be triggered with a bet as low as $0.25 USD while carrying a 10X multiplier!
Other promotional offers at Miami Club Casino include online casino credits, staggering welcome bonuses up to 100% of the deposit, VIP perks and more. Thanks to an extensive schedule of daily and weekly tournaments with fruitful prize pools, the site is home to a vast number of players from all around the world. Withdrawals are processed fast and the venue even supports wagering in Bitcoin! Head to the casino and find out in which egg the next bonus will be hidden; the Easter Bunny and introductory surprises on Cash Cow (bonus code COWSPINS) await!
"the venue even supports wagering in Bitcoin"
Promotions & Bonuses
Back to articles