Back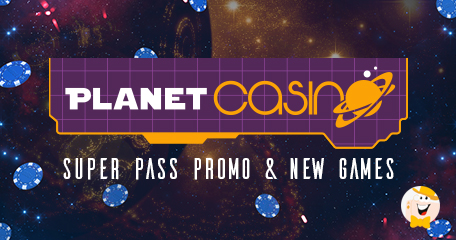 Planet Casino, a very cool-looking place to get some gambling action thrill and make cash in the process, is enjoying some truly great times, and it's showing. Not only is this casino looking prosperous, but there's no shortage of nice ideas to get their players going for more. Just check out their SuperPass promo that gets an exciting new twist this month!
As much as 18 new slot games – 17 new Rival ones and one from Saucify – are being released at this casino. A new slot is unlocked every 24 hours at 8 AM EDT and players get free money and three special bonus levels that are increasing in value! So far, the following games have been unlocked: Lion's Roar, Catsino, Lucky Labyrinth, Arabian Tales, Vintage Vegas, Scary Rich, Chariots of Fire, Golden Gorilla, ChampsElysees and Lost Secret of Atlantis. Bonus Levels are also being unlocked on specific days. To get your free money for the unlocked game, simply use the code provided for each game on each day and get a 100% bonus! You can also get as many of these 100% bonuses as you like until July 31st.
The SuperPass promo is running until July 18th, make sure you check out the exact T&C's for this promotion on its designated page over at the site and see for yourself if they suit you right. Playing at this casino, whose new management is working diligently to restore it to its former glory after falling out of favor due to previous management's mistakes, can prove to be very lucrative and an experience to remember, as it offers a hefty welcome $25 no deposit bonus as well as $750 bonus on the first three deposits. Also, if you're keen on voyages, it is currently hosting a Slots World Cup Campaign that can take you and one other person you choose to bring with you to one of these destinations: Russia, Australia, France, Germany, Japan, England, Brazil or Spain. So, hurry up and get cracking while there's still time…
Source:
"Another 18 New Games", Planet Casino Newsletter, July 6, 2018.
"a hefty welcome $25 no deposit bonus"
Promotions & Bonuses
Back to articles