Back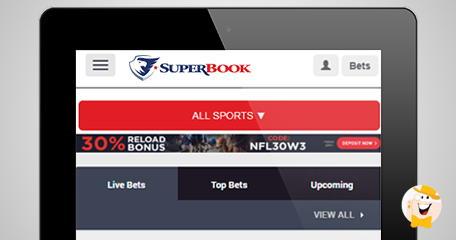 All those who are at least slightly familiar with sports betting in Nevada know who and what SuperBook is...
...America's largest and most successful sports book, renowned for its 360-degree experience, largest indoor TV in the world, the industry's leader for more than 30 years – is finally rolling out its operations just outside of Nevada and into the rest of the USA!
Significant Events on the Horizon
Westgate Resorts was SuperBook licensor for years at 3000-room luxury Westgate Las Vegas Resorts & Casino. The company has signed a partnership agreement with Paragon Gaming.
SuperBook will, therefore, soon be appearing in other states that already have or will regulate sports betting, with its cutting-edge technology, customer service and wagering options...
...In Las Vegas, it delivers Nevada's largest sports and race betting offering program. Its makers also invest a lot into the development of new processes and applications.
SuperBook Executive Vice President of Race & Sports Book Operations, Jay Korneygay, says that this is "the natural step in the evolution of the industry," and added that the highest levels of service in a regulated industry will be maintained in the future.
Thinking and Acting Big
Diana Bennett, Paragon Gaming's CEO, said: "The SuperBook® brand has been the leader of the sports book industry for more than 30 years. Gaming regulators across the country will now have a trusted partner as they move forward, and casino operators will be able to draw on the experience and expertise that has made SuperBook® the benchmark for sports betting."
Westgate Resorts Founder, President and CEO, David Siegel, states that the investment in the SuperBook has been "extremely successful" and looks forward to its expansion nationwide.
"We look forward to the future success of our SuperBook® brand at locations across the nation as it continues to grow and set new standards for the sports betting landscape."
Source:
"Industry Leading Race & Sports SuperBook Set For Expansion Outside Nevada", prnewswire.com, September 19, 2018.
"the industry's leader for more than 30 years"
General Gambling News
Back to articles