Back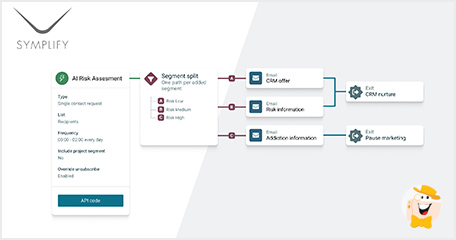 Symplify, a market expert in CRM and AI cloud products, has boosted its Responsible Gaming Engine to put it in line with the most innovative UKGC criteria.
Symplify's Responsible Gaming Engine is completely UKGC compliant after fulfilling the strict technical standards required by the Commission. The RG Engine is known for automatizing the risk categorization of customers – the most important part of Symplify's CRM ecosystem. 
More Info on the System
The company continues to deliver the most trusted results in the industry. It is possible by consistent algorithmic analysis of customers' activity such as deposits and wagering habits. These categories are used in other parts of the Symplify ecosystem including multi-channel send-outs to "at-risk" users.
Added RG security is guaranteed by exploring the duration of sessions, login activity, and similar factors. The RG Engine is operational across different sections and is created to support brands in delivering unique journeys to automate communication. An expert Symplify RG is available on demand to customize the process if needed.
Symplify will be delivering its newest RG Engine developments and strong CRM ecosystem at SBC Summit Barcelona on Stand E17 and E21.
Statement:
Speaking on the latest step, Symplify's Chief Innovation Officer Josh Tromans-Jones said:
"Symplify prides itself on being able to quickly identify responsible gambling behaviors and communicate in a personalized manner that creates safe gaming environments. It was important to ensure the RG Engine is qualified for the UK market given its standing within the iGaming landscape."
More Info on the Brand
Symplify is a forward-thinking cloud service focused on simplifying vital business needs. It allows brands to increase their revenues while also decreasing the workload.
Based in Stockholm, Sweden, with offices in Canada, Denmark, Hong Kong, and Malta, the company delivers cloud solutions for Marketing Automation, CRM & CRO. Thanks to 20 years of online experience in the market, the company knows how to meet the preferences of players. Its clients are some of the most successful companies such as Klarna, Mr. Green, Harper Collins, Danske Bank, Bonnier Publication, and SATS.
 Its communication catalog puts 8 channels together such as email, SMS, Web Push, App Push, Social, Dynamic Web, Print, and Voice at your fingertips. You can easily manage your lifecycle with a strong and simple-to-use customer journey tool. Just check your database via a segmentation engine telling you who, when, and why.  It has offices in Copenhagen, Stockholm, Montréal, Toronto, Hong Kong, and Malta.
Source:
"Symplify Enhances RG Engine to Meet Latest UKGC Criteria", news.cision.com,  September 21, 2022.
"analysis of customers' activity"
General Gambling News
Back to articles