Back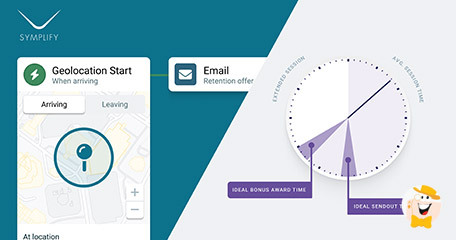 Symplify, a market leader in CRM and AI cloud products, has just enlarged its service for the land-based casino industry with a focus on North America.
Symplify will be featuring a selection of new products within one title following an analysis of existing market demand to speed up the growth across the newly regulated market of North America.
The North American market is converting into a mix of online and physical presence. Symplify's newest release aims to utilize this paradigm with its Geolocational campaign and user journey starters. Players will now have a chance for an open dialogue while using physical location as an incentive for messaging.
More About the New Solutions
The geolocation starter allows land-based casinos to introduce their digital marketing journeys to users who are physically in the facility. A casino now has the chance to make a special transition from physical to online communication.
Apart from this, there is an AI Engagement Optimizer allowing partners to engage with users at physical premises with locational data. The combination with point-of-sale data will open opportunities for upselling in the real world. One of the perfect examples is the partners' ability to prolong users' stay at the venue. If using real-time trigger messaging, the player can get incentive offers at the precise time when Symplify's AI reveals decreased interest.
Commenting on the new milestone, SCCG Management Founder and CEO, Stephen Crystal said:
"AI is playing an ever-increasingly influential role in successful operations. Our mission is providing a 360° service for our partners, across multiple sectors, and I'm excited to add another vital layer to our solution and be working with Symplify as we continue to grow the business."
Symplify's CEO Robert Kimber says that it is so frequently the situation with gaming, that with a new market come new chances and challenges. The enormity of the US market and the opportunities for "hybrid" marketing communication is incredibly exciting. Their new product provides partners with even more space to find the best possible moment with personalized messaging.
About the Company
Symplify is a forward-thinking SaaS brand based in Stockholm, Sweden with hubs in Malta, Italy, Spain Denmark, the USA, Hong Kong, and Canada. Thanks to more than 20 years in the sector, Symplify produces personalized user experiences via an AI-driven CRM ecosystem including cutting-edge technology, where users are in control of their data. Their success is the result of the close cooperation with their customers and delivery of the features that allow the CRM team to be leading in the market.
Source:
"Symplify Enhances CRM Solution for Land-Based Casinos to Accelerate US expansion", einnews.com, July 13, 2022.
"Geolocational campaign and user journey starters."
General Gambling News
Back to articles