Back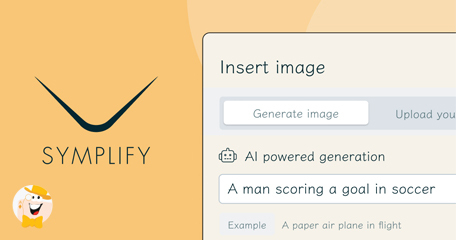 Leading Solutions Provider Takes Advantage of Artificial Intelligence
Striving to implement innovations into its products, Symplify, a market leader in CRM and AI cloud solutions, decided to integrate Open AI into its Engagement Ecosystem. Designed to level up efficiency, this powerful reinforcement results in reduced content production time.
With offices spread all over the world, namely Canada, Malta, Denmark, and Hong Kong, Symplify is an international team that gathers a whole network of specialists with decades of experience. Aside from AI & predictive marketing, its portfolio of services encompasses data & funnel insights, message automation & channels, conversion & experimentation along with personalization & customization.
Increased Efficiency for Faster Growth
Upon integration of Open AI within Symplify's Engagement Ecosystem, the existing partners can create custom auto-generated content and imagery across all key marketing channels. There's a simple command within the Symplify Editor, through which they can easily generate text and high-resolution images, while the copy itself can further be refined and tailored to fit specific needs.
As mentioned earlier, this tool decreases content production times by up to 60%, leaving them more time to focus on other critical aspects of their business. The best part of all is that a higher level of efficiency is achieved without affecting the content quality.
Symplify's CEO Robert Kimber commented on the company's decision as follows:
"Symplify's success is underpinned by our belief in futureproofing our partners' businesses and by integrating Open AI into our Engagement Ecosystem we're strengthening that commitment. By optimizing the content development we're helping grow our customers' CRM strategies at scale while offering multi-communication channel coverage."
‌It's interesting to note that…
… this is not the first time the Stockholm-based solutions provider is capitalizing on the use of artificial intelligence. A bit less than a year ago, the innovative team enhanced its CRM Ecosystem by introducing its AI-powered hyper-personalization and recommendation software.
As a matter of fact, the company is among the pioneers of marketing automation. Back when it all started and before it became so widely spread, they called this process the "event-driven marketing".
Forward-Thinking Team Expands Rapidly
The year behind us was particularly successful for the company as it deepened its footprint in the US market. In June 2022, Symplify inked a deal with PlayStar. As a result of the agreement, the US's first iGaming provider can employ Symplify's Onpage AI to deliver customized experiences to its clients.
Approximately a month later…
… the company enhanced its CRM solution for the land-based casino industry, with a particular focus on the market of North America. By following the customer's interests and activities in a physical establishment, this "hybrid" tool delivers real-time messages with incentives, to prolong their stay at the very location.
In addition to this, Symplify joined forces with a wide range of renowned operators and providers. December 2022 was marked with two significant deals, one with NuxGame, and the other with LuckyDays.
January 2023 brought cooperation with King Billy Casino, one of the leading crypto-friendly operators, while February was marked with the Bwloto agreement. The ongoing month brought them a partnership with Miljonlotteriet, one of Sweden's largest and oldest gaming operators.
Source:
"Symplify integrates Open AI into its Engagement Ecosystem", Symplify press release, March 20, 2023.
"reduced content production time"
General Gambling News
Back to articles