Back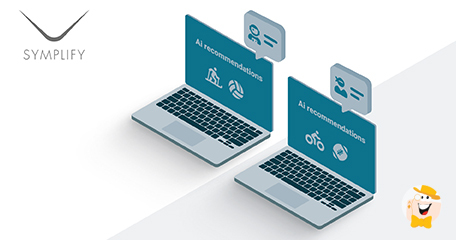 Revolutionary AI-Powered Solution Goes Live!
Stockholm-headquartered cloud service Symplify has recently enhanced its CRM Ecosystem by introducing its AI-powered hyper-personalization and recommendation software. By incorporating this powerful solution, the company ensures the most relevant data are displayed first, which is expected to result in increased customer retention.
Just like their self-explanatory name indicates, the leading brand in CRM, CRO, and AI cloud solutions is here to "simplify your vital business needs." Its mission is to help partners, especially the ones in the payments and online gambling sector, focus on revenue and customer acquisition by decreasing their workload.
Improved Data Optimization
By using historical data and customer behavior, the new intuitive solution powered by artificial intelligence manages to organize data in a way that the most relevant content is presented. Symplify's intuitive software combines the AI product recommendation engine and the On-Site graphical optimization, resulting in an authentic customer experience and higher retention.
Symplify's CEO Robert Kimber commented as follows:
"Symplify's AI-powered recommendation engine revolutionises the way in which we can understand user behavior and positively adapt the website to make it as engaging as possible. Its algorithm continually optimizes display functionality to ensure customers receive a highly personalized experience that builds genuine long-term relationships."
Aside from arranging product pages that drive a propensity edge for viewing customers, the newly-presented solution also incorporates onboard technology which enables graphical flexibility. This way various layout strategies can be tested to optimize the conversion rate on already AI-led product recommendations.
Great Match with Jada's Platform
Built and introduced by the Symplify team, the newly launched recommendation functionality fits Symplify's module CRM suite perfectly and is vital in helping customers optimize the site engagement handbook.
It is one of the first truly collaborative projects...
…resulting from the acquisition of Jada that took place in December 2021. As a result of the agreement, Jada introduced its Jada Brain into the Symplify software to deliver an all-in-one ecosystem, enabling partners to take advantage of AI and ML to build, manage and optimize all communication phases.
One of the crucial options incorporated in this data analytics platform is the detection of bonus abusers, which helps operators spot problematic behavior on time.
In February 2022…
…two companies signed a strategic deal with SCCG Management to speed up expansion across North America. Thanks to this cooperation, Symplify, and its subsidiaries benefited from advisory support in obtaining US state licenses and authorizations.
Multiple Benefits for Strategic Partners
Symplify's ever-expanding portfolio of iGaming clients gains instant access to the innovative technology instantly as part of any existing integration.
One of such brands is the leading Nordic iGaming platform provider Finnplay. Earlier this month, the company joined the list of partners. As a small reminder, in January this year, Jada secured an AI agreement with Finnplay as well, enabling it to incorporate the full Jada Brain platform with its catalog of iGaming modules.
As inventive and proactive as the Symplify team is, they always look for ways to leverage new technologies and help their associates make the most of them. If you are curious to find out more on steps to accelerate the Digital Transformation, take time to watch this insightful interview!
Source:
"Symplify strengthens solution with AI-powered hyper-personalization and recommendation software", Symplify press release, April 14, 2022.
"the company ensures the most relevant data are displayed first"
Casino Software
Back to articles