Back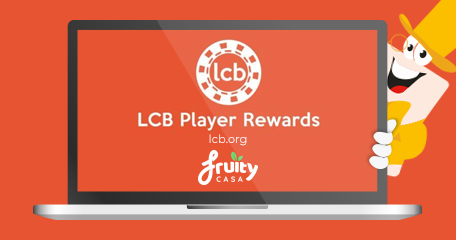 You know how passionate we are about providing the best experience to our loyal consumers. But, you also know that we never take all the credit for ourselves, as there are so many team members which make a valuable contribution to our community.
Desiring to level the offering up a bit more, we wish to inform you that our very own LCB rewards program got powered up. Let's find out what the freshly-joined FruityCasa casino has to offer.
May the Fruits Be with You
You know about that very special connection…
…between fruits and the gaming industry! With fruities being the oldest slot machines ever, it comes as a logical assumption that the site will be a venue to honor the "first-born." Before we confuse you completely, it's FruityCasa we are aiming at!
This digital homage to the classic symbols that populate the reels ever since…
…has a well-packed library of games of various types. The fact that they are teamed up with numerous reputable providers such as NetEnt, Microgaming, Red Tiger, BTG and many more indicates that their portfolio is very diverse.
The hub holds multiple licenses, as well as a loyalty program, giving members the chance to collect points and get rewards. Besides, there are some interesting promotional offers featured in the section. Being regularly updated, visit from time to time to see what's new out there.
Instruction Booklet for Rewards Scheme
If you have already claimed the reward at some other venue…
… from our list of participating establishments, you are pretty much aware of how simple is to do so. However, if you are just getting started with all this, allow us to guide you through the new experience.
All it takes is to follow these steps:
Join our growing community by making a profile on our well-equipped platform.
Take time to check out the list a bit closer and find the most suitable hub for you.
Register via our affiliate link and make your first deposit.
Come back to LCB. We'll get a confirmation of depositing which means you are allowed to claim and collect your very own $3 LCB Chip.
See what's out there in our expanding LCB Shop and, via username, spend it whatever you like.
We told you there's nothing complicated about it!
Jokes aside…
…though the title may have scared you as you probably pictured a complicated set of rules to follow, things are as simple as they can be. In addition to this, take time to check out Terms and conditions, just for the sake of avoiding potential issues and becoming knowledgeable of your rights.
p>
"it's FruityCasa we are aiming at!"
LCB News
Back to articles