Back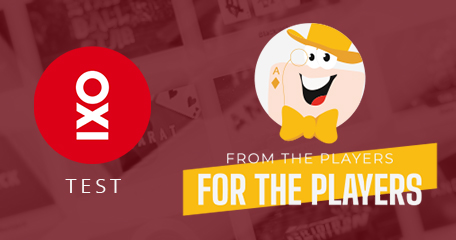 When Playing Makes You Forget About the Withdrawal
It is not unusual to hear that nowadays a simple Skrill transaction takes more than 15 minutes, a seemingly acceptable amount of time for an e-wallet to process a payment.
Nevertheless, some of our tests featured casinos where the withdrawal took a lot longer than that, and we are not talking about hours. In this case, however, the entire withdrawal took a lot longer to complete, and the verification alone stretched up to 10 days, but it had nothing to do with the brand.
One of our regular testers within the project 'From the Players, for the Players' last October was MadamMilly, who took time to register, deposit, play some slots, and withdraw the remaining balance at OXI Casino.
The only thing she forgot to do was to check her inbox after sending the documents to verify the account. Due to this minor blunder, the report stretches from October 11th and 21st, but otherwise, it is safe to say it's all sunshine and lollipops.
First, a brief summary of the test:
Tester of the casino: MadamMilly
Date of registering: TUE, Oct 11th 2022
Deposit: €200.00 in Skrill on TUE, Oct 11th 2022
KYC: Passport, Utility Bill and Selfie via email sent on TUE, Oct 11th
Withdrawal: Requested €50.00 on TUE, Oct 11th received via Skrill on FRI, Oct 21st
Ten days may seem like a lot to complete the test, but we assure you that the real amount of time our tester had spent at the casino is no longer than 48 hours. Apart from sending in the additional documents to prove her identity, our player cashed out by using a well-known and proven withdrawal method – Skrill.
Without further ado, here is the entire process, step by step, so sit back and enjoy the story.
Registration
The registration at OXI Casino started on Tuesday, October 11th 2022. After filling in personal information in only a few seconds, completing the sign-up process is quite an easy task, as it doesn't impose any special requirements.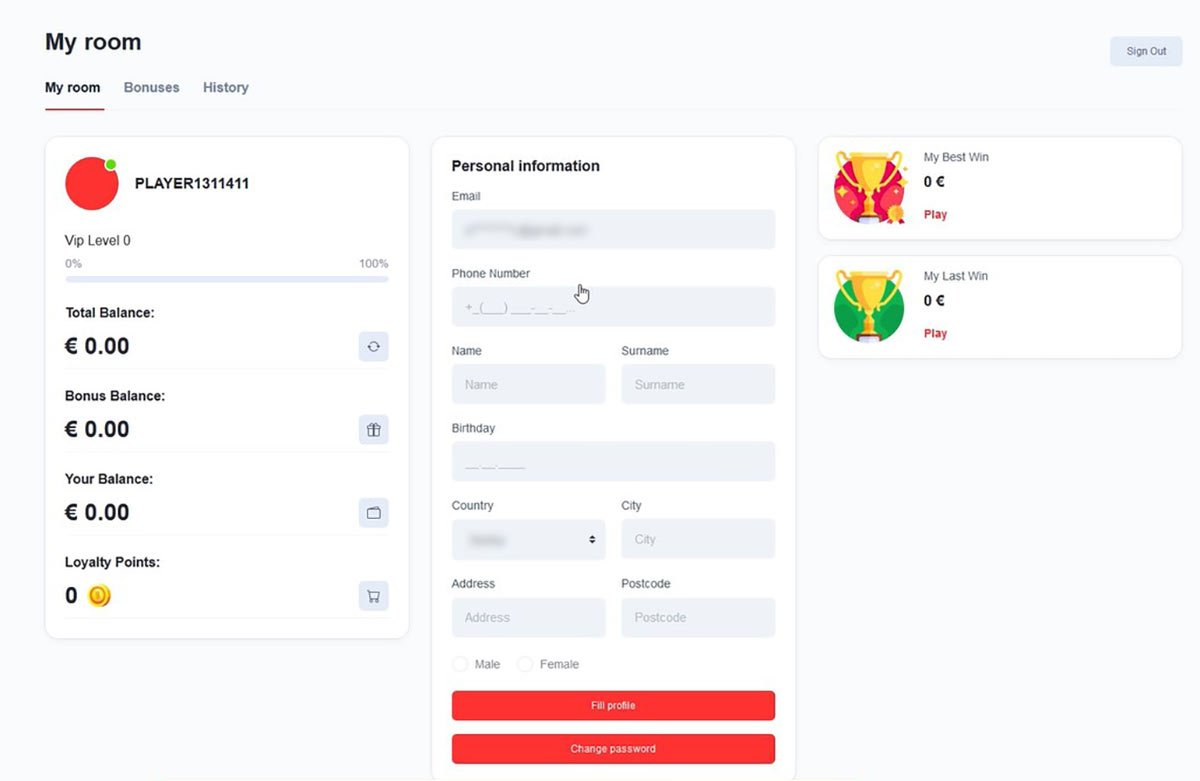 The next step was to make a deposit. Our player continued the report by entering the amount of her deposit and selecting €200.
Depositing
Minutes later, the casino confirmed our tester's deposit of €200 via Skrill and boy was she ready to have a go at some slots!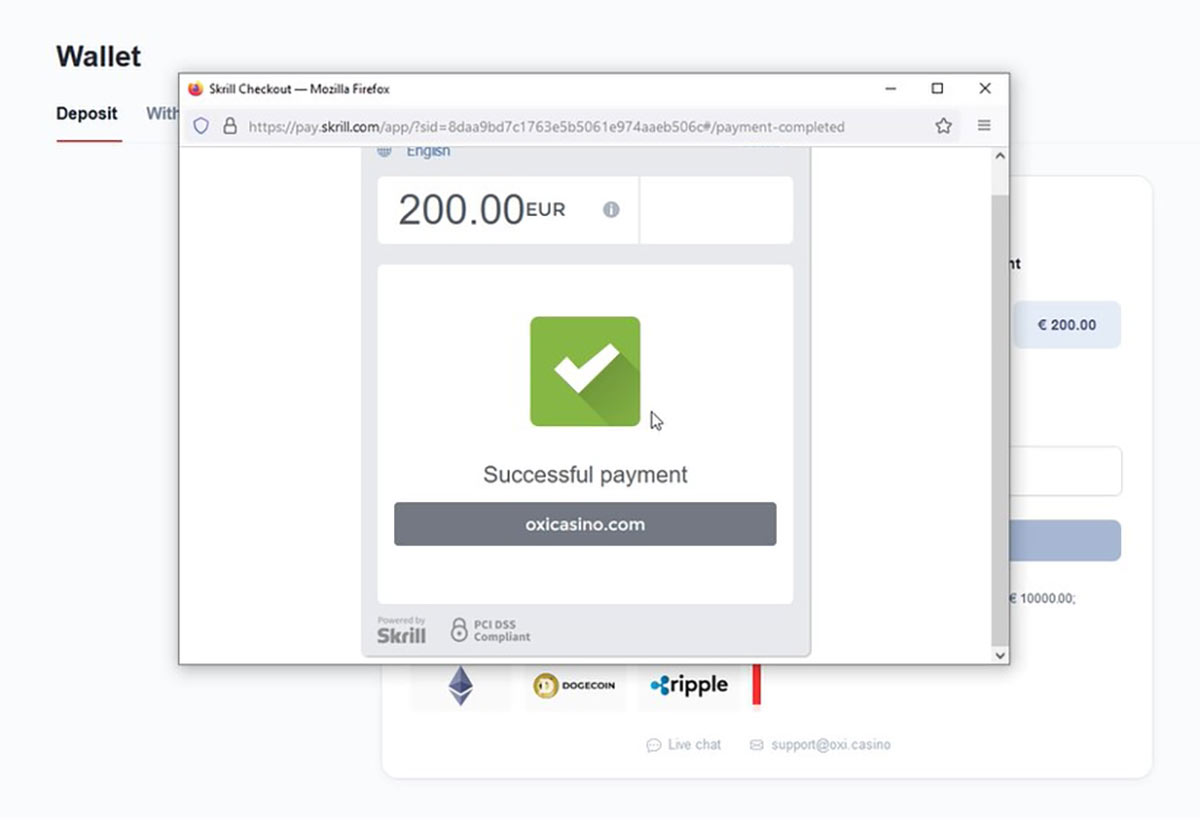 With a sweet deposit of €200 in her account and so many games to choose from (around 5000 and counting) that took less than 20 seconds to complete, it is safe to say that the odds were in her favor.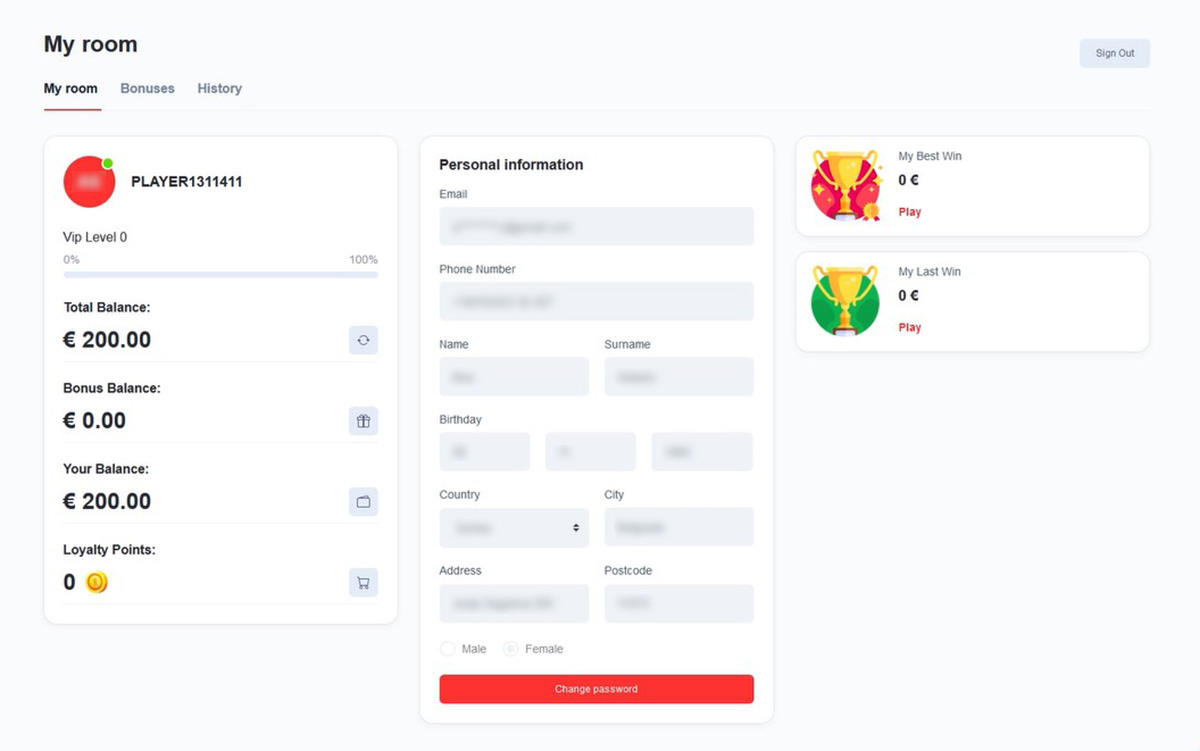 By the way, OXI Casino has a minimum deposit policy of €10, while the deposit limit per transaction is max €5,000.
So far, so good – let's see what happened in the next phase of testing.
There is a quick guide to Skrill casino deposits on our YouTube channel in case you need help on how to use this particular payment method at online casinos. Make sure to check it out right here after reading or go to our streaming page directly by hitting the link.
Gameplay
Our player's first pick was Rabbit in the Hat from Games Global. It's a magic-themed video slot with wild reels, free spins, magic hat prizes, and some pretty insane payouts, only getting there is not that easy.
After playing it at €0.72 per spin for about 3 minutes, our player had lost €30 and something needed to be done.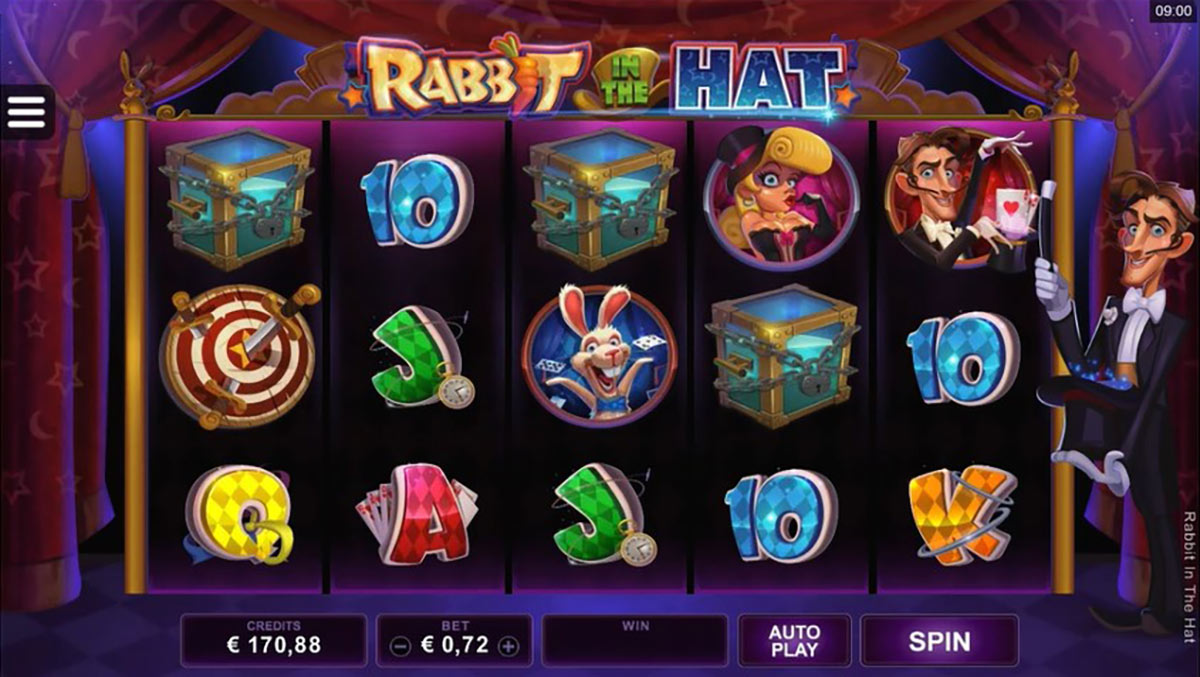 Our player's next pick was Boofa: Treasures of Nile, a mysterious 2020 classic from Apollo Games, featuring epic prizes, free spins, and expanding symbols. Alas, her balance kept decreasing, so MadamMilly chose Aladdin's Quest by GameArt and hopefully turn the tables.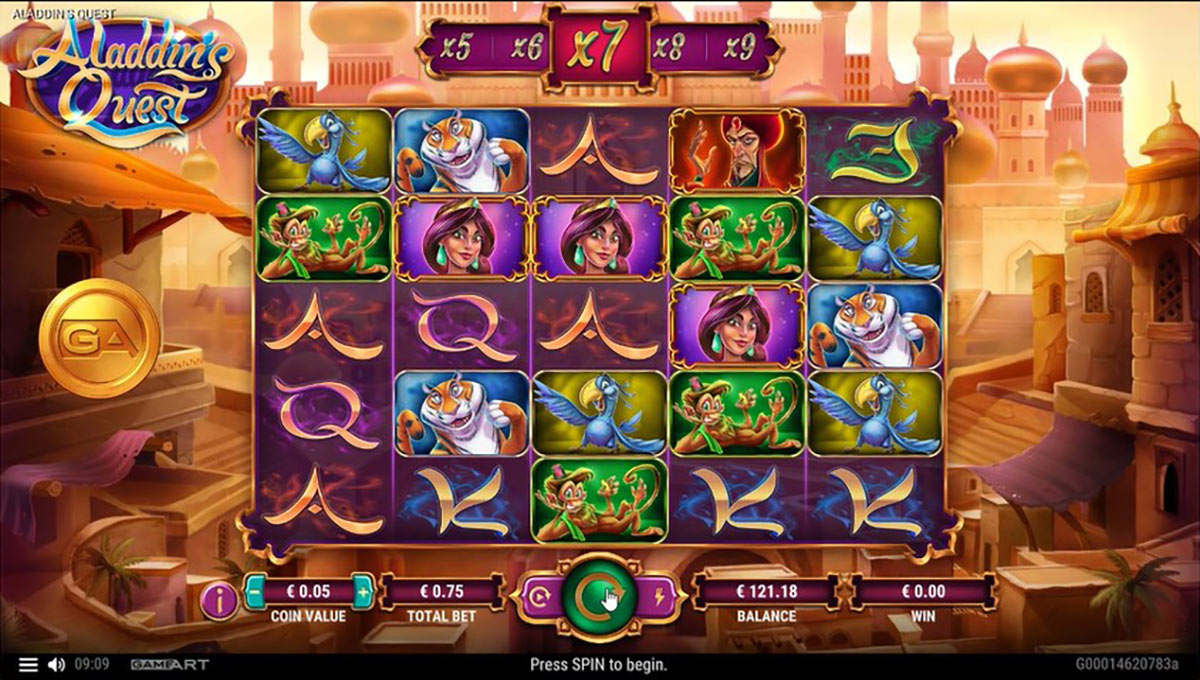 Unfortunately, no luck here either. Her credits dropped even more after only a few minutes of playing, so Arctic Sorcerer Gigablox from Yggdrasil seemed like a wise choice to our player. The same goes for Old West from Evoplay, Occultum 81 by Apollo Games, Voodoo Hex, Buffalo Thunderstacks, where she's made a staggering win of €42 in a single spin.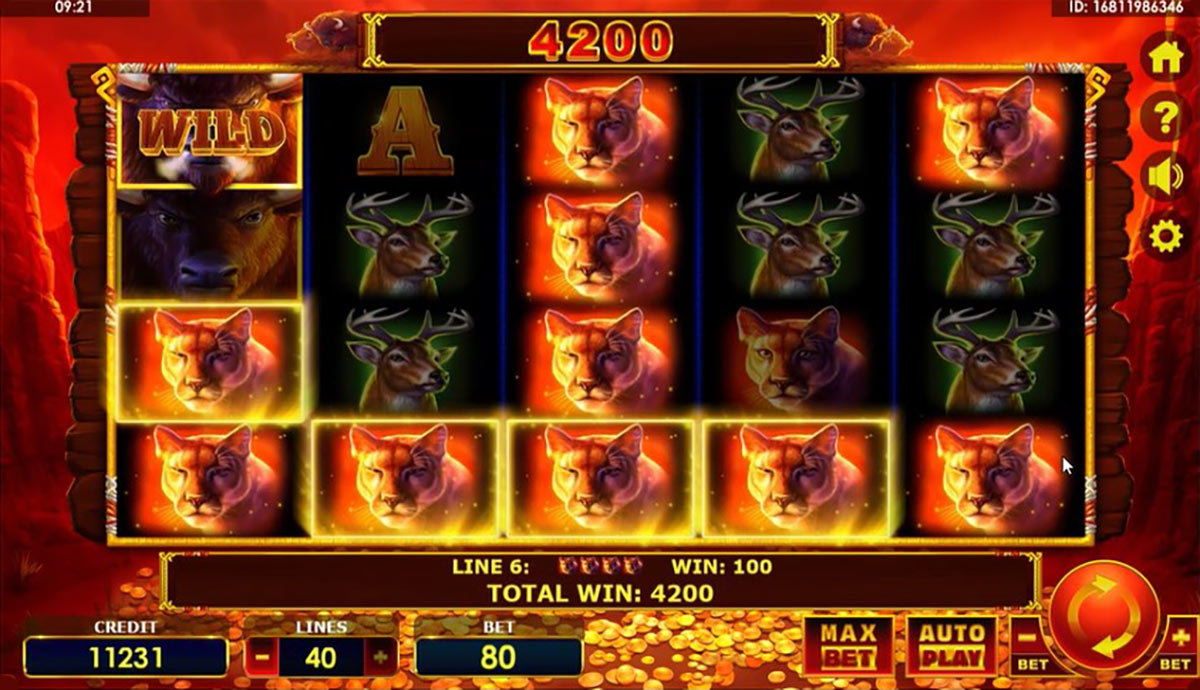 MadamMilly also played the following titles:
Legacy of Dead (Play'n GO), Mother of Dragons (SimplePlay), Gods of Kemet (Wizard Games), Thundering Buffalo (High 5 Games), Hot Pot (Pocket Games), Jewel Sea (FUGASO), and so on.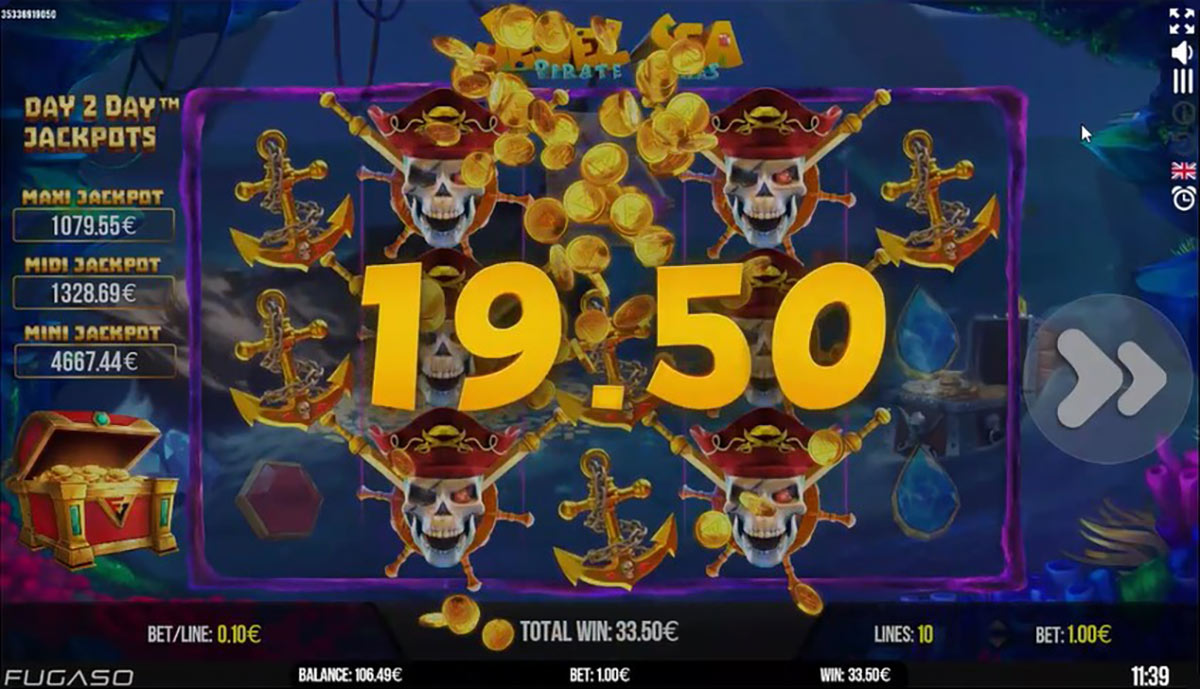 After a lot of ups and downs, our player's balance ultimately fell down to €51.99 but after hours of playing. She was finally ready to go through the last step – cashing out.
Verification
Our player sent all documents to verify her identity on October 11th, 2022. This is done via email by sending your passport, utility bill and selfie.
However, on October 12th, 2022, our tester was asked to send in additional documents, such as:
A screenshot of the Skrill wallet that was used to recharge the account
Unfortunately, our player somehow overlooked the email from the casino and sent the document on October 19th, 2022.
Meanwhile, due to the wrongly cropped image, our tester was asked to repeat the process once again, and so she did.
MadamMilly sent the image on the same day. The account was finally verified on October 20th, 2022.
Withdrawal
The withdrawal was confirmed on October 21st, 2022. It took around 10 days to get it right, but our player received the requested amount per Skrill in less than 24 hours after verification.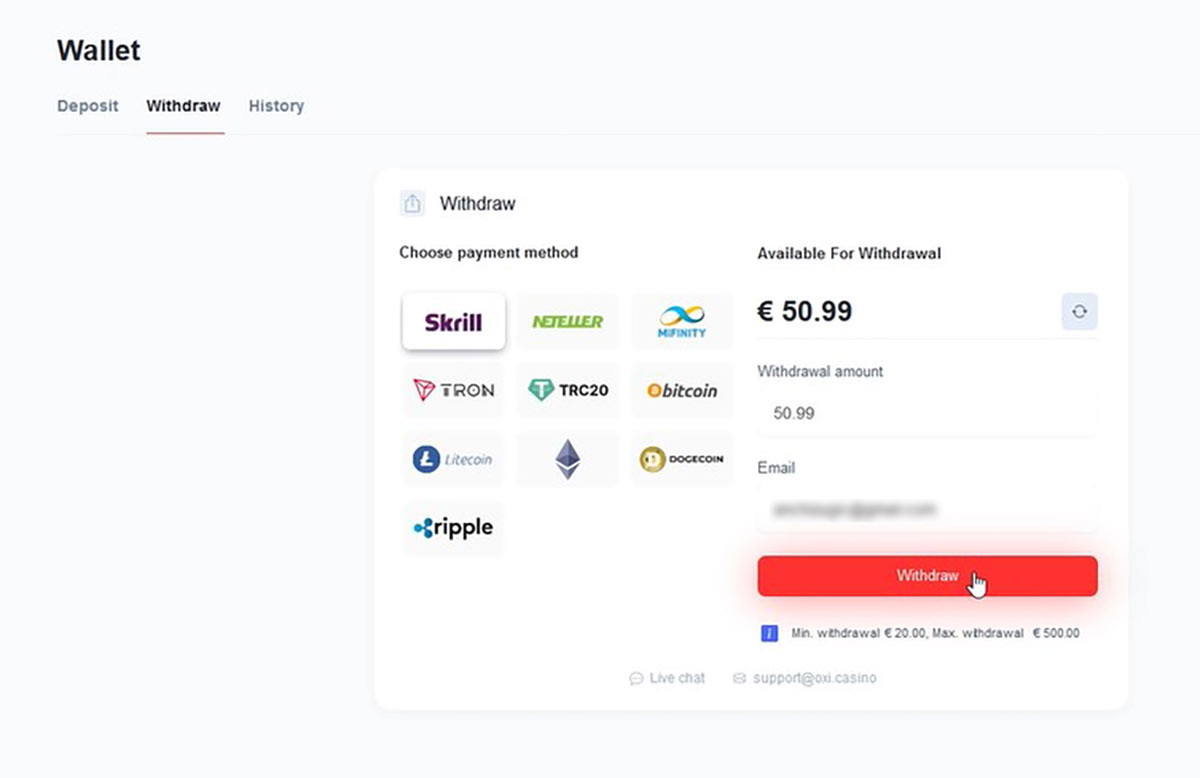 The withdrawal of €50.00 reached her e-wallet and she successfully concluded another test.
On a similar note, the maximum withdrawal limits per transaction in 24 hours or month are €500 per transaction, €500 in 24 hours, and €10,000 per month. There is also a limit of 3 simultaneous withdrawal requests. The minimum withdrawal amount is €20 for bank cards and €20 for other payment methods.
Conclusion
To summarize, our player had a well-balanced experience with OXI Casino. Even though it took 10 days to complete it, we can't say it had anything to do with the operator.
Every phase of testing was practically flawless, including registering, depositing, playing, verifying, and withdrawing – if only there wasn't a lack of reaction on our tester's behalf to send in the documents, this entire report could've finished in less than 72 hours.
To learn more about our test at OXI Casino, we invite you to watch the video on our YouTube channel as soon as it goes live.
It is already in the making, so make sure to subscribe and turn on notifications.
Thanks for reading and good luck playing at OXI Casino.
"our player had to cash out by using a well-known and proven withdrawal method"
From the Players for the Players
Back to articles