Back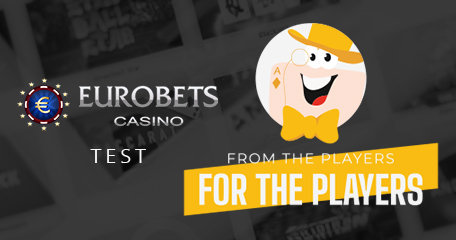 20+ Days for Approval of Bitcoin Withdrawal?
Throughout "From the Players for the Players", LCB has tested more than 40 online casinos, both respectable and rogue ones, bringing a wealth of useful, first-hand information. This time we've selected EuroBets casino, a blacklisted gaming site with no license, with a myriad of complaints from consumers.
To check out the quality of services offered by this facility, tester Marija S registered, deposited using Skrill, played some games, submitted ID verification documents, and requested a withdrawal in BItcoin. Even though cryptocurrencies are usually praised for their efficiency, it took 20+ days for the money to arrive on her account.
These are the crucial moments of the multi-day investigation:
Tester of the day: MarijaS
Registration date: September 2, 2021 @ 11:32AM
Deposit date, amount, and payment methods: September 2, 2021, @11:38 AM, USD 200 via Skrill
KYC: Documents sent on September 6, 2021, but no confirmation from the casino arrived
Withdrawal: requested on September 3, 2021, @ 10:07 AM, USD 100.62 via Bitcoin;
Withdrawal received on September 24, the tester received 0.00242485 BTC/ USD 101.50; the amount was higher than the requested due to BTC value fluctuations
Curious to find out why it took so long for Bitcoin withdrawal to be processed and approved? Stay with us and allow us to guide you through each chapter of the tester's investigation!
EuroBets Casino Overview
EuroBets casino is a US-friendly online casino that accepts Bitcoin. The operator displays slots, video poker, and table games from Genii, Tom Horn Gaming, Rival, and Betsoft.it is equipped with versatile promotional activities and has a 4-tier loyalty scheme with benefits.
Despite the attractive surface, there were multiple issues with this brand, which led to EuroBets earning a rogue label in March 2021. To start with, the operator didn't have and still doesn't have any license displayed on the official website. Furthermore, a couple of members ended up with unpaid withdrawal requests, while another was denied a bonus she won without explanation.
Despite our attempts to mediate, we encountered a wall of silence, which is why this operator was eventually added to the warning list.
Registration
On September 2, 2021, at 11:32 AM, the tester joined EuroBets casino. To register in this betting platform, she typed in her e-mail and password, after which she needed to submit some more basic information about herself. The entire process was completed in just two minutes.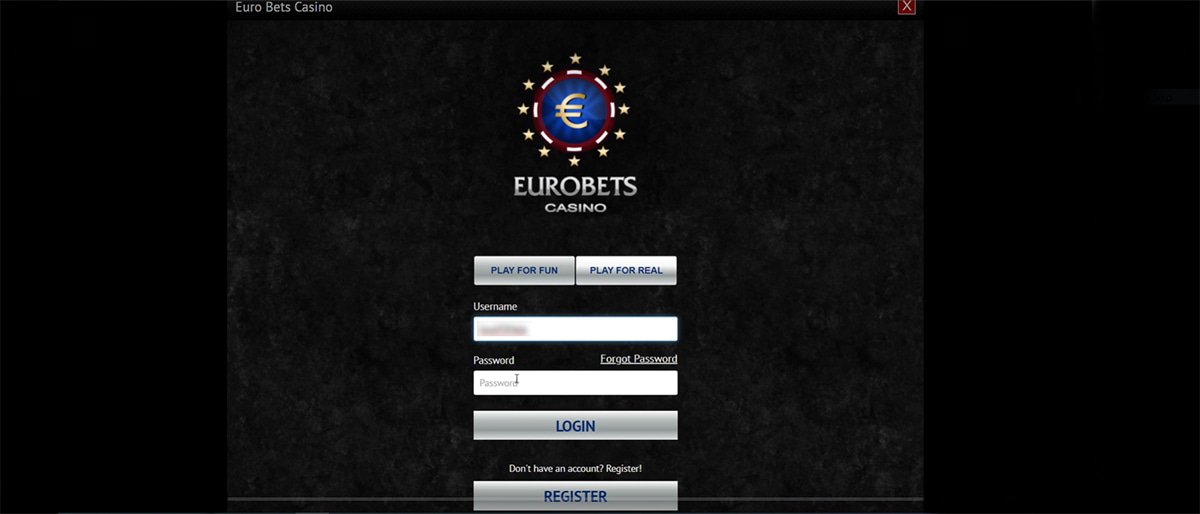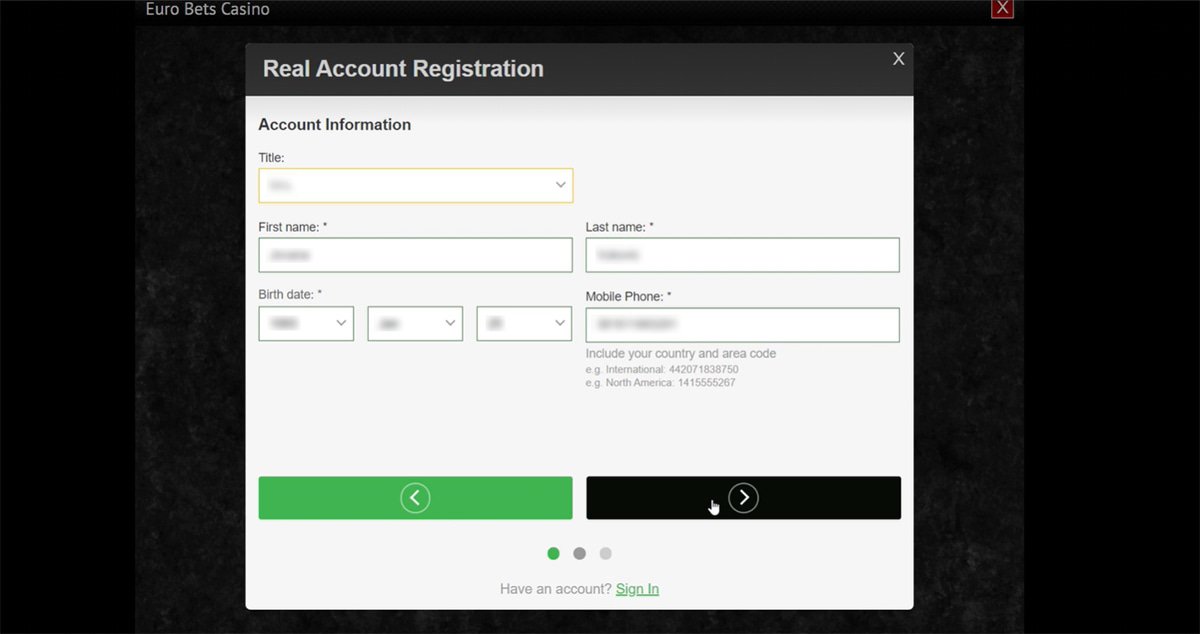 Depositing
Having finished the registration, the tester wanted to deposit on the same day, September 2, 2021. She selected Skrill to deposit USD 200, entered the 6-digit verification code she received, and the transaction was approved at 11:38 AM, six minutes after the registration.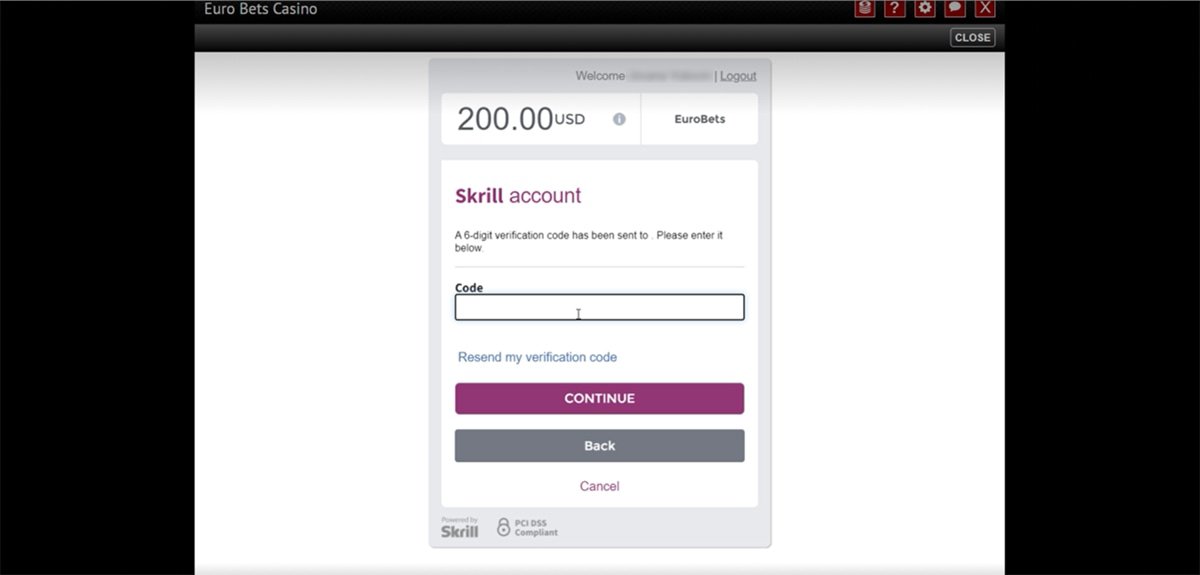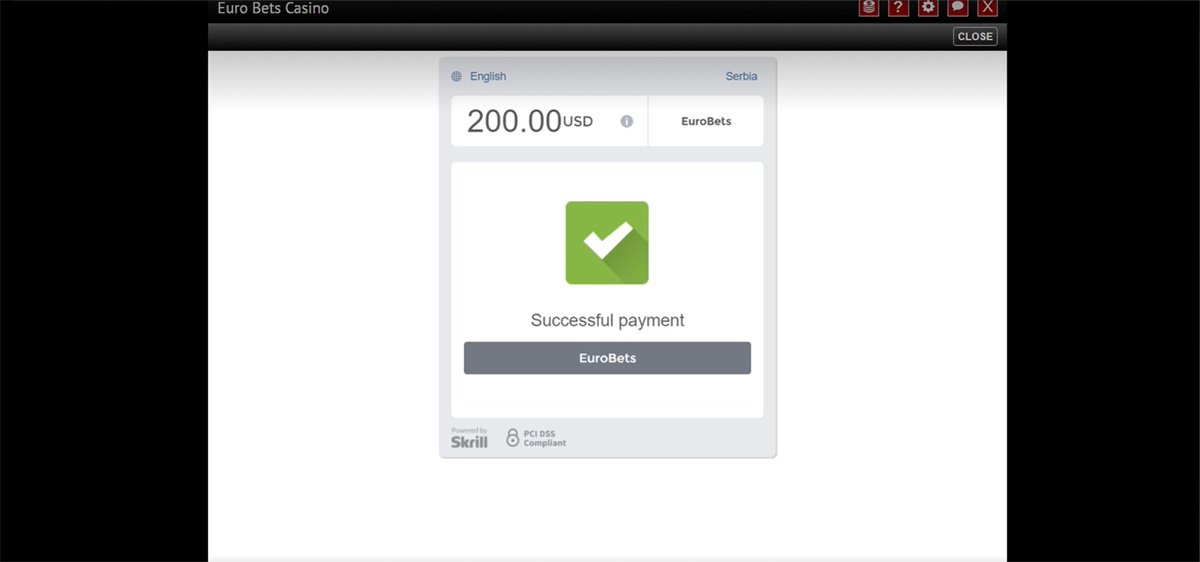 The official Terms state as follows:
"Any deposit made by the player must be wagered at least once before a withdrawal can be requested unless otherwise noted.
"The minimum deposit amount with every available deposit option is $/€/£ 25 and 250 ZAR."
Gameplay
After quick and simple registration followed by efficient deposit processing, the tester ventured into the operator's portfolio on the same day, September 2, 2021. Her first choice was Diamond Dragon by Rival, and then Shamrock Isle, Ten Suns, Wild Carnival, and Blazin' Buffalo delivered by the same provider.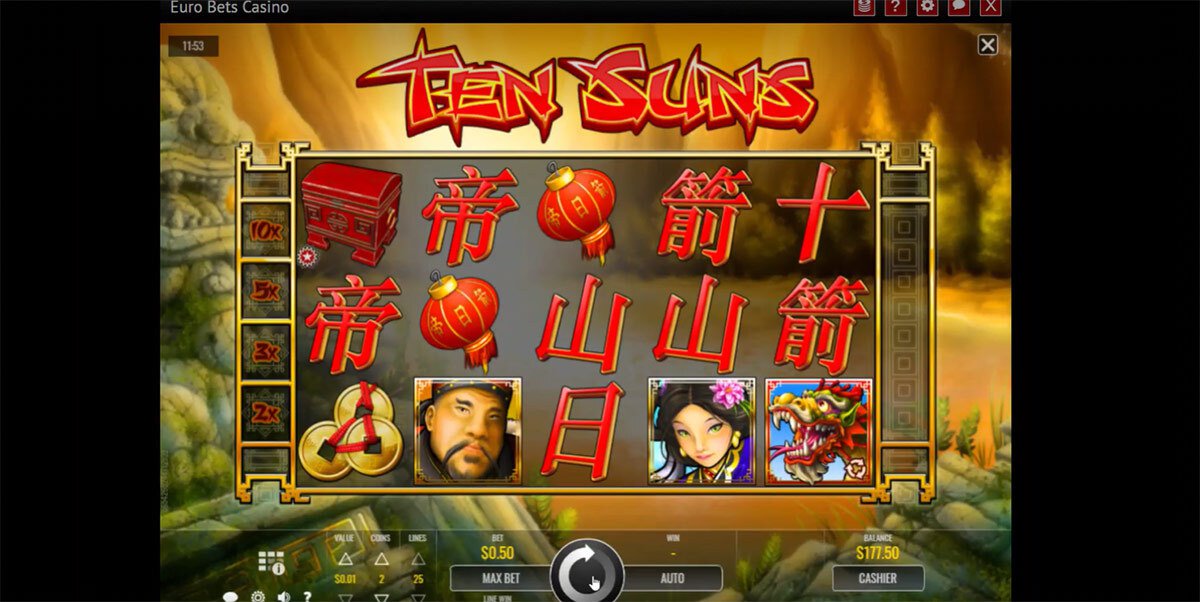 A bit later the same day, the tester checked out a couple of more achievements by Rival. The first in line was the Asia-inspired release Lucky Ox Jackpots, where she had a couple of solid wins. She even triggered the wheel which brought her an additional portion of complimentary spins. She launched Major Moolah, but she quickly switched to vintage-looking 5X Jackpot Wins and Merlin's Mystical Multipliers, where she triggered some noteworthy wins.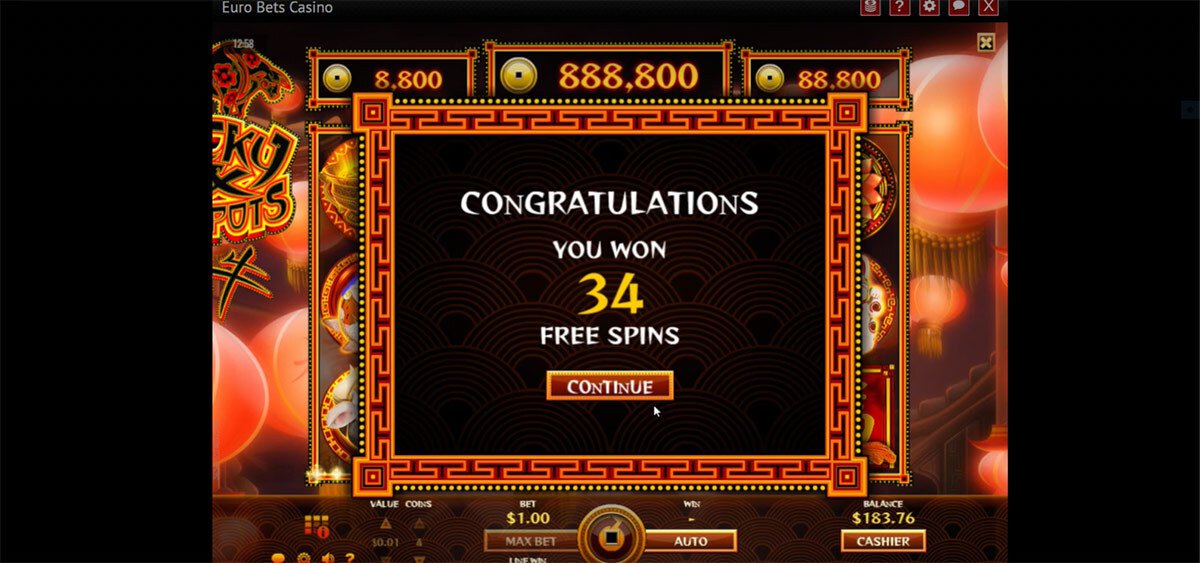 Having played this magic-themed title for a while she returned to Lucky Ox Jackpots, then went back to Merlin's Mystical Multipliers and once again launched Lucky Ox Jackpots. The next in line was 5x Wins.
On September 3, 2021, the tester headed to the operator's lobby and opened the gaming session with the release that brought her multiple wins the previous day- Lucky Ox Jackpots. She also played Merlin's Mystical Multipliers and then proceeded to Fire'N'Hot by Tom Horn Gaming, but after only a couple of rounds switched to Geisha's Fan designed by the same supplier. Her next choice was Rival's Viking Victory and then Vikingdom by Genii.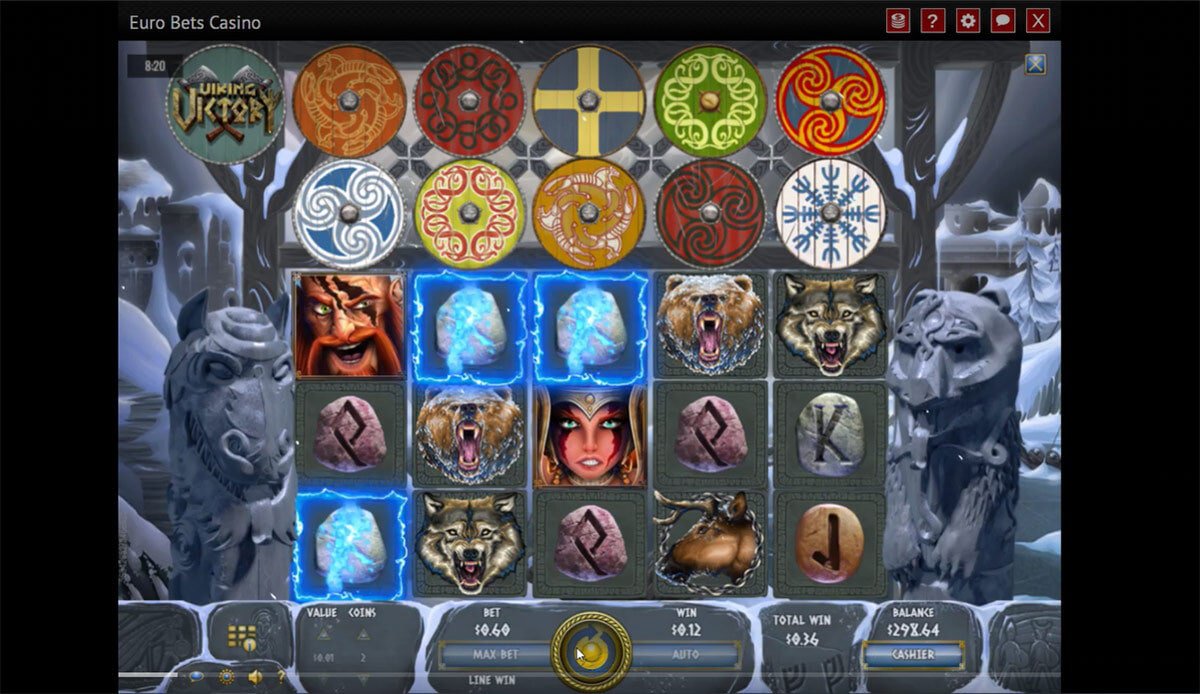 Having completed this one, she returned to Lucky Ox Jackpots, and just like during previous sessions with this particular release, had multiple solid wins. After that, she ventured into Viking Victory once again.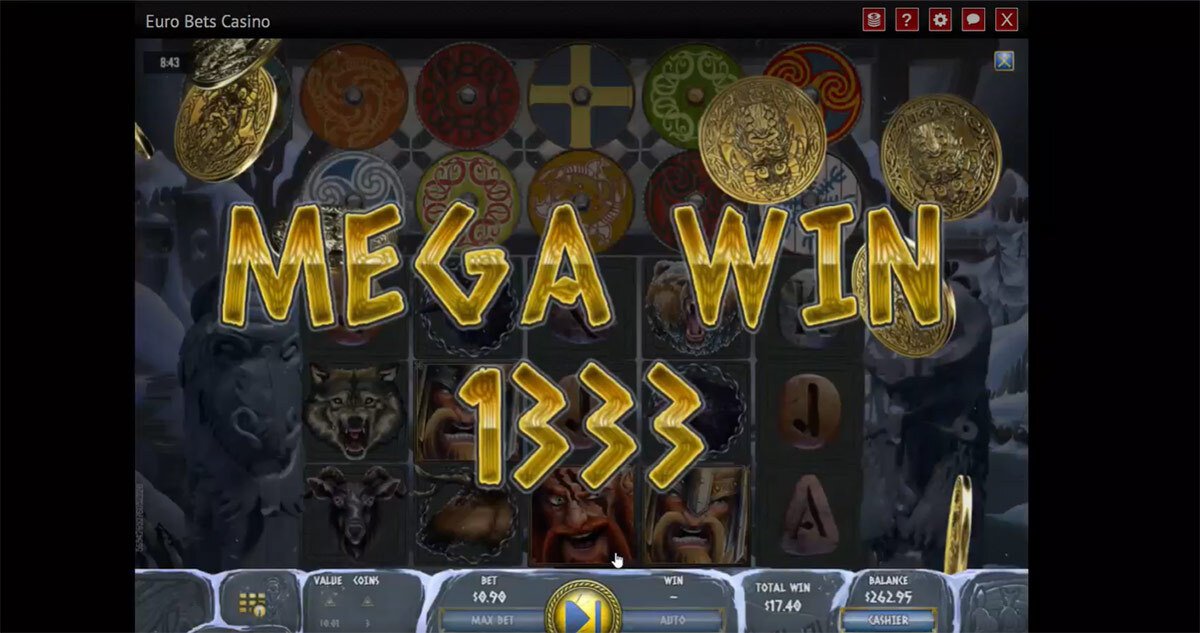 A bit later she played Merlin's Mystical Multipliers and then checked out Daikoku Blessings. Then she explored Wild Wizards, after which she tried to launch Rise of Poseidon, but due to longer loading time, the tester gave up.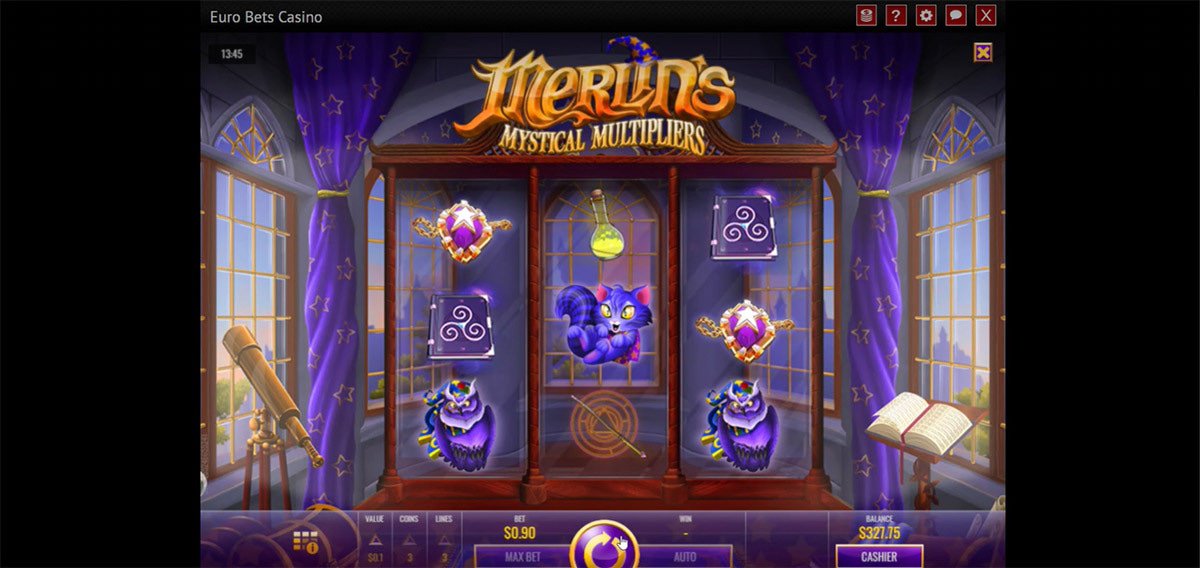 She returned to Lucky Ox Jackpots and Viking Victory one more time and completed her playing session with Lucky Ox Jackpots.
Withdrawal
After thoroughly exploring the operator's portfolio, the tested decided to make a cashout. On September 3, 2021, at 10:07 AM, the tester requested to withdraw USD 100.62 via Bitcoin. Upon communicating with live chat department, she found out she couldn't use the same method as she did for depositing (Skrill), as the e-mail addresses didn't match.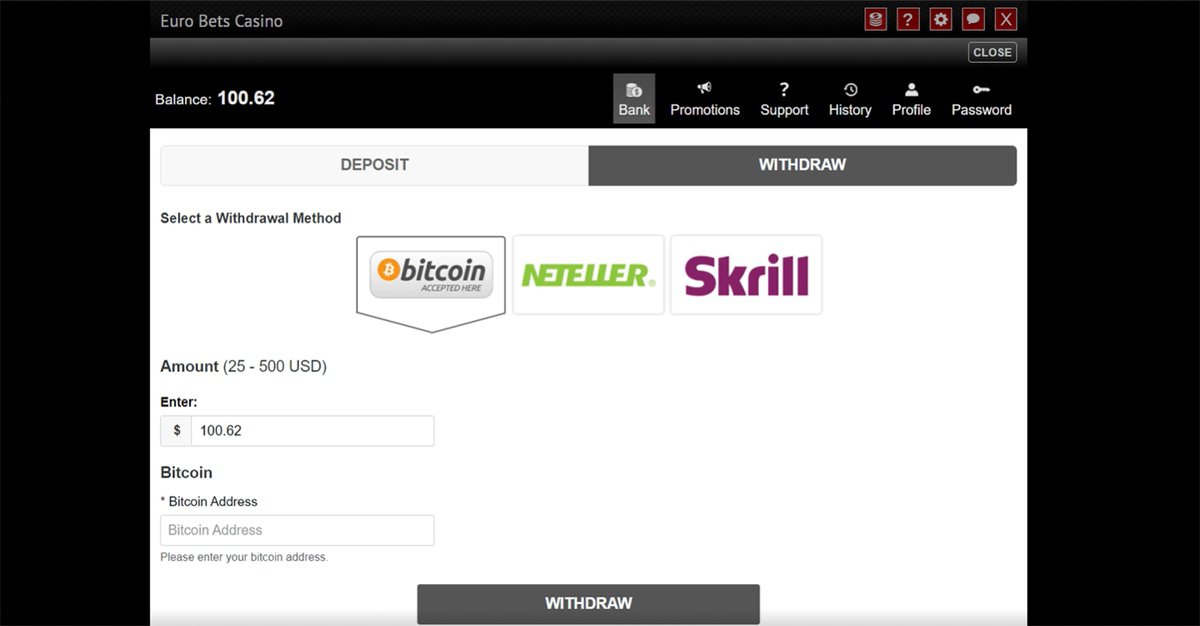 Having entered the desired amount and Bitcoin address, the tester received a notification that her "transaction is pending". She then headed to the "Profile" section where she discovered that the venue has the right to request ID verification documents before processing any transaction.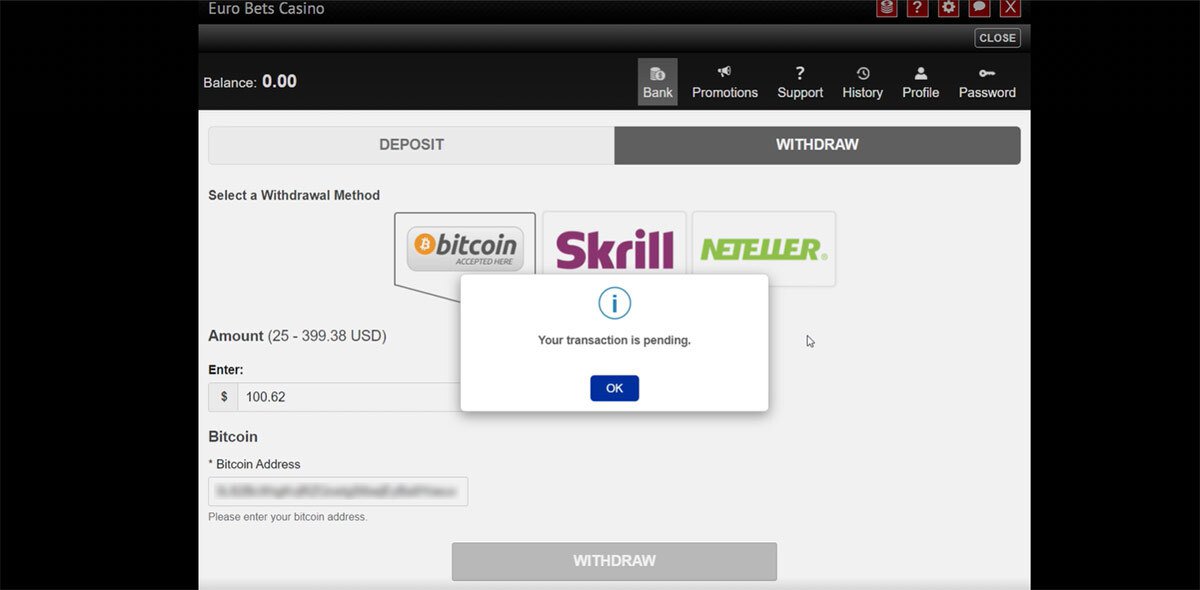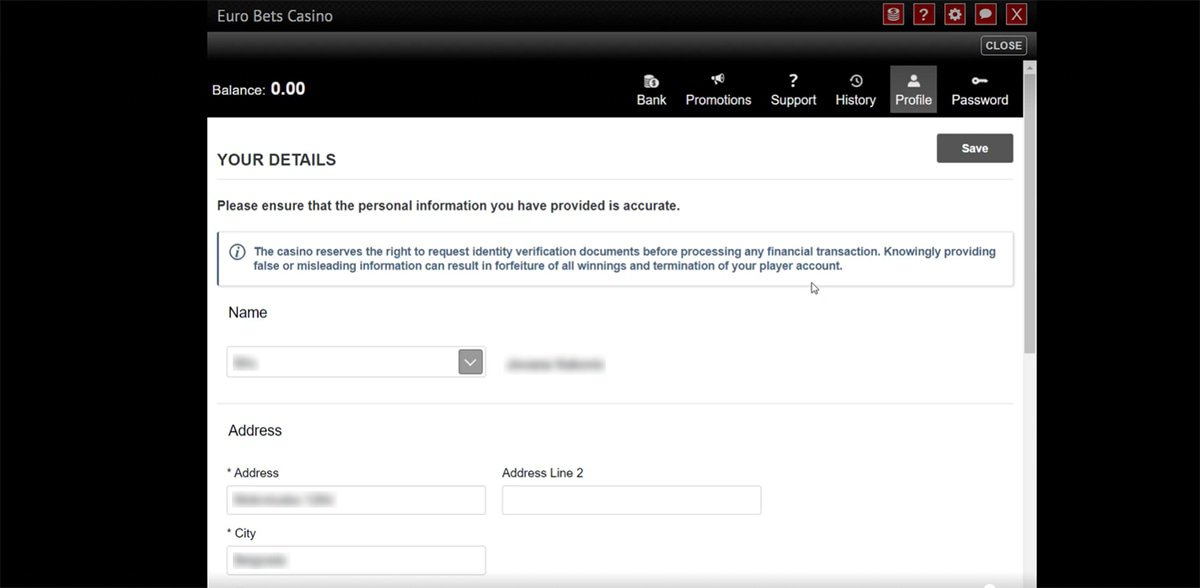 It's interesting to add that when checking the transactions, the tester learned that pending withdrawals can be reversed and refunded back to the account.
A couple of minutes later, an e-mail arrived informing the tester that her request is under process. In the meantime, three days after requesting the cashout, the tester completed the ID verification procedure by sending the documents via e-mail.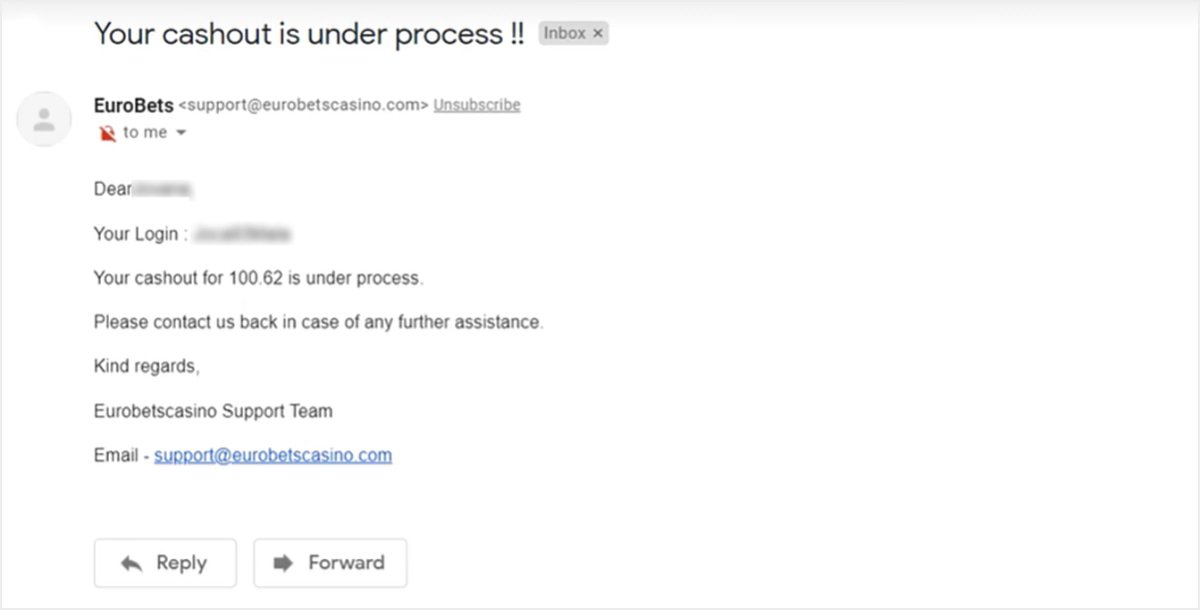 After many, many days, and multiple communications with the live chat team, the money finally arrived on September 24, 2021. The tester received a notification from Coinbase which confirmed she received 0.00242485 BTC. Converted to USD, the amount she received was slightly higher, USD 101.50, due to Bitcoin value fluctuations.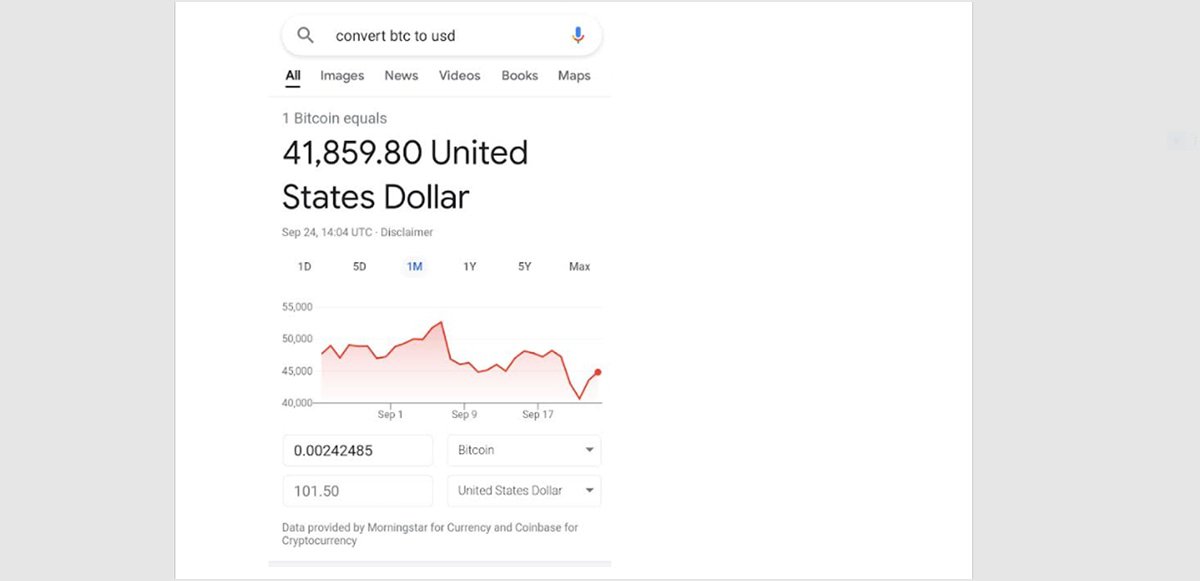 Here's what the EuroBets Terms and Conditions say on payment policy:
"It is our objective to approve the withdrawals in 48 hours under normal circumstances. This time allotment can differ because of processor accessibility yet we will dependably give it our best shot to pay our players as quickly as possible so they can get their rewards rapidly and easily. For accounts that require further investigation may take some longer approval time."
"For instance, a player is allowed to withdraw a maximum of $3,000 every week for a sum of $12,000 USD of their withdrawal every month."- adding that the limits can be increased, decreased, or completely removed based on one's loyalty status.
KYC Procedure
To have the account verified, the LCB tester submitted a couple of documents via e-mail on September 6, 2021. She sent the front and the back of her ID card, utility bill, and a selfie with the ID card. No notification arrived to confirm that the venue received the docs.
She sent a follow-up e-mail on September 10, 2021. Five days later, her e-mails were still without response, so she sent one more reminder to check if there were any updates. Six days later, on September 21, 2021, the tester sent another e-mail asking when will the cashout be sent, but unfortunately, all of her questions were left unanswered.

Communication with Support Department
The very same day the tester registered and deposited, she reached out to the live chat department to inquire about the minimum withdrawal amount for Skrill. The cashier indicated USD 25 is the minimum sum, but she wanted to be 100% sure. Rick, the live chat moderator, responded quickly and after checking her account (which took a couple of minutes, by the way), he stated that the minimum amount to withdraw is $100.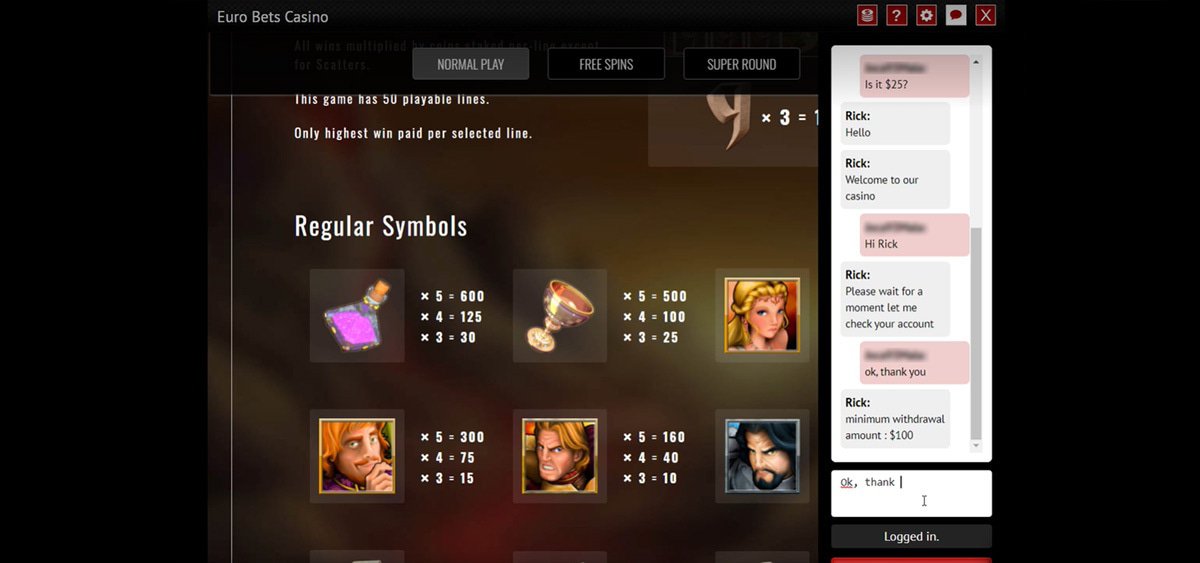 Moreover, the agent added that the tester will be able to withdraw funds using Bitcoin only, even though she opted for Skrill to fund the account. However, when checking the available options in the Withdrawal section, the tester saw a notification that Skrill can be an option to cash out only if the e-mail address for this payment method matches the one used for registering in this casino.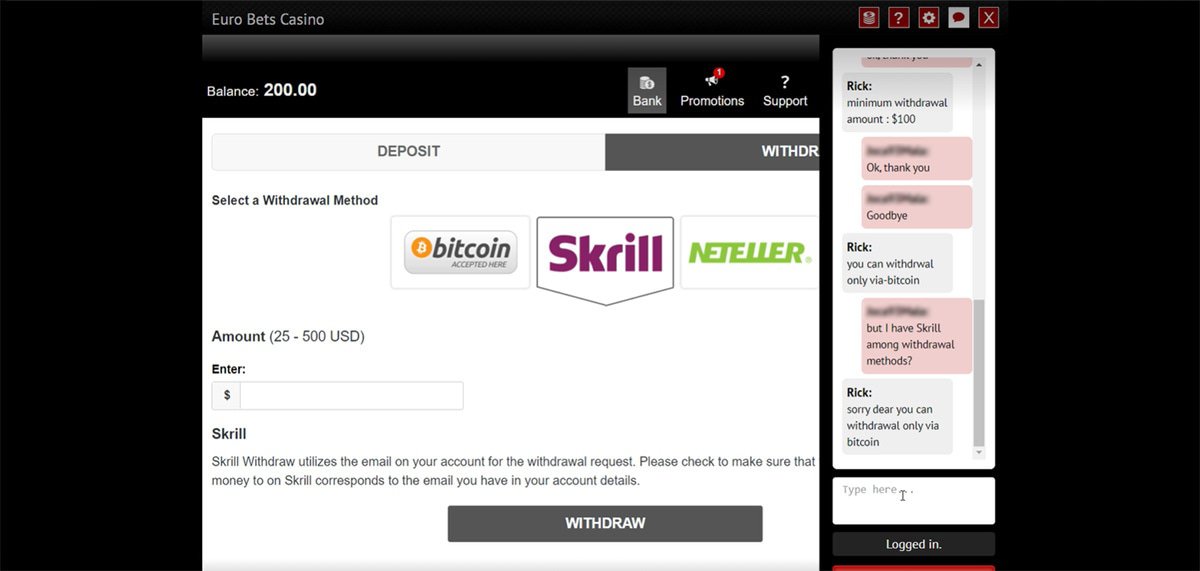 On September 9, 2021, a couple of days after making a withdrawal request and submitting her documents, the tester checked the history, but saw that the transaction was still in process.
She turned to the live chat department, and agent Rick responded that the finance team is working on the withdrawal, adding that the tester will receive the payment "as soon as possible", that is "next week". Worth noting is that the agent was too slow in answering the tester's questions.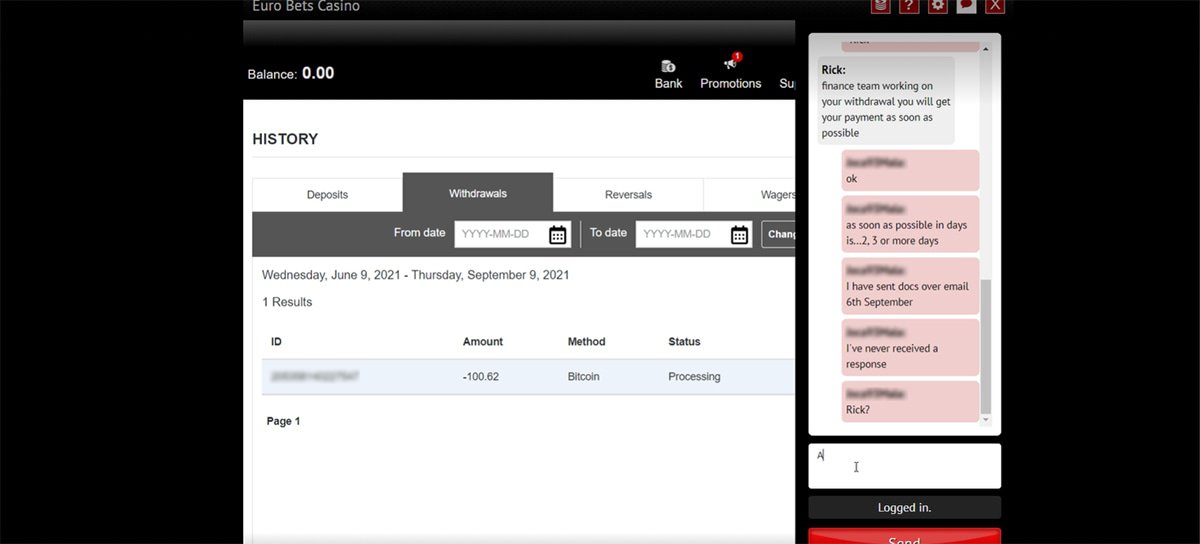 On September 23, 2021, the tester headed to "History" once again, only to learn that the transaction was still in processing. She contacted the live chat department, but no one responded.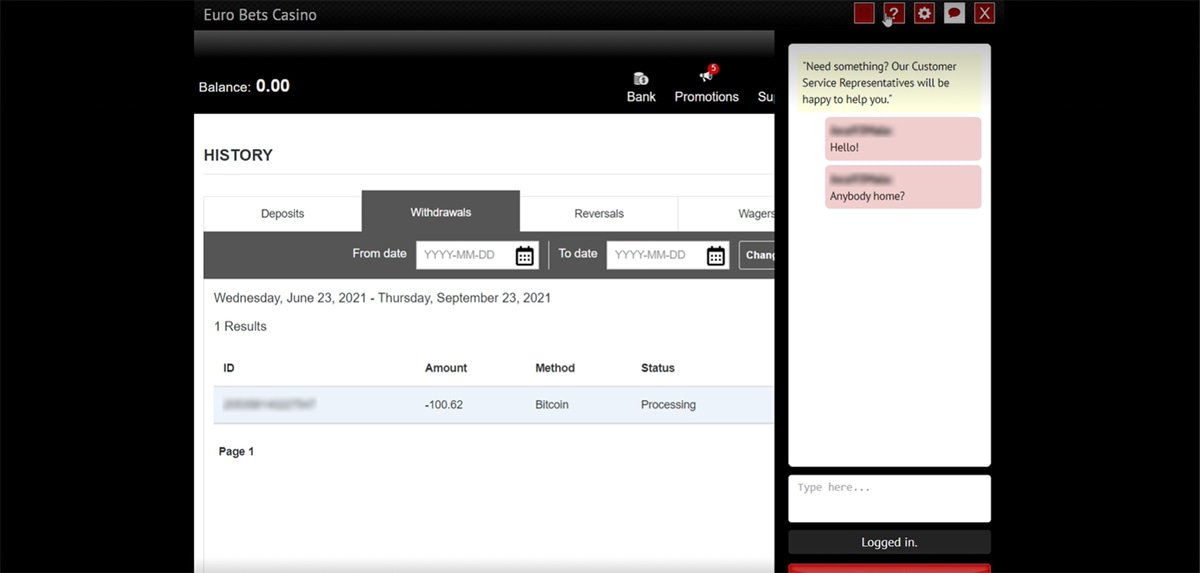 The status of the transaction was the same the next day, on September 24, 2021, so the tester tried her luck with live chat once again. Agent Andrew replied quickly, confirming that the request was sent for final processing and she should receive it "by Monday" (September 27, 2021). The tester also inquired about her e-mails which were left unanswered, and the agent stated that the team will check those as well.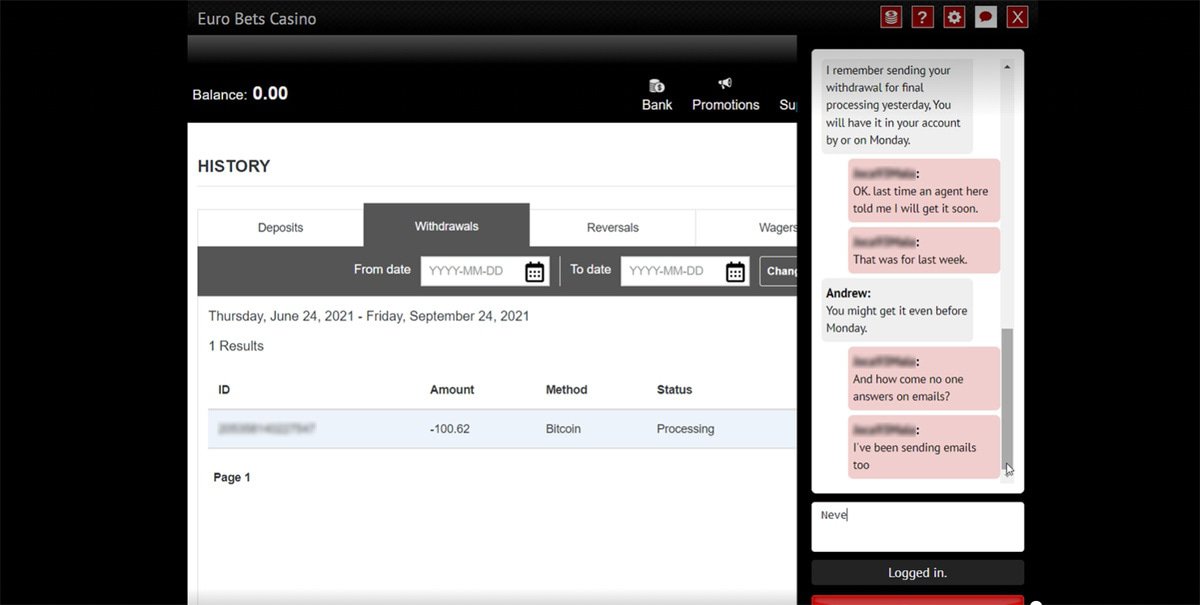 Just like the agent, Andrew said, the team did check her e-mails, but instead of answers, the tester received this response the next day, on September 25, 2021: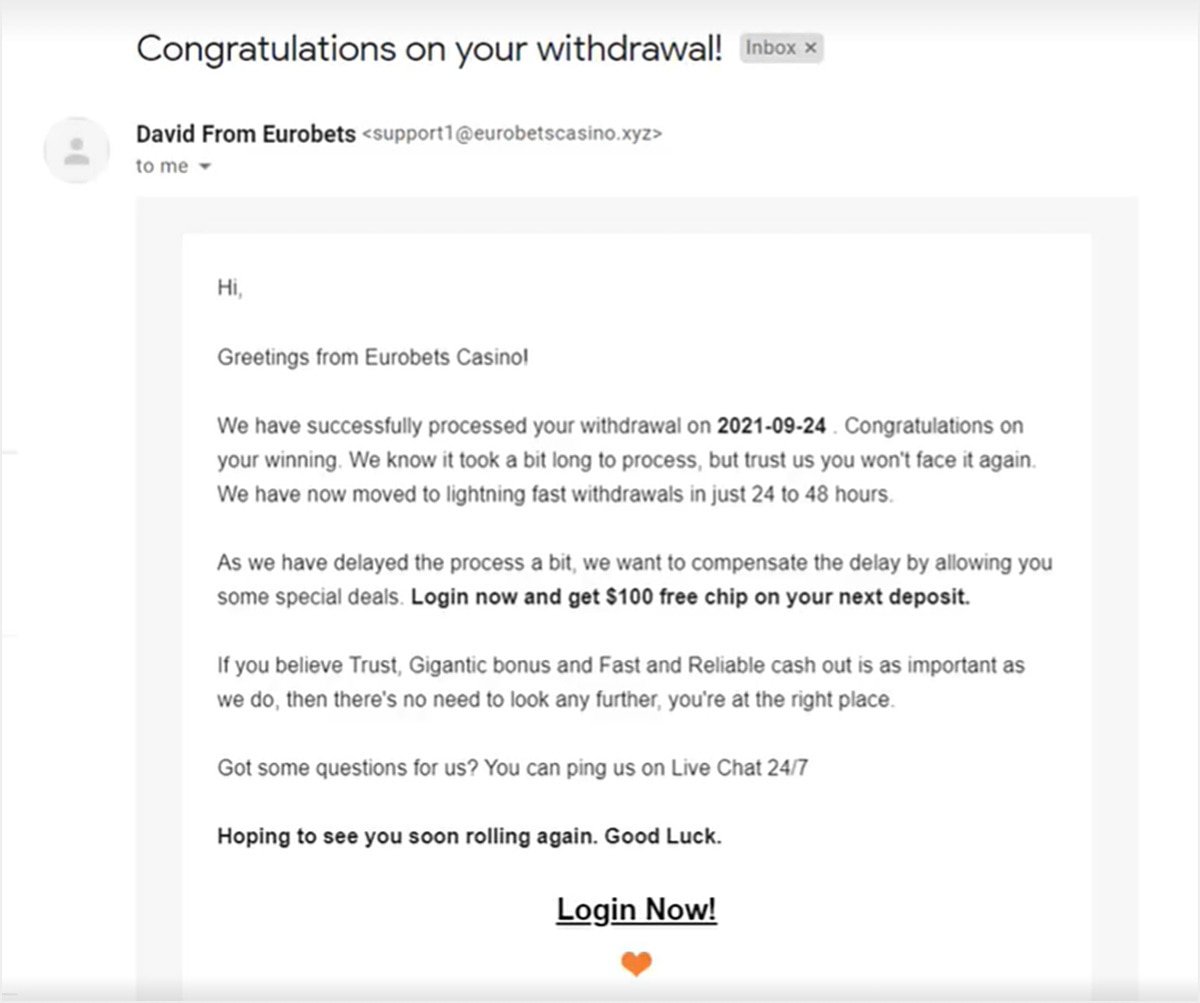 Conclusion
Accessing the review page of EuroBets casino, players shall spot a red warning banner which states that this brand has been placed on our Warning list due to slow payouts, delays, or no payments at all and non-responsive customers support. In addition to this, it operates without a proper gaming license.
Based on the tester's issue, we can say that situation hasn't changed at all. This venue still has the same issues, which confirms that EuroBets casino deserves to wear the warning badge.
Our tester has so far explored numerous betting venues, so if you want to take a closer look at her experience, go through these insightful reports:
Have you already checked out EuroBets Casino and what was your experience like? Share your thoughts and comments with us in the comments section below, and as always- gamble responsibly!
From the Players for the Players
Back to articles