Back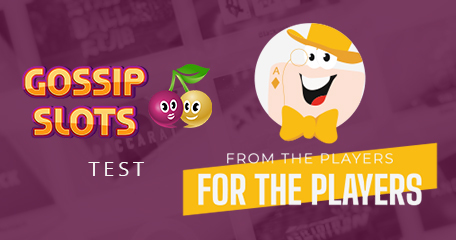 Our ambitious project From the Players for the Players keeps growing day by day, continuing to bring more value to punters worldwide. So far, the testers have analyzed and exposed a solid number of online casinos, both reputable and rogue ones.
This time, our tester Juggaloroscoe visited US-friendly Gossip Slots casino to check the quality of services offered by this betting shop. His valuable experience brought us a complete insight into all the crucial steps of the journey, with a particular accent on depositing, the KYC process, and withdrawal.
Before you read the entire report, take a look at the highlighting moments of the investigation:
Tester of the day: Juggaloroscoe
Date of registration: April 29, 2021, around 9:00 PM
KYC documents (

a copy of an ID and a utility bill no older than 3 months) submitted via live chat on April 29, 2021 and verified on the same day

Deposit of $200 using Bitcoin made on the same day, April 29, 2021
Withdrawal of $700.02 via Bitcoin requested on April 29, 2021, around 10:45 PM
Withdrawal received on May 5, 2021
Curious to hear more about depositing, KYC procedure, and withdrawal? What follows is a complete Gossip Slots casino test report, so stay tuned and keep reading!
Introducing Gossip Slots
Established in 2013, Curacao-licensed Gossip Slots joined the industry bringing a fine assortment of games from various categories. Despite what the name of the venue hints, its lobby accommodates lots more than just digital one-armed bandits.
Teamed up with more than 5 top-performing developers…
…it is home to lots of slots, table, and live games, along with video poker and specialty games. BetSoft, Arrows Edge, and Saucify are some of the names whose products are featured in the operator's portfolio.
On top of that, there's a great selection of promotional activities, with slightly higher wagering requirements, though. Also, the hub offers VIP Rewards Plan and Gossip Club, giving customers the opportunity to collect points, advance through levels and lay their hands on versatile perks.
Gossip Slots operates under Drake Affiliates, the same group Drake Casino belongs to.
Registration Overview
To become a member of Gossip Slots casino, a punter is required to fill in a simple form, which was the first thing our tester did.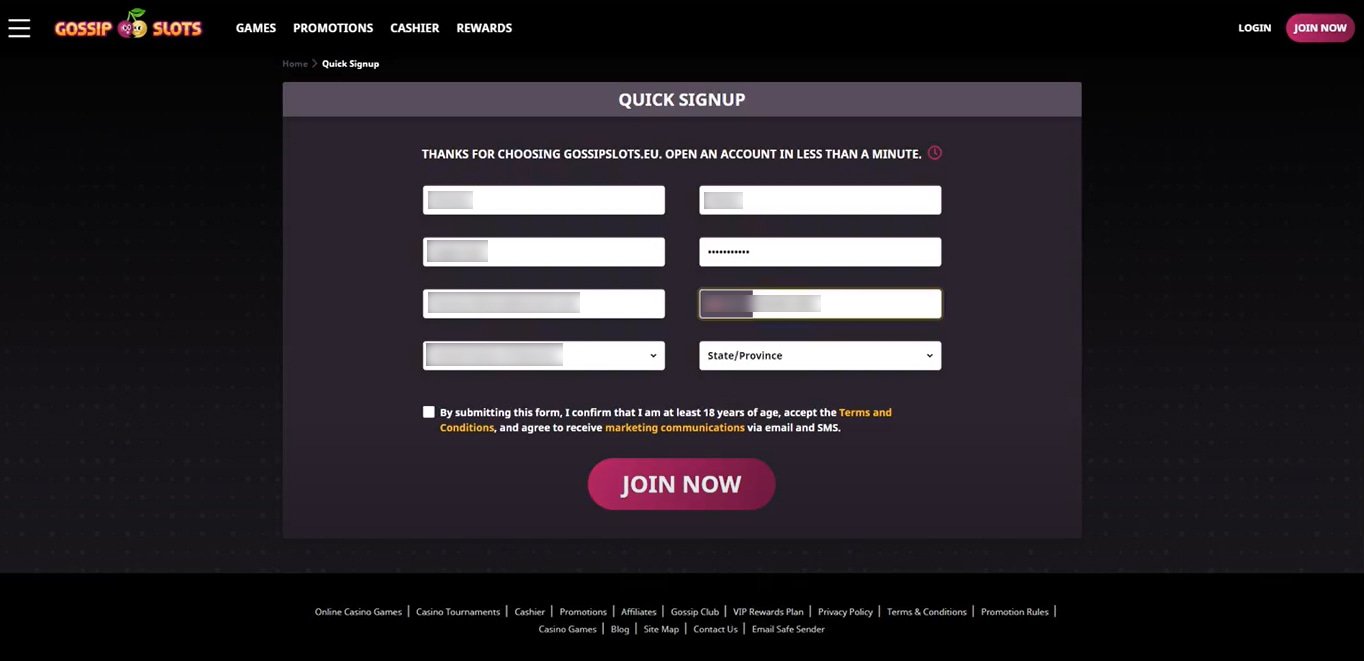 After that…
…he entered his mobile phone number to receive a verification code via SMS, to have the account verified and approved. The registration process took place on April 29, 2021, around 9 PM, and was completed in a matter of minutes. There weren't any obstacles.
Exploring the casino's official code of conduct, we encountered the following info:
"Accounts that are inactive for six months or longer will have their balance removed. If the client would like this balance to be reinstated, they must contact support."
Quick Deposit via Bitcoin
Having completed registration, the tester proceeded to the next step- depositing. On the same day, April 29, he deposited $200 using Bitcoin.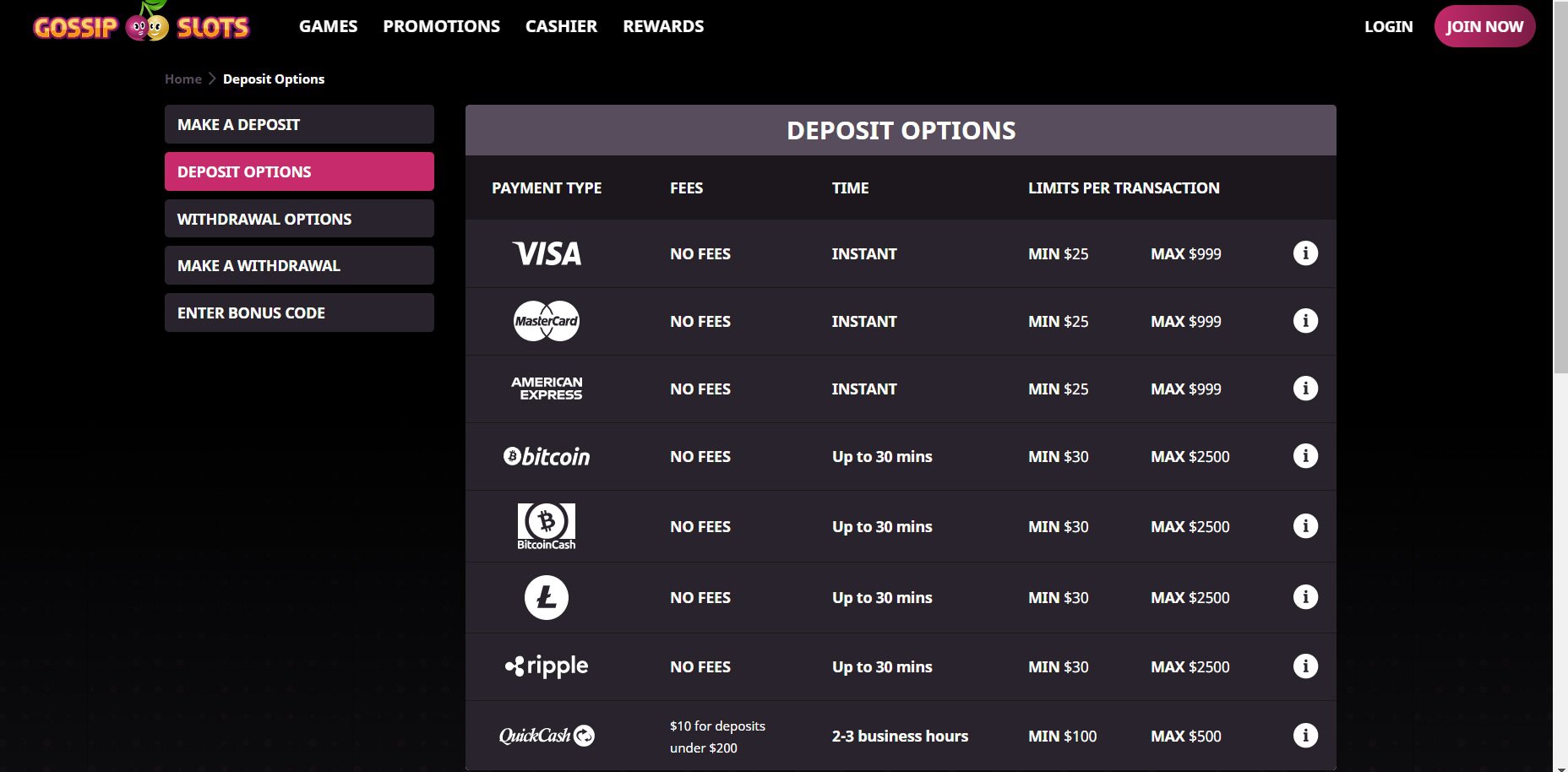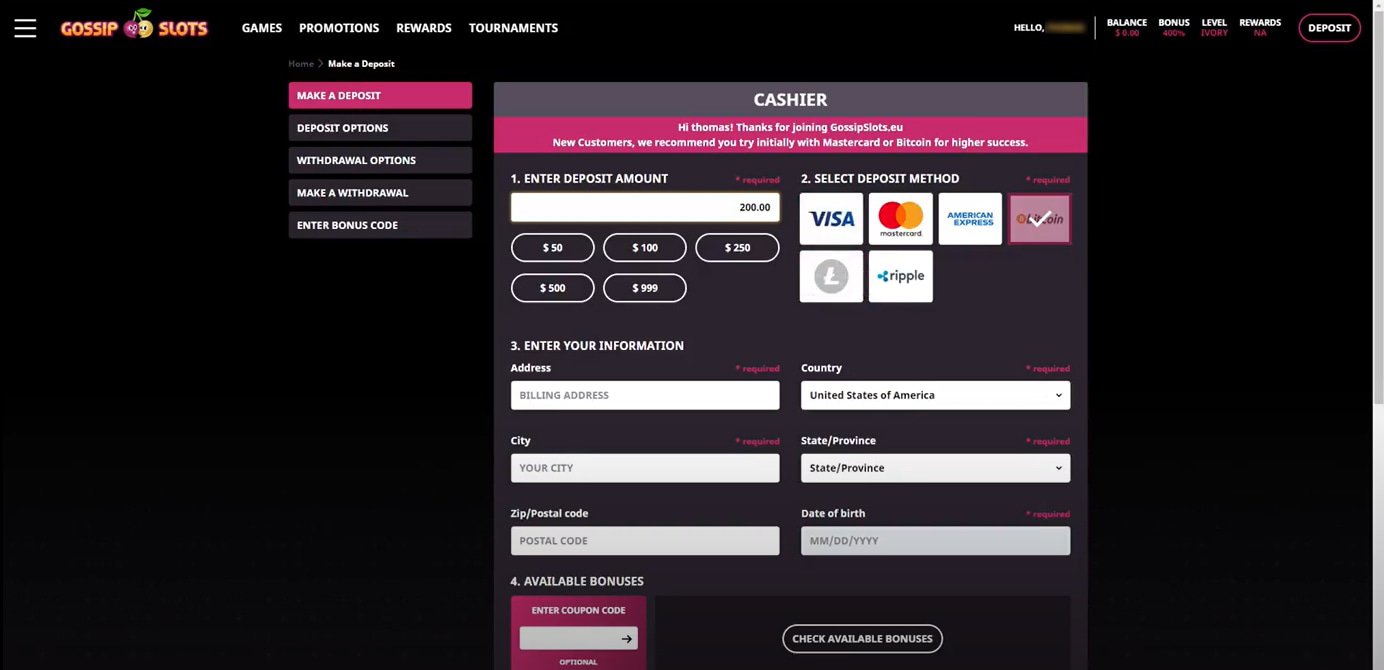 Apart from opting for method and the amount…
…the tester had to enter some personal information as well, after which he was prompted a window where he was required to confirm his intention to deposit. It's important to stress out that this step needs to be completed within 30 minutes, otherwise the customer will have to return once again to repeat it and generate a new Bitcoin address.
So, he entered the desired amount once again and a couple of seconds later, he received a new notification which contained the amount to be transferred, BTC address as well as the expiry date. This message contained a QR code as well, giving the tester the option to complete the process via his mobile phone.
He copied the address and returned to the cashier where he was informed that his account is not verified yet.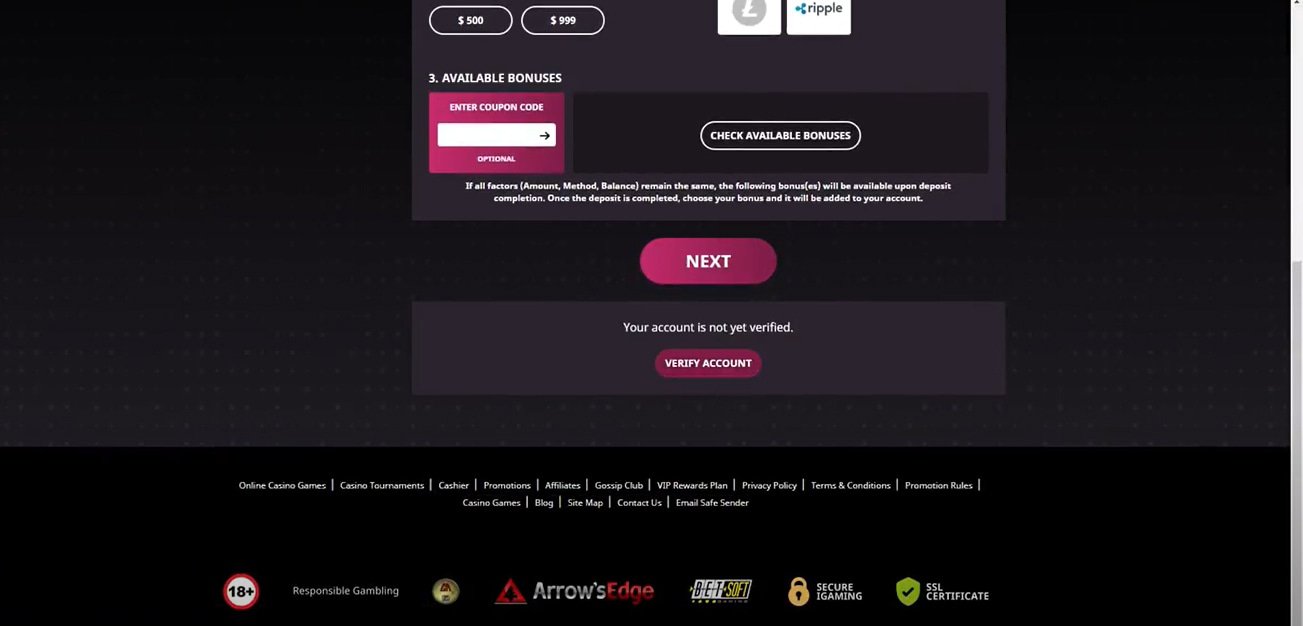 How Complex Was KYC Procedure?
To have the account verified, a customer needs to submit some ID documents via live chat. As you have probably noticed, the majority of venues implements ID verification procedures to confirm the identity of players, ensure they are old enough to gamble and that there are no abuses or criminal activities.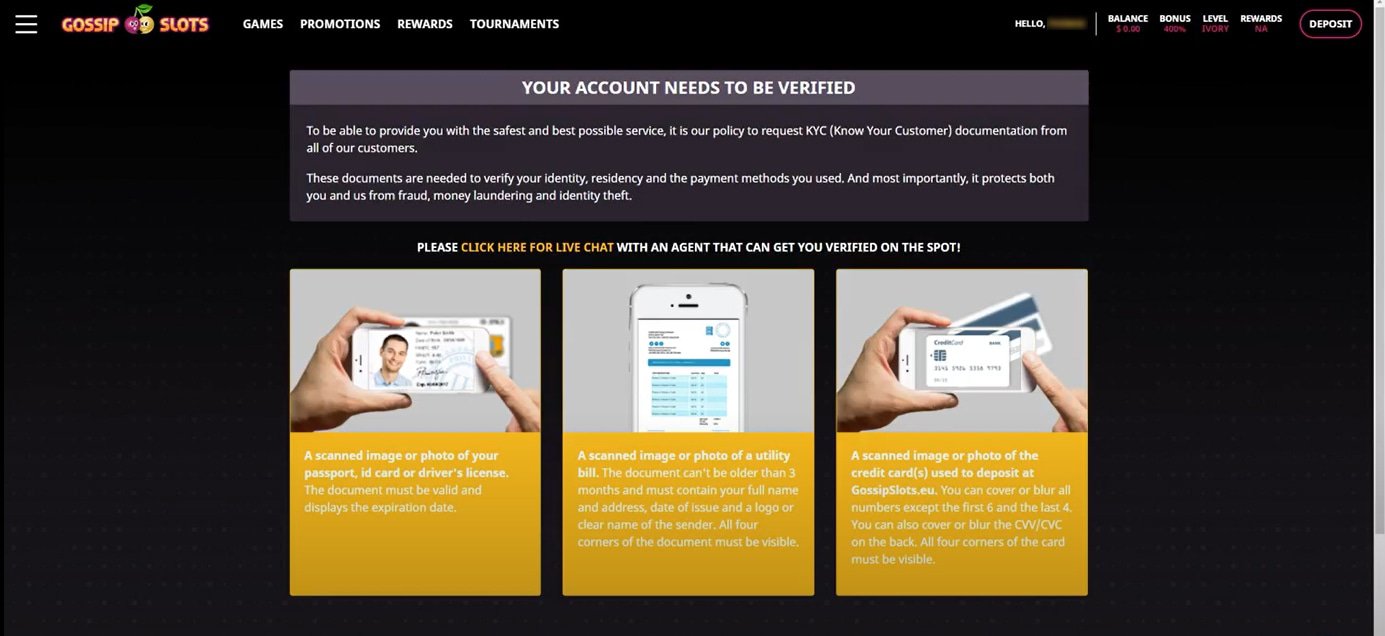 The agent responded quickly, informing the tester of the necessary documentation for account verification: a copy of an ID and a utility bill no older than 3 months. As far as the agent stated, the validation can be completed via live chat or e-mail.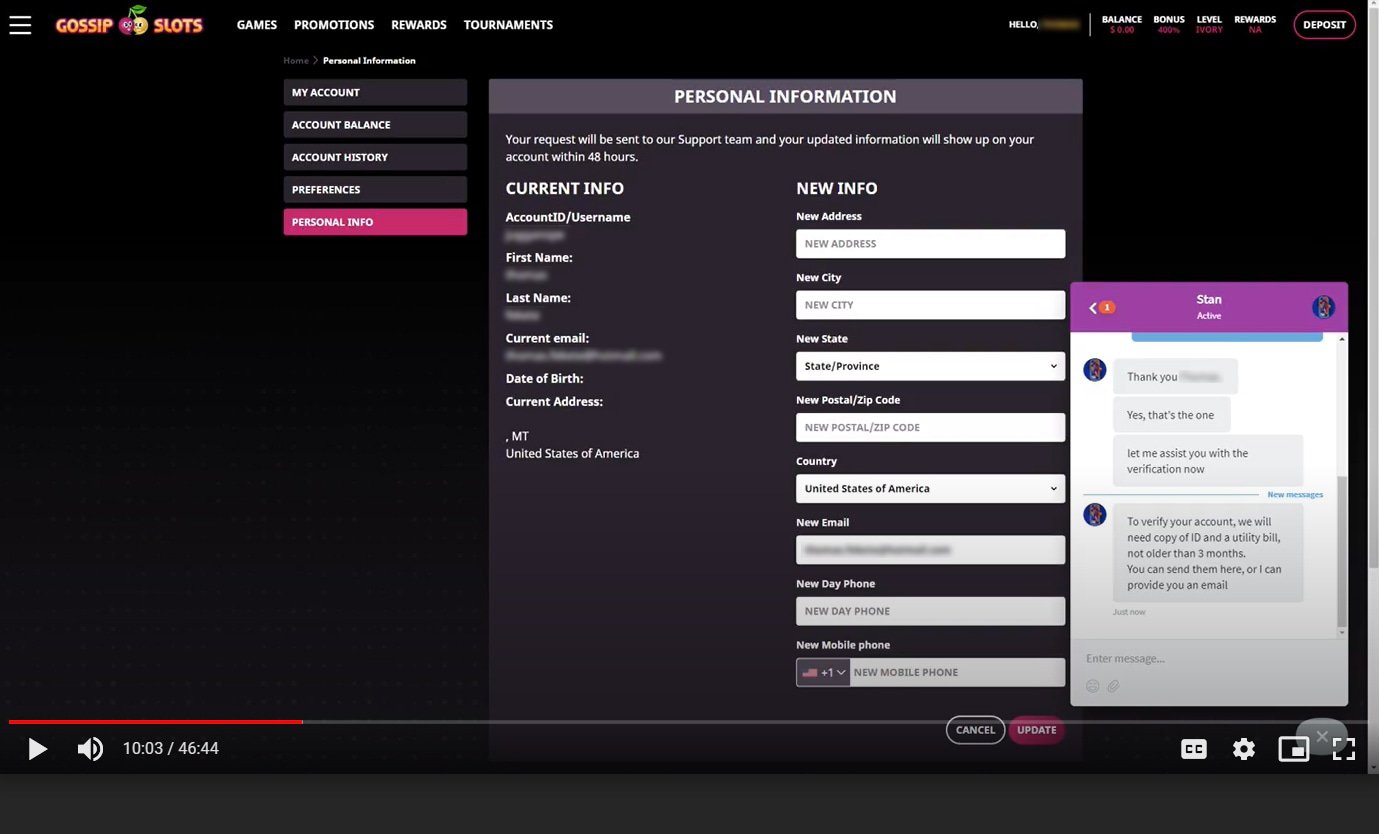 To go through this step as efficiently as possible…
…the tester submitted the required documents immediately via live chat. The agent asked the tester to wait a bit so that he could review the docs as they speak.
At this stage, it's important to stress out that the tester submitted an electronic bill, so the agent asked him to send another one, as they accept only those in paper form. Furthermore, he listed the alternatives.
So, he took a photo of another document, resubmitted it, and this time, there were no issues. The account was successfully verified on April 29, 2021.
After this, the tester inquired about a couple of important pieces of information regarding wagering requirements on straight deposits, and the agent said none are imposed.
The tester also wanted to check the minimum allowed withdrawal amount if one doesn't opt for a bonus. According to the agent, the minimum withdrawal amount is $140, that is- $100 for cashout plus $40 for fees, in case one opts for bank wires.
However, as our tester made a deposit using Bitcoin, and he intended to withdraw using the same methods, there were no fees.
Gameplay Highlights
As this step was completed with no major obstacles, the tester went on to explore the Gossip Slots' lobby.
His choice was Tiger's Claw by BetSoft. While playing the game, the tester triggered a couple of features and he had two noteworthy mega wins as well.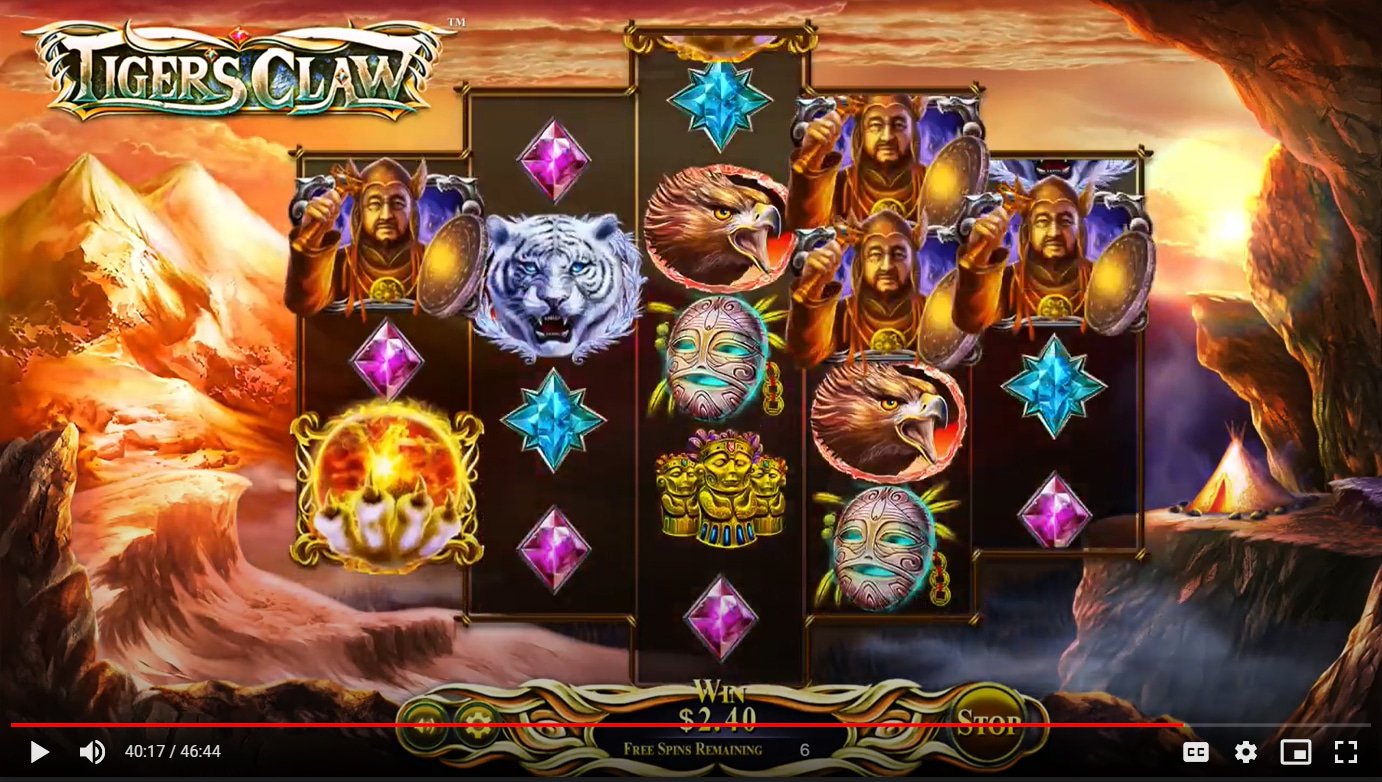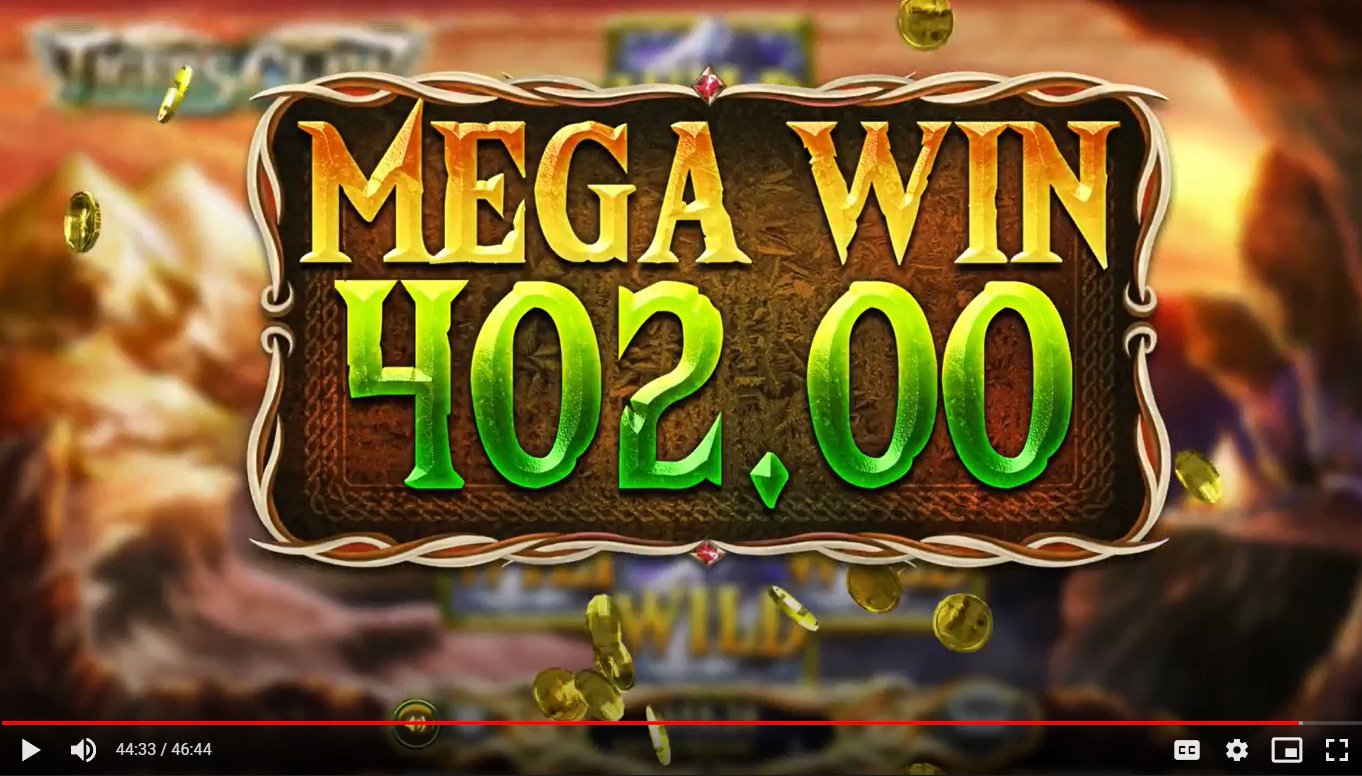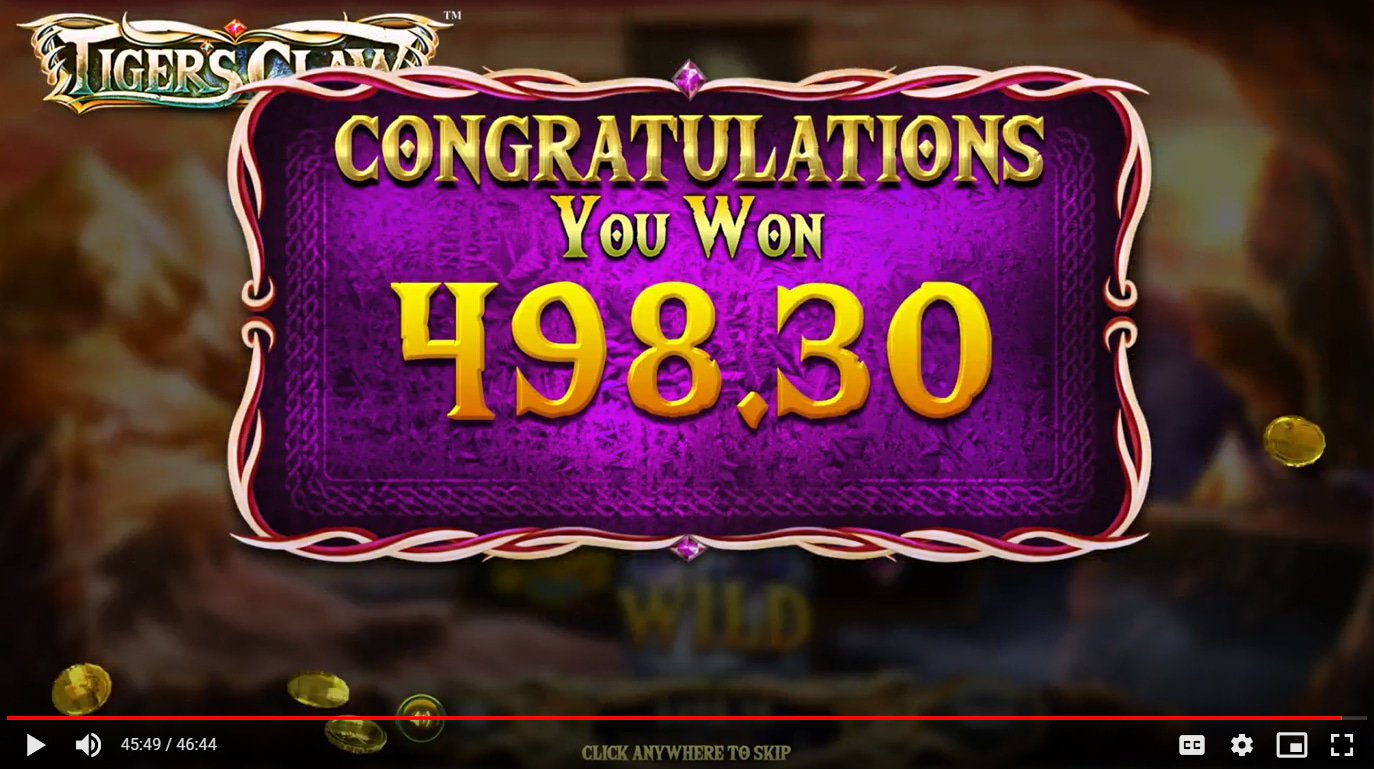 The next game on the menu was Alkemor's Tower, also delivered by BetSoft. This one was filled with winning sessions as well.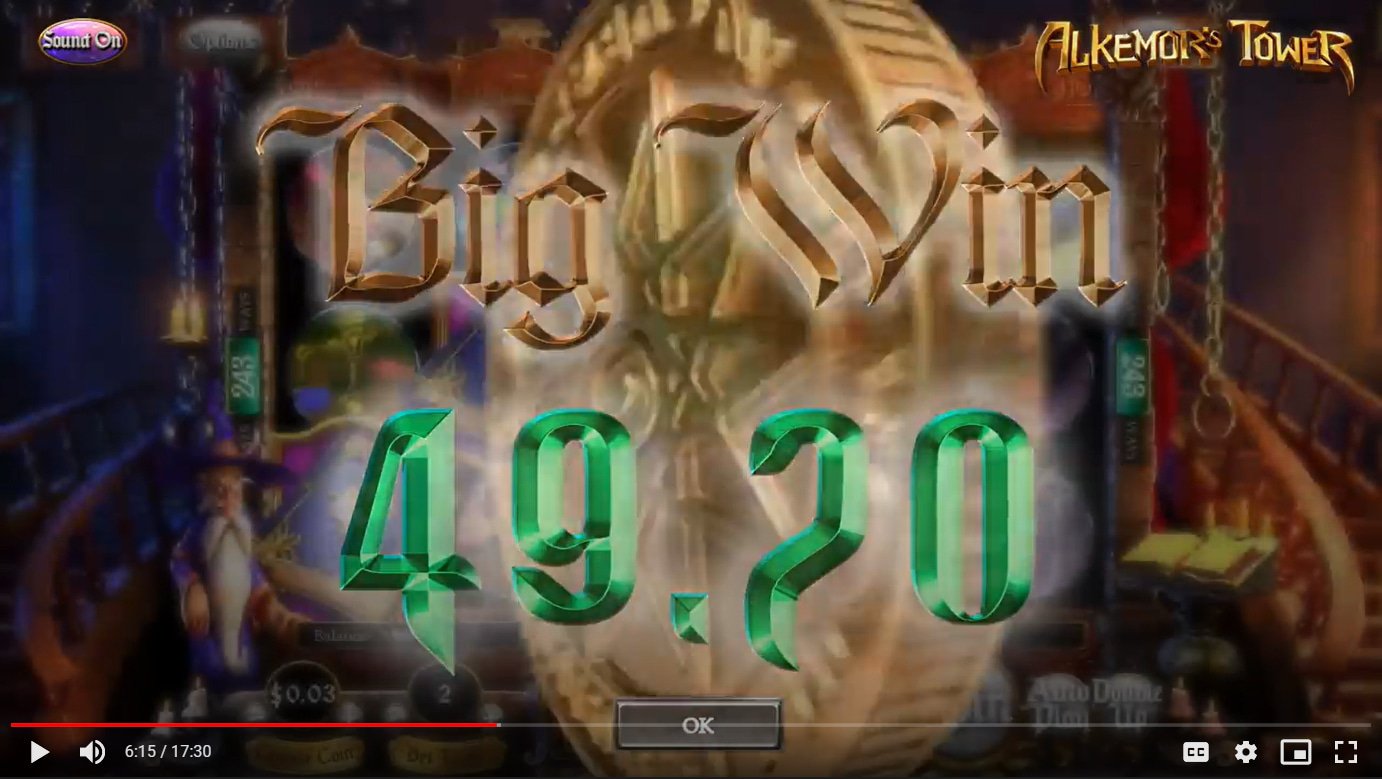 Having completed that adventure, he decided to explore BetSoft's Boomanji.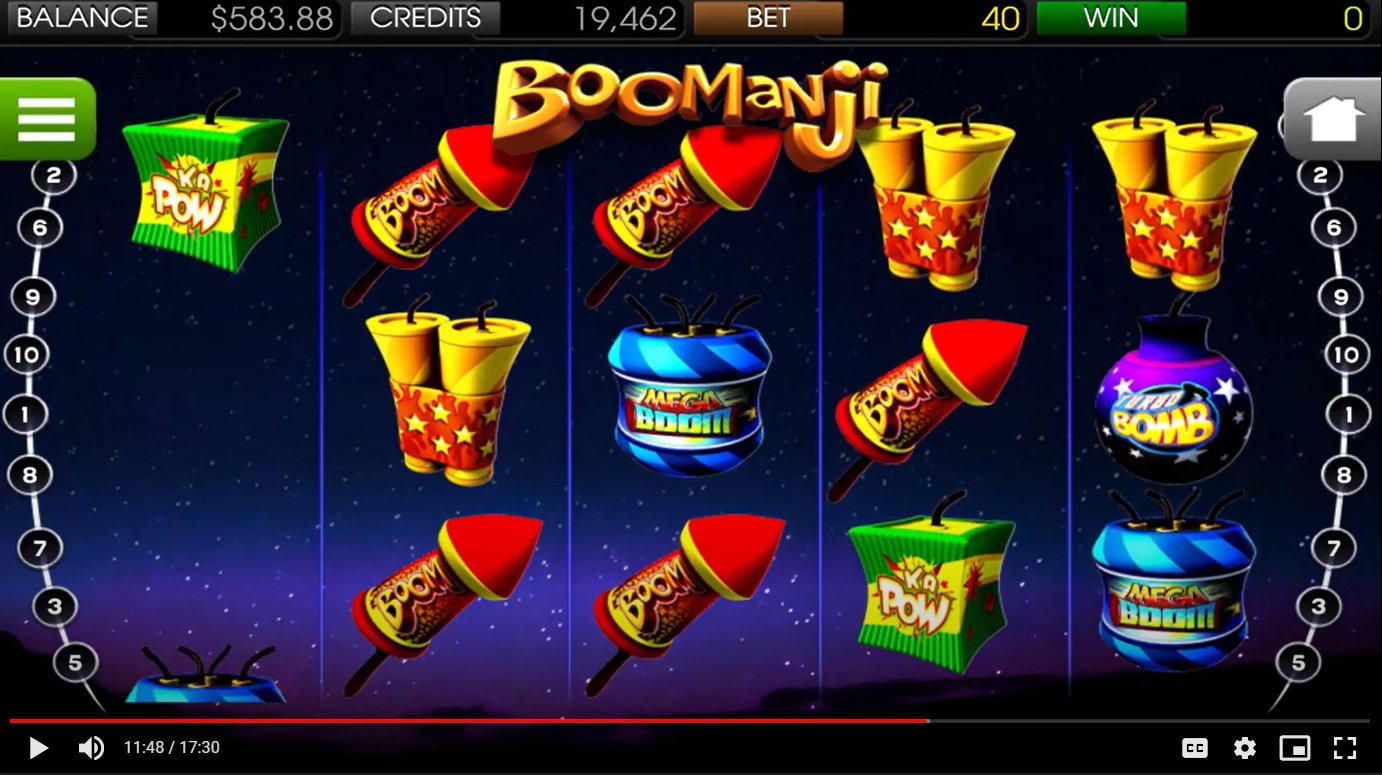 The next one on the list was Western Call by Arrow's Edge.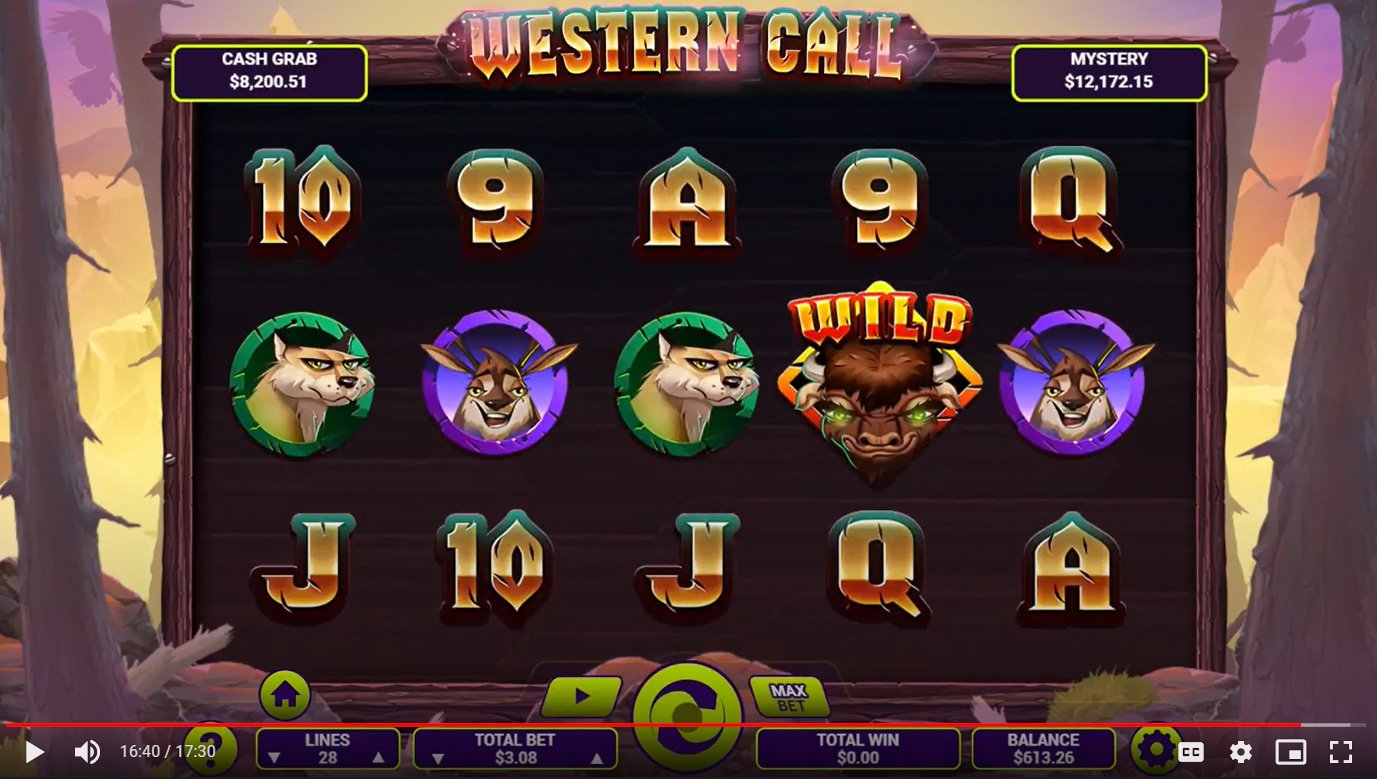 During the playing session, the tester encountered no glitches or issues, everything worked flawlessly.
Time Has Come to Withdraw!
After a successful playing session, the tester went on to the next step- cashout request. On the same day, April 29, 2021, he made a request to withdraw $700.02 via Bitcoin, the same method he used to replenish the account.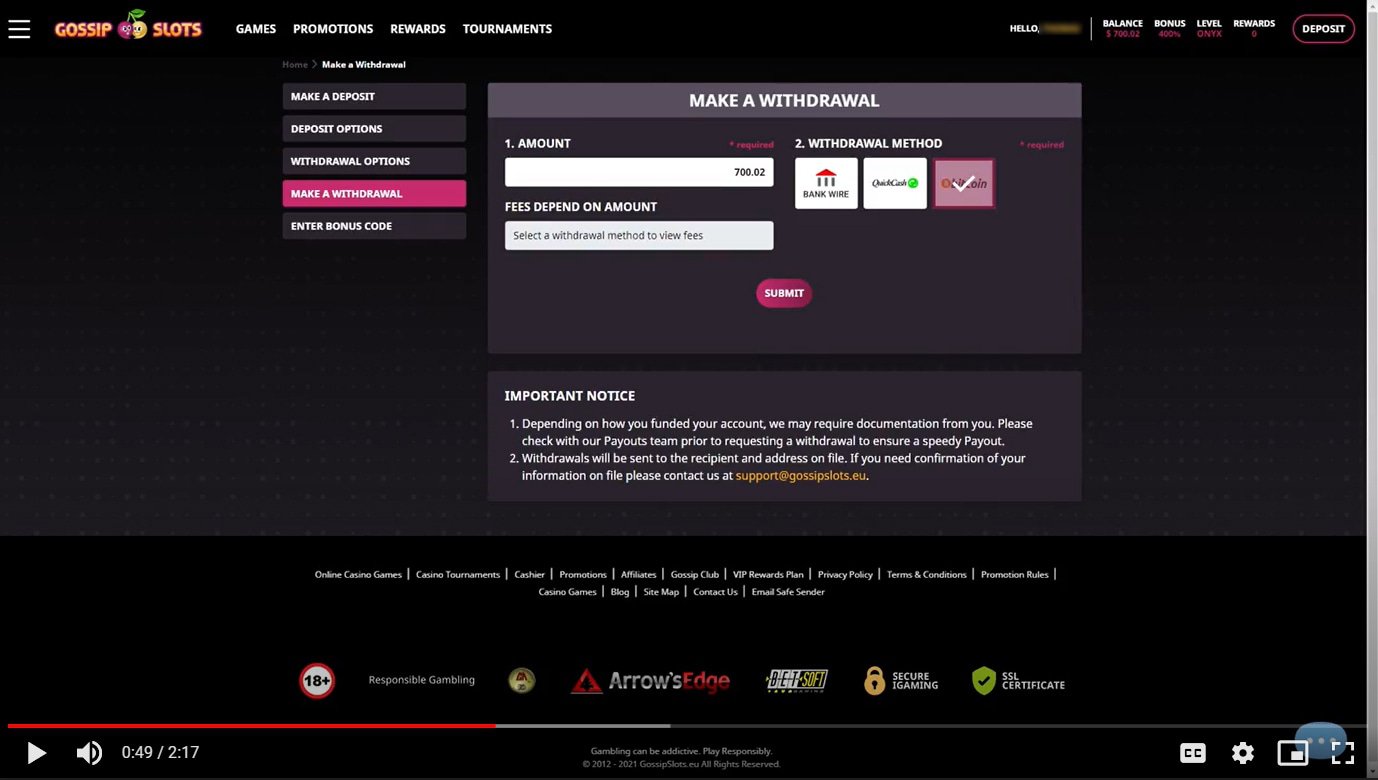 We'd like to stress out that this day was Thursday. Why's that important?
According to the official terms:
"The Company will make every attempt to ensure that all withdrawals are paid out in a timely fashion, however, there is a standard 48 business hour waiting period from the time the withdrawal is submitted, to the time that it is sent for processing."
On May 3, 2021, Monday, the tester got in touch with the support department to inquire about the status of his request. The agent informed him that the account is still being reviewed. Also, worth mentioning is that there's a time zone difference between the tester's and support agent's country of residence. So, the tester spoke to the department on May 3, 2021, at 10:40 PM, while the agent's time was May 4, 4:24 AM.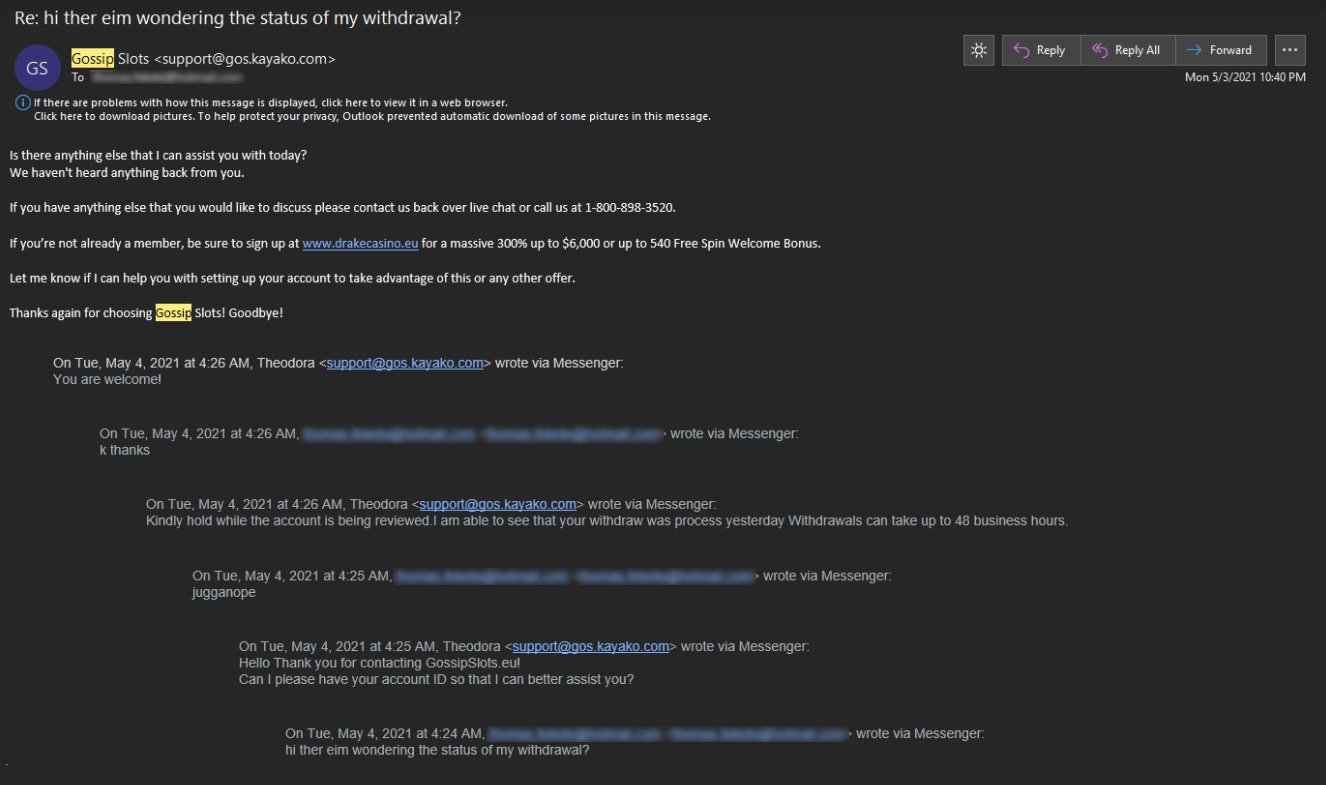 A day later on May 4, 2021, Tuesday, LCB tester turned to assistants one more time, stating that the transaction doesn't even show up on his account. Communication took place approximately at the same time as the previous day, 10:14 PM, meaning the agent's time was May 5, 3:58 AM.
As far as the operator stated, the request has been processed on May 3, 2021, and once again, it takes up to 48 business hours to reach the tester's account.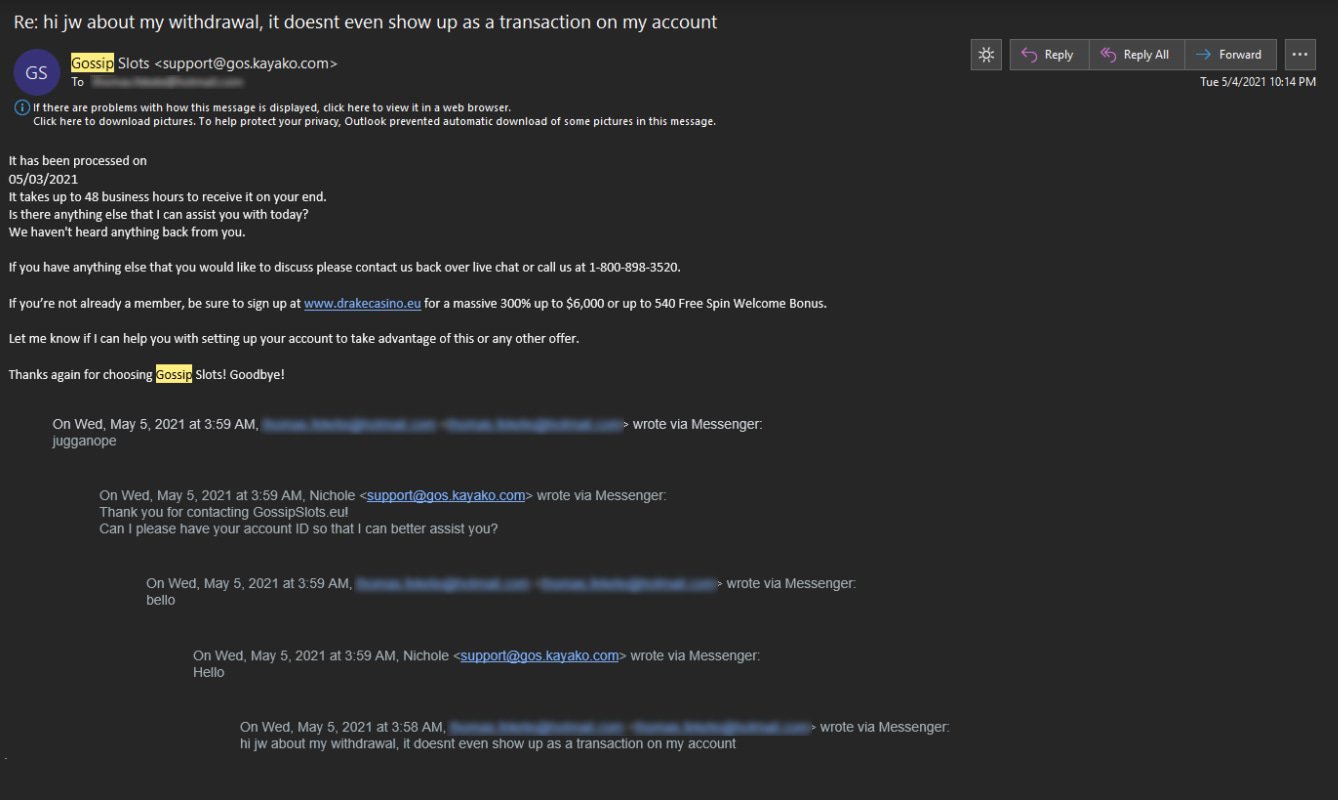 On May 5, 2021. LCB tester received the payment of $688.01 worth of BTC, due to the value of bitcoin at the time the payment was confirmed.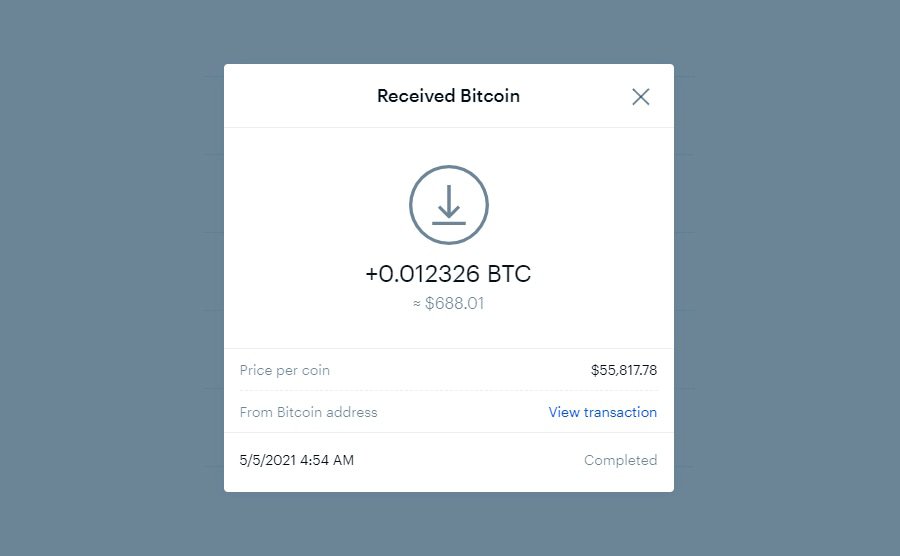 Let's see what the Terms say on the withdrawal policy:
"The minimum withdrawal from the casino is $100 depending on your available options. Please review our payout options for limits and available methods. Maximum amount is $2,500 per week, unless otherwise stated in cashier, as amounts can vary based on player status. Any amount greater than maximum will be divided into parts, where no part can be larger than the maximum for that level, and sent on consecutive weeks until the total amount has been delivered. A Player's initial withdrawal or changes to payment details are subject to clearance by the payment processor's risk department. This review can take up to 5 business days at which time the Player will be informed via email of their payment processed date."
However, the minimum withdrawal limit for Bitcoin is $300, as stated in the Cashier > Withdrawal Options, which is quite high and can be an issue for players who wish to cashout smaller sums. The $300 BTC withdrawal limit wasn't a problem for our tester in this particular case, since he was able to request a withdrawal well above this limit - $700.02.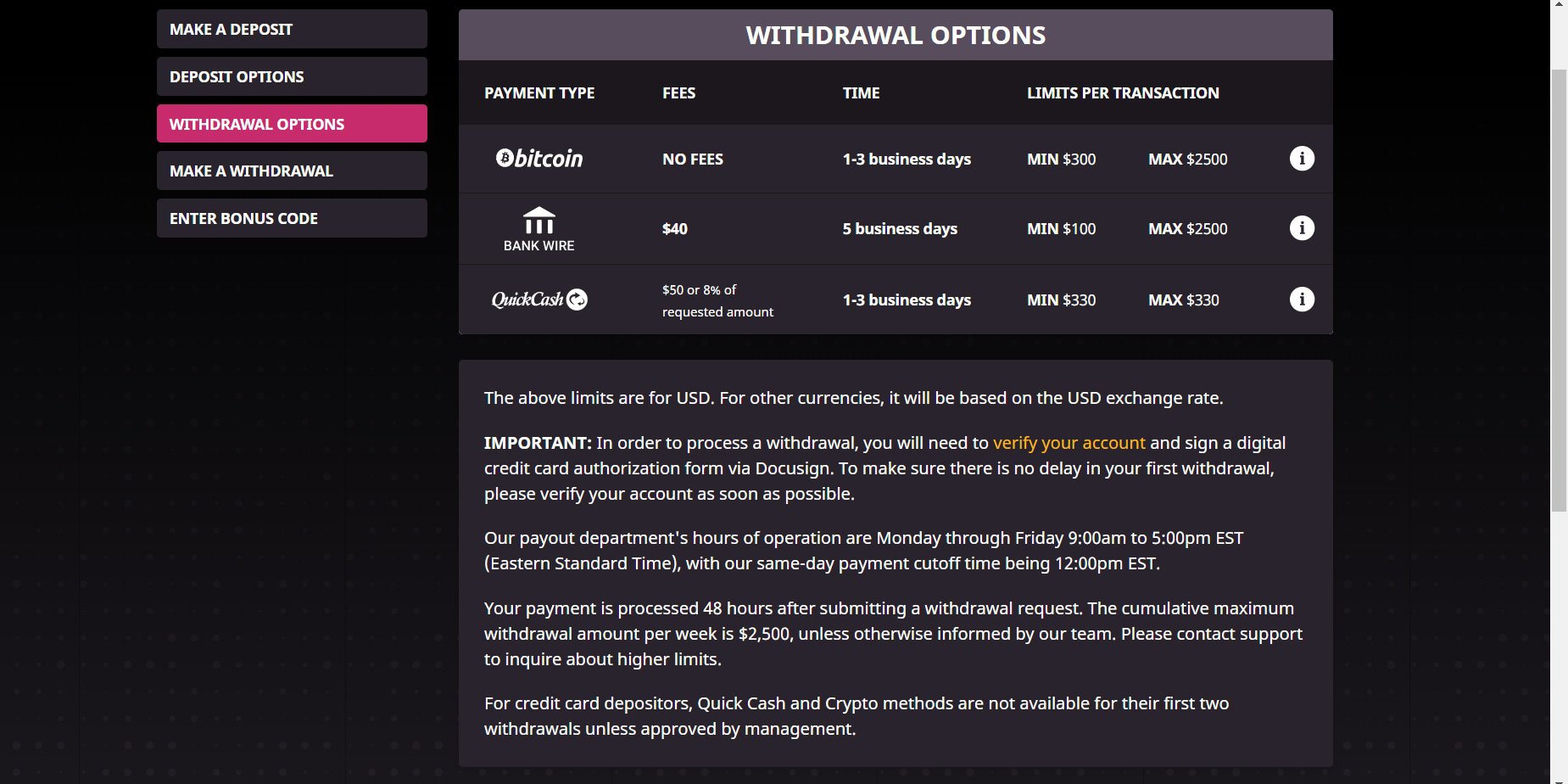 Conclusion
Every step of the procedure went well, except the fact that withdrawal took a while to appear on the tester's account, which is slightly unusual, having in mind that he opted for Bitcoin. This payment option is a synonym for efficiency, at least it should be.
Yet again, every online casino has complete freedom to establish its own rules, and Gossip Slots is by no means an exception. The most important is to familiarize with the Terms before depositing.
This project is not the only one Juggaloroscoe has taken part in so far. If you want to find out more about our tester's experiences with other entertainment facilities, these are the articles to read:
Have you visited Gossip Slots casino and what was your experience like? We'd like to hear from you so hit the comments section below, and as always- gamble responsibly!
From the Players for the Players
Back to articles