Back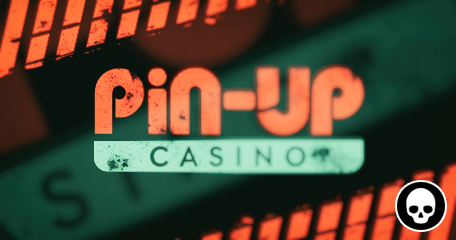 As you all know, LCB's main mission is to bring more value to the player. With new brands added every day, our team is working 24/7 365 days a year to provide you with the freshest bits of info.
Personal experience is always appreciated and can help a lot when making up your mind about where to register and play for real money. For this reason, we came up with a new project: to publicly share first-hand, genuine experiences with online casino operators.
Dubbed "From the Players for the Players", the new mission aims to introduce you to all sorts of online brands- new, blacklisted, reputable - and to verify whether or not they stand true to their words.
This time, we decided to test Pin Up casino: from the registration procedure and customer support, to the ID verification and cash-out process.
Unfortunately, our journey was filled with an abundance of obstacles, confirming that their Rogue label is still very much deserved.
Want to hear what went wrong? Keep reading!
Introducing Pin Up Casino
Browsing through our wealthy directory of online brands, you may encounter an interesting retro-looking brand that offers more than 3,000 games from 50+ finest software developers. You are basically a click away from visiting it, but then you notice that Pin-Up casino is on the warning list.
What on Earth could be wrong with a place that offers so many games and a variety of rewarding bonuses and promotions?
The fishy thing that had been going on there were pirated slot games by Novomatic, NetEnt, Aristocrat, and Playtech. Although the counterfeits were removed in June 2018, sparking up hope that the brand is heading in the right direction, three years later things are still not as proper as they should be at this Curacao-licensed betting shop.
We decided to go through the complete procedure and all the step – from deposits to withdrawals. Sadly, we encountered some very concerning difficulties.
Curious to hear more about Pin-Up Casino withdrawal issues? Keep reading!
How Smooth Was Pin Up Casino Registration Procedure?
Our journey through this establishment begins on February 8, when we opened the account. We completed the sign up form, which is more or less the same as with any other gaming site.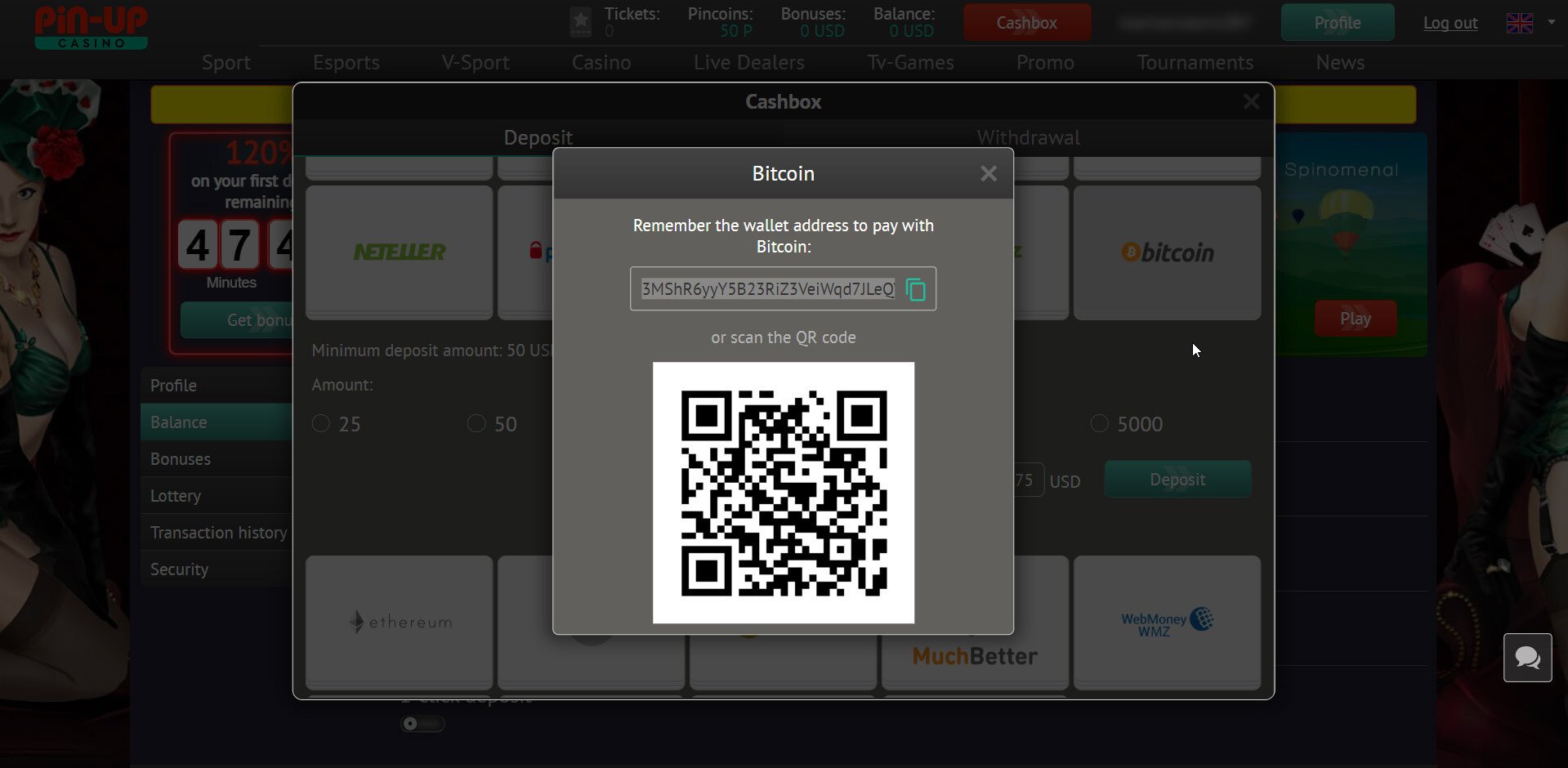 After completing registration, or even better- before doing so, make sure to clean cookies to prevent potential obstacles and complete the procedure without any issues.
Here's what the official Terms and Conditions say:
"In order to confirm the information provided, the Company has the right to request a document certifying your identity at any time, as well as documents proving your payment data usage legitimacy during cash transaction performance. This procedure is called account verification, and the client who successfully passed it can also be referred to as the "Verified Client". The client can attach the identity document copy in the section "Personal account - Profile - Loading documents" at any time (immediately after registration, before, or after withdrawal request). If you do not provide or can not provide the information we request, we reserve the right to suspend your account until you provide us with this information and/or finalize your account if it is not submitted."
The KYC procedure is important process customers are required to complete in order to successfully make withdrawals and/or deposits. This legal requirement aims to bring more safety, security, and transparency to the entire process and serves to protect both consumers and gambling venues.
The Terms also say that:
"Account verification is carried out (by the financial and security departments) on workdays (from Monday to Friday) with the exception of cases when user account verification is essential to process an active request for the withdrawal of funds."
After playing several slots, our balance dropped down to $52.34. We wanted to showcase the cashout process itself and check how the casino handles payouts, and having in mind that the minimum withdrawal limit for BTC is $50, we made a withdrawal request without meeting the deposit turnover requirements.
Now:
Our first withdrawal was requested on February 8th, but we must emphasize that our ID documents haven't been verified at the time of registration. Even though it would have been much easier for us to submit documents and get our identity verified immediately, we intentionally omitted it to see how the casino would handle KYC at the time of the cash-out request. For this reason, our cashout request was denied on the same day.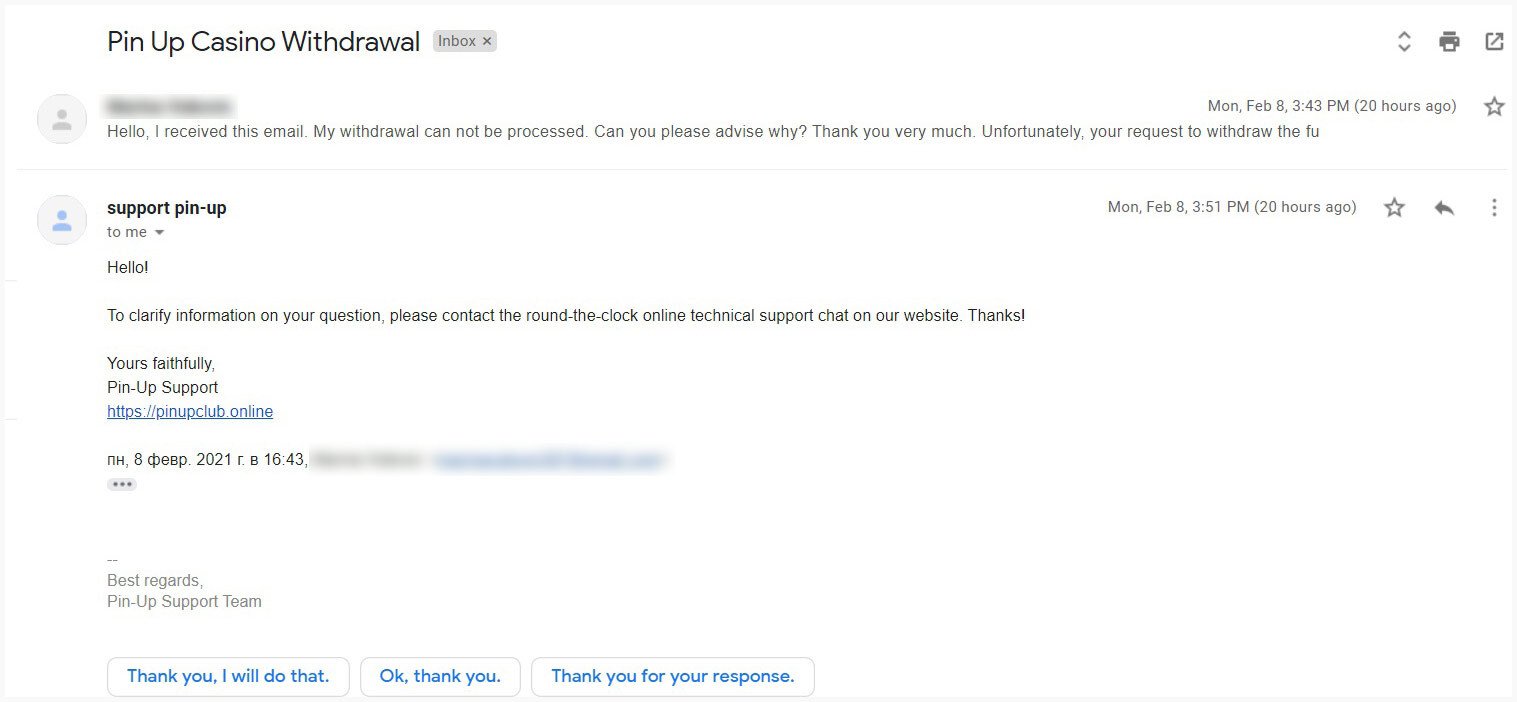 The following day, February 9th, we submitted the required documents, but they were denied again as they were not valid. On February 10th, we repeated the procedure, and this time- we succeeded.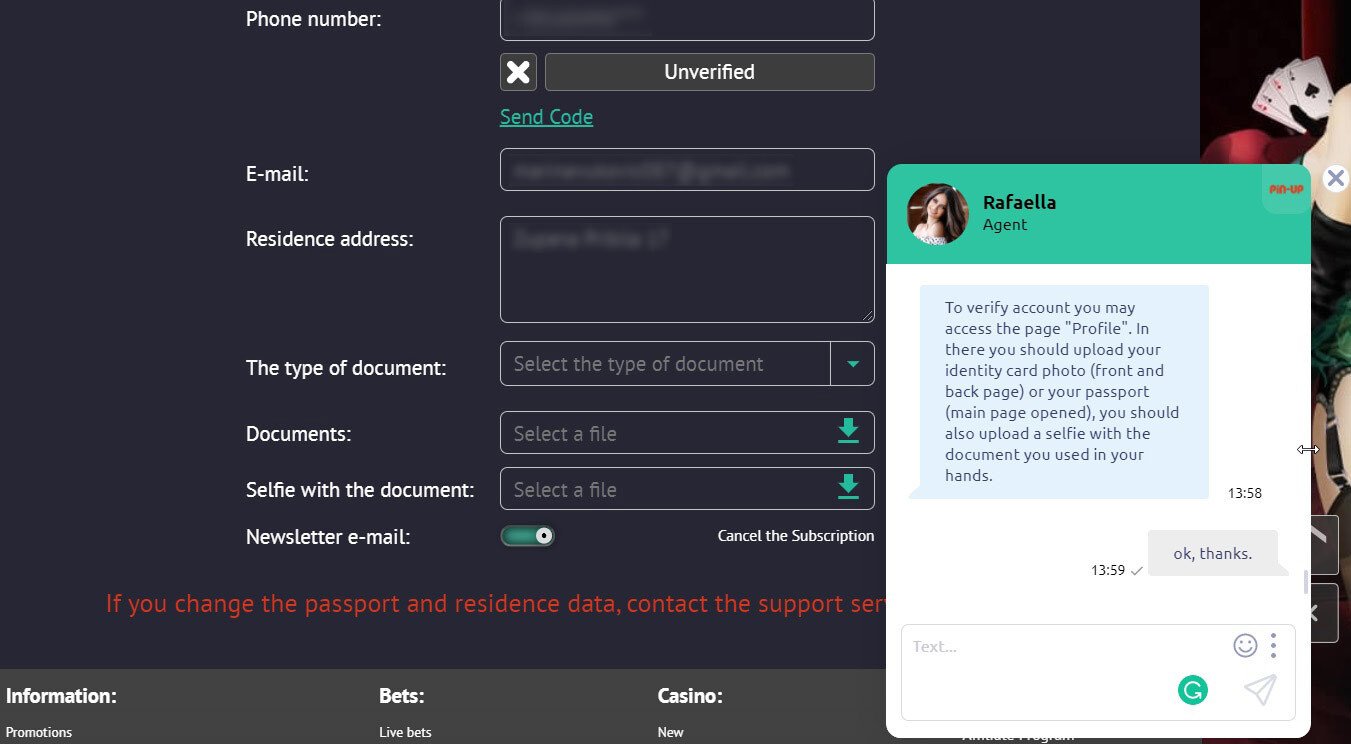 The next step? Another attempt to cash out, of course!
And, so we did, on February 11th. Then the next day, February 12th, we sent a follow-up e-mail, to inquire about the status of the request, since it has been denied- AGAIN!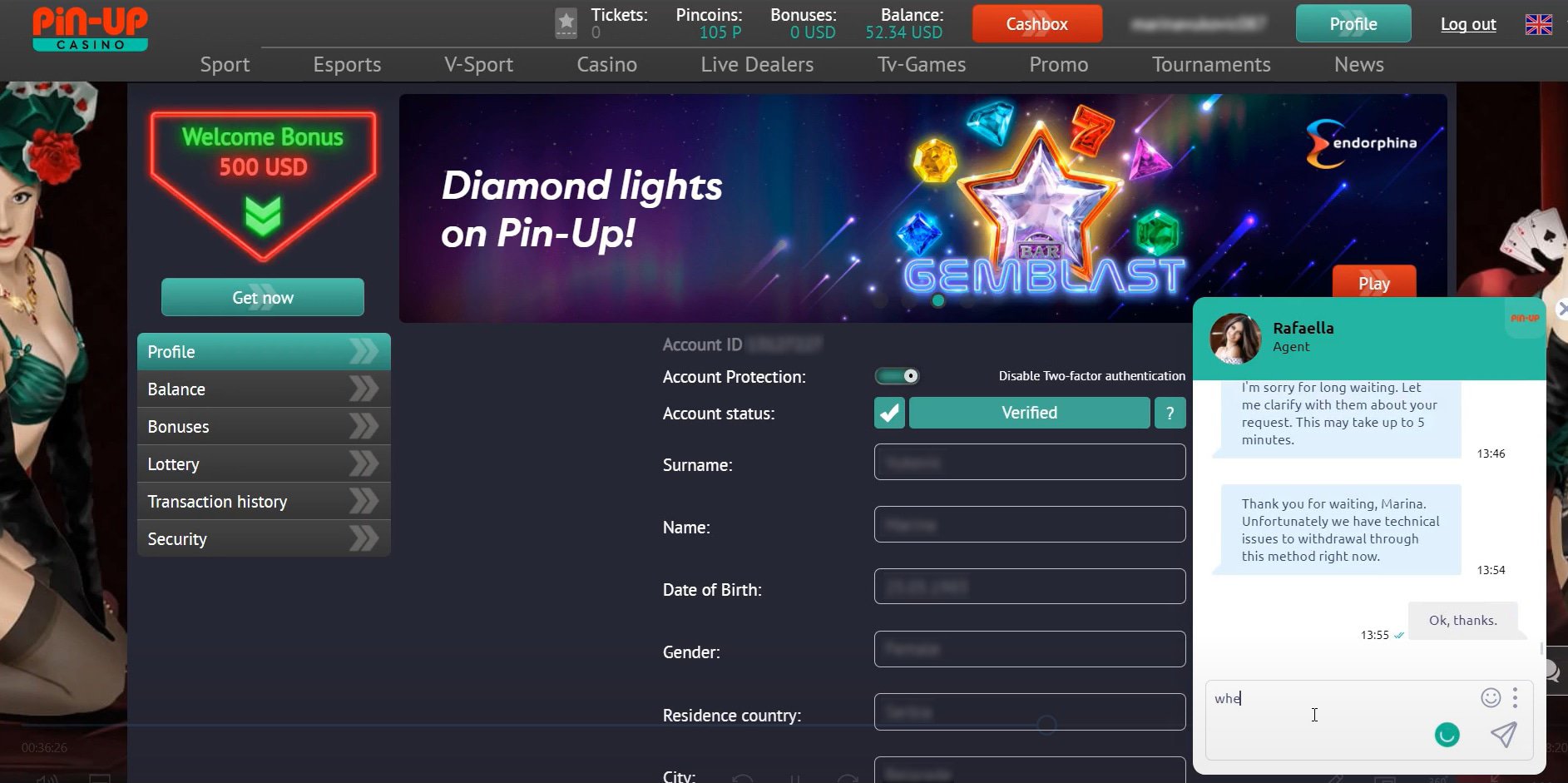 The response arrived the same day, informing us that we should contact live chat, stating as follows:
"If you have specific questions or wishes, for a prompt response and a detailed dialogue, we recommend that you contact the online chat on our website."
After many ups and downs, we received our cash on February 16th. Stay tuned for more details on Pin-up Casino withdrawal problems!
What Went Wrong with Withdrawals
So, the first attempt to withdraw the cash was made the same day we registered. Our currency of choice for the cashout was Bitcoin (BTC). Upon clicking the button, we were prompted with the following information: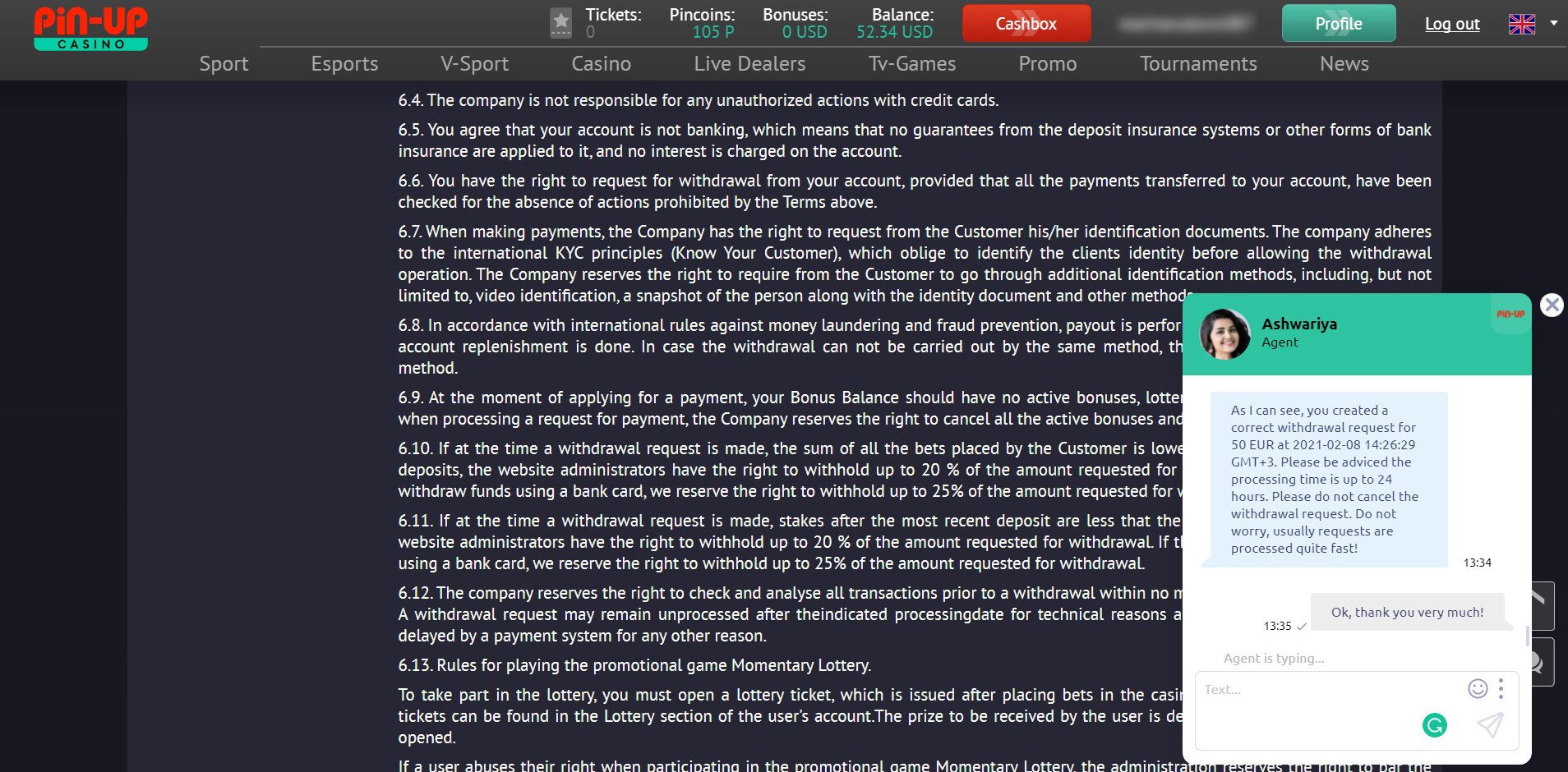 So, we were okay with that, and we decided to proceed. During our communication with support agents, they repeated a couple of times that a customer should turn over the deposit, or the fee will be charged, and we assured them that we are aware of that.
First Attempt to Withdraw- Mission Failed!
It seems that account verification was a mandatory step, as our initial request was declined. A support agent informed us of the necessary documents stating that we have two options to send the required documents:
Via account, which is verified within approximately 10 minutes
By sending an e-mail, which could take up to 48 hours
Apparently, there were some issues so we had to go through both steps, but eventually, our account was approved. But unfortunately, we didn't get our money on the same day.
To make things worse, at some point an assistant manager told us to try some other method, as there are some issues with our cryptocurrency of choice. But, we insisted on BTC, the same one we used to replenish the account.
Request FINALLY Approved, We Received the Money
If you followed this odyssey closely, you have probably noticed that the very first withdrawal was requested on February 8th and denied the same day. After verifying our identity, we again attempted to cash out on February 11, but this attempt too was unsuccessful. EIGHT days later, on February 16th, we made our 3rd and final payout request, which was approved and processed on the same day. Knowing that we used BTC, which accounts for the most efficient means of payment in online casinos, this is an eternity.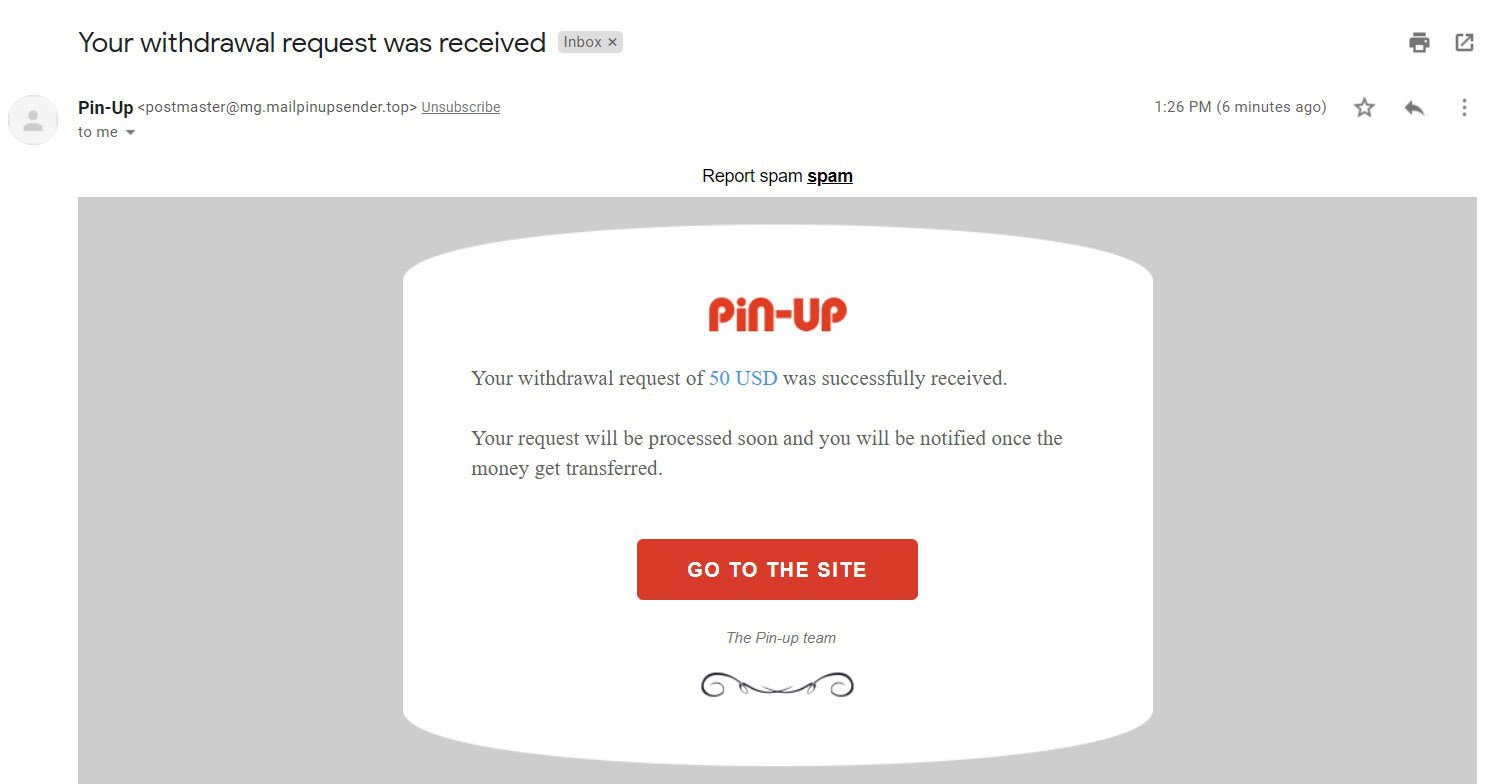 As we already mentioned, while making a withdrawal request for $50, we were prompted the following window:
If you have followed the entire registration procedure closely, you have noticed that we deposited $75. So, when we requested those $50, we were aware that we'll have to pay some commission. The maths says the fee was 20%, which matches the info on the mentioned pop-up window.
Communication with Support Department
Closely connected with payment issues is the correspondence with the support department. Here's our experience with Pin-up Casino slow customer support.
Picture this:
"Dear Diary, today I tried to get in touch with Pin-Up casino support"…
…and then a couple of days later:
"Dear Diary, I still haven't received a single word from them"!
Yes, we are overdramatizing the situation, but long story short, it took them quite some time to give us a response. And even when they did, it wasn't a satisfying one.
This is how they describe the support center:
"We are there for you 24/7 to help you address any issues and process withdrawal requests. Contact us via Live Chat any time day or night, and you'll get the VIP treatment and get anything resolved in a snap."
We communicated with them a couple of times, and it was far away from "resolved in a snap". Looking for the words which describe our experience the best, we'd say…
Slow, Unresponsive, Unhelpful
Perhaps "pleasant" is the only compliment we could use to describe support agents. Truth be told, they were never rude, but they weren't of much help either. It took them a while to provide us an answer, and even when they did- there was always a piece of the puzzle missing.
The only communication we can label as fully successful was the one where we inquired about the necessary documents for withdrawal. We were given a full list of documents needed for the account to be approved.
But, in one attempt, they told us that "there's no English speaking staff at the moment", advising us to contact again in 30 minutes!
Common sense says that "efficiency" should go hand in hand with live chat support, doesn't it? And informing customers that they need to wait half an hour is not quite what one would call a VIP treatment, is it?
Five Minutes More, Please
Every single question we had, regarding the status of the account or the status of the withdrawal request, always had the same response.
"Okay, wait 5 minutes, please. I'll check."
Cashout requests are not some exotic rare species that announce their presence only once a year when the right stars align signaling an upcoming wonder, it is something that happens every day. So, you will agree that an agent (rookie or professional), should have faster responses to these everyday situations.
Yes, they told us that that they have "a big load of clients today", but that shouldn't affect the quality of service. Especially when we are discussing such a sensitive issue as declined withdrawals.
Closing Thoughts
Creativity and innovations are always more than welcome in the iGaming industry, as the most powerful tools to place one brand above the competition. But, delayed payments and unresponsive customer support aren't.
This vintage outfit with all those alluring girls indeed made this brand look different, but underneath the sexy surface, things are not as they seem.
Like we hinted in the beginning…
…testing Pin Up casino only confirmed that this brand truly deserves the status it bears. While they did fix the issues with fake games and removed them from the portfolio, they now failed other important tests-withdrawals and customer support.
One always has the opportunity to turn over new leaf, and prove they are no longer a wolf in sheep's clothing. We'll be there to check if there are any positive changes and let punters know. In the meantime, we share these insights with players so they can be fully aware of what to expect when visiting a (problematic) web-based entertainment facility.
Have you ever visited Pin Up casino and what was your experience like? Which other operator would you like us to test next? Share your ideas and thoughts with us in the comments section below, and be part of our project- From the Players For the Players!
Gamble responsibly!
"Pin Up casino only confirmed that this brand truly deserves the status it bears"
Casino Warnings & Rogue Reports
From the Players for the Players
Back to articles