Back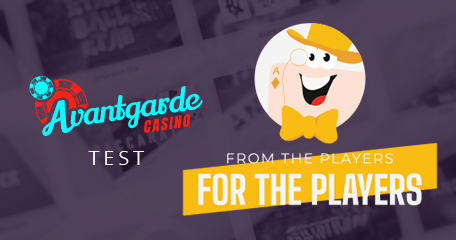 Is Visiting an Unlicensed Online Casino a Good Idea?
This is one of those questions to which we could all silently agree, but still, let's say it out loud- of course it's not, for numerous reasons. However, not all players are aware of all the dangers that may come along. So, they push luck and often end up disappointed and empty-handed.
For that reason, we occasionally pick an unlicensed operator and investigate it as a part of our "From the Players for the Players" project, so that consumers would get first-hand insight from such a platform. Even to our team's surprise, some of the testers' experiences are positive, but in most cases, it turns out that the absence of a license equals lots of trouble.
What was it like with Avantgarde Casino? Before we answer this question, let's take a look at the key points:
Tester of the day:

MadamMilly

Deposit of $200 / 0.01001412 BTC via Coinbase sent on September 6, 2022

Withdrawal of $100 in BTC requested on September 6, 2022

Documents for ID verification submitted on October 18, approved on October 20, 2022

Withdrawal of 0.00606499 BTC received on November 29, 2022
As you can see from the highlighting moments, there's a huge gap between the date the request was submitted and the date the documents were sent and approved.
Stay with us to take a closer look at the Avantgarde Casino test report and discover all the details of our tester's investigation!
Avantgarde Casino Overview
Powered by Rival and a couple of other renowned content developers, such as BetSoft, Saucify, and Arrow's Edge, Avantgarde Casino is a which offers a great selection of games. This US-friendly online casino supports Bitcoin and has all kinds of promotions and bonuses, plus a Loyalty Club with comp points.
Worth adding is that this brand belongs to the same group as TrueFortune Casino and Pure Casino. One of those platforms was tested in the first half of the current year so take a look at the True Fortune test report.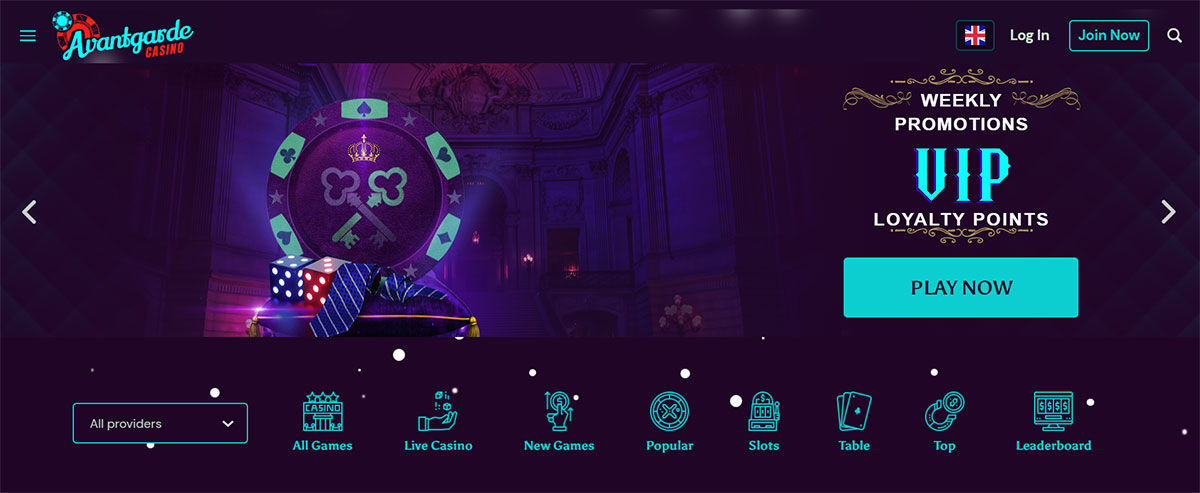 Despite the fact that the "About Us" page states that the site is "operated under the gaming authority Curacao License #8048/JAZ", there's no visible licensing seal anywhere on the website. That's just one of the reasons why this particular brand was tested, alongside some questionable Terms.
Wanna find out more details? Keep reading!
Registration
Our tester's journey started a while ago, on September 6, 2022. Having entered some basic info about herself on the 4-step registration form, she became a member of Avantgarde Casino. An e-mail arrived as well, welcoming her to the community.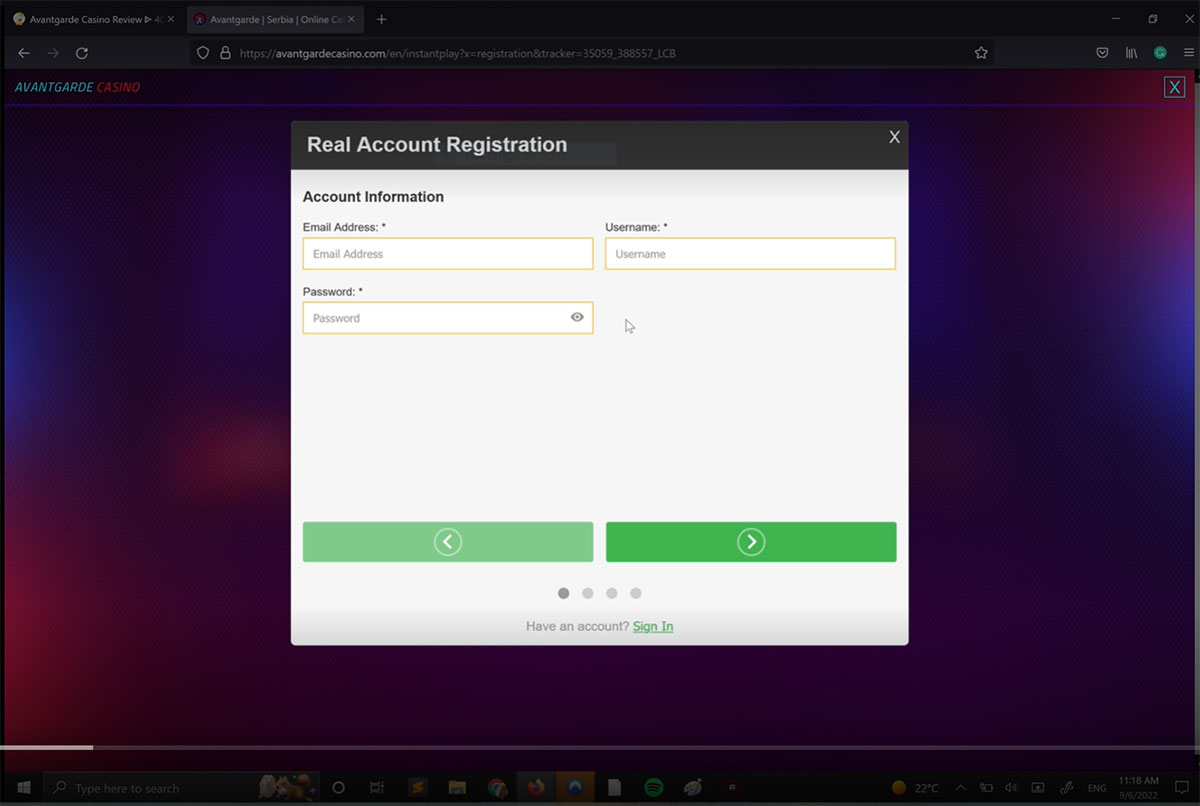 When it comes to activity in the casino, players should be aware of the following rule:
"3.8. Should a player abstain from logging into their Casino account for a period of 90 days or more or the player 90 days without making a single bet or wager, the Casino will be entitled to any balance in that player's account and the sum forfeit. Should the player wish to withdraw this amount after this period, we will examine each situation on a case-by-case basis but reserve the right to invoke the above 3-month rule."
An interesting thing to note is that Avantgarde Casino has quite a stringent policy on age limits for its consumers. Only individuals who are 25 years or older are permitted to play.
Deposit
Having joined, she decided to fund the account. The tester deposited $200 in BTC, and the transaction was processed in a timely manner.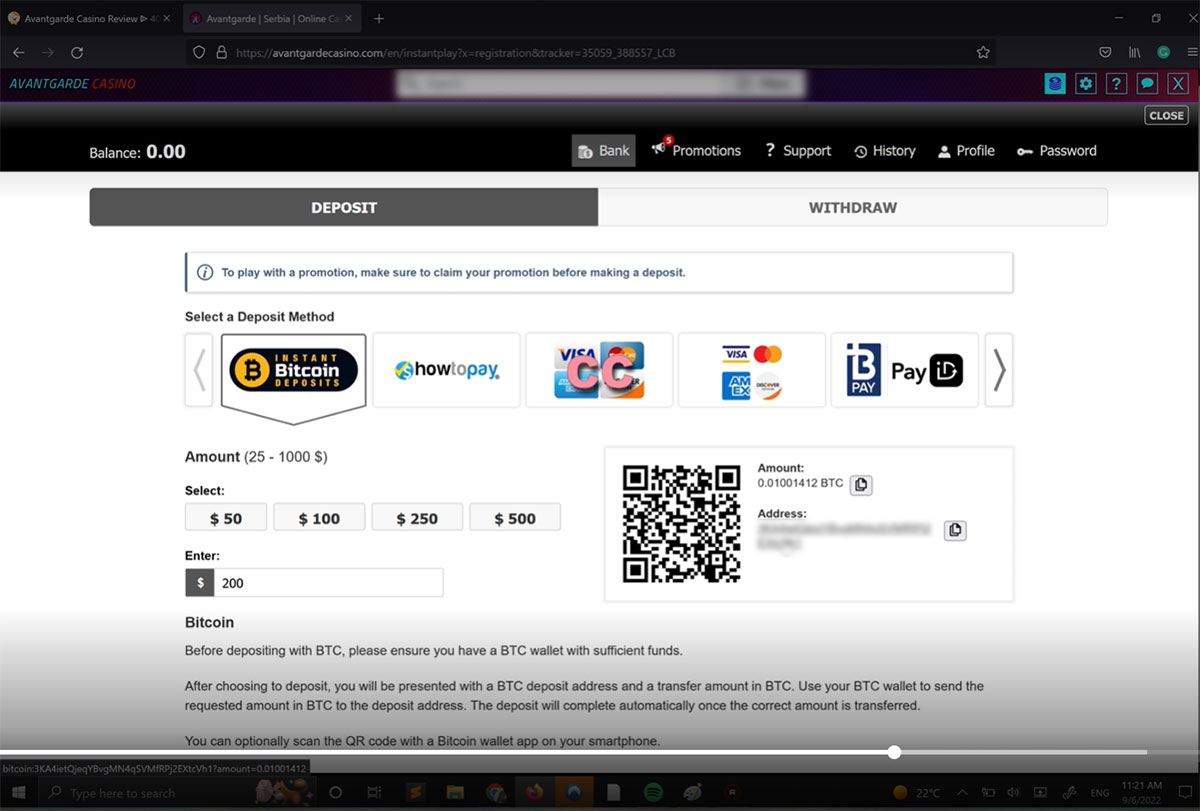 The minimum amount to deposit is $25, or an equivalent amount in other available currencies. When making a deposit, a player has the option to select some of the predetermined amounts ($50/$100/$200, or $500) or enter the desired amount manually. The available deposit options include cards, e-wallets, bank transfers, and Bitcoin.
"3.4. If the user has deposited or withdrawn funds using an E-Wallet such as MoneyBookers, Neteller , or EcoCard, the Casino may request copies of other transactions showing that specific E-Wallet in use."
Gameplay
As soon as money was added to her balance, she went on to play a couple of games from the operator's well-equipped portfolio. Her first choice was Diamond Dragon, followed by Astral Luck which brought her some wins.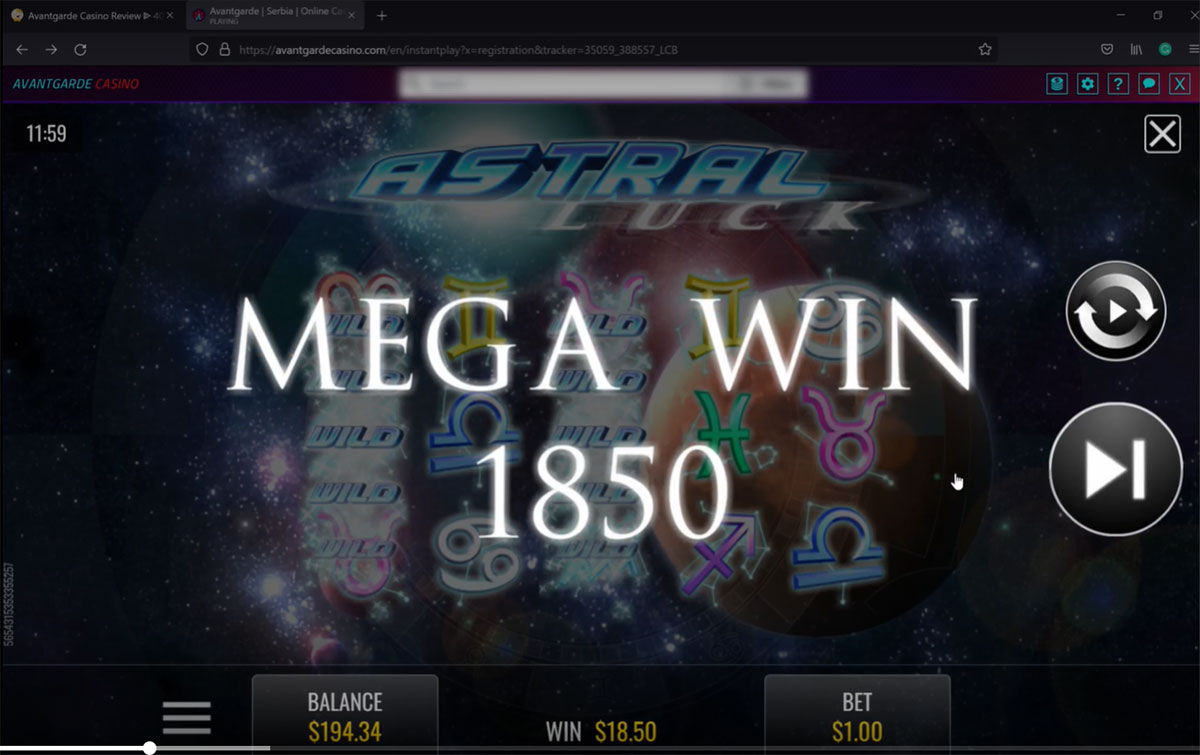 After that, she tried luck with Gnome Sweet Home and then switched to Wrath of Medusa, where she triggered a win of $43.20 and a couple of smaller ones.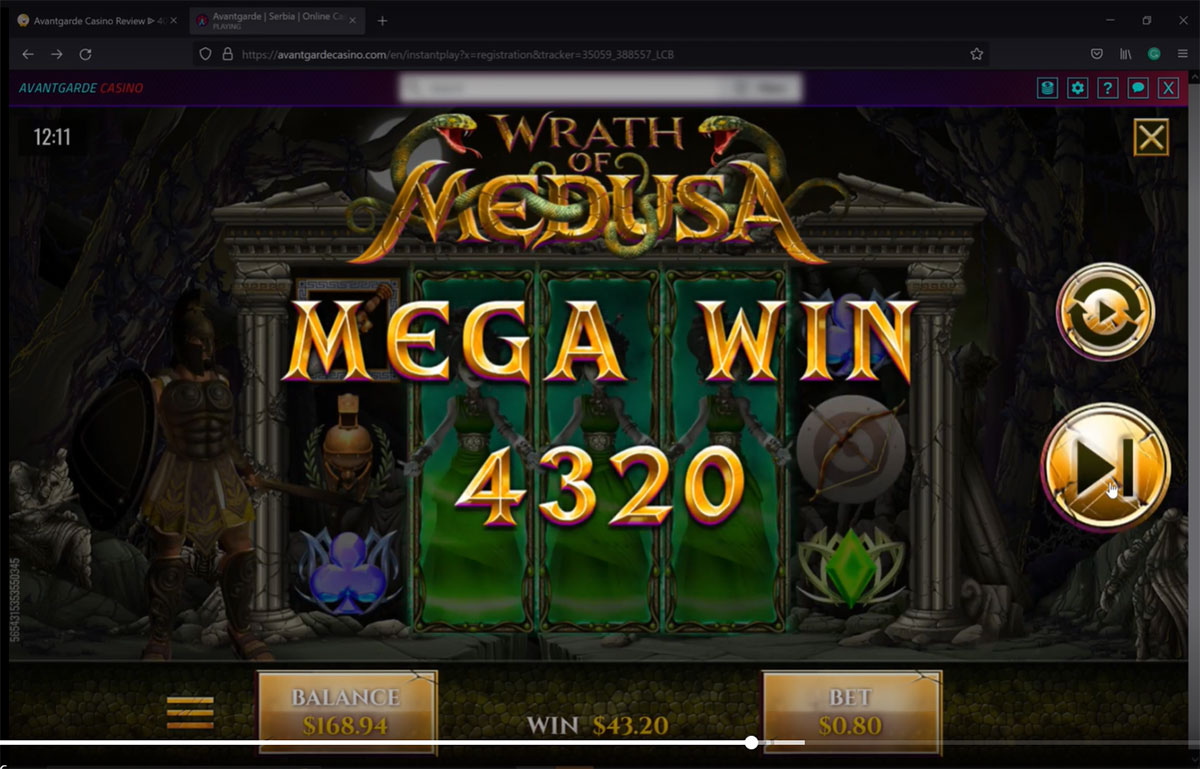 She had a couple of spins on Mythical Wolf and then switched to Hail Caesar, which was the last game she played.
Withdrawal and ID Verification
As soon as she finished playing games, the tester decided to cash out. She intended to withdraw $100 in BTC. She made a request on September 6, 2022.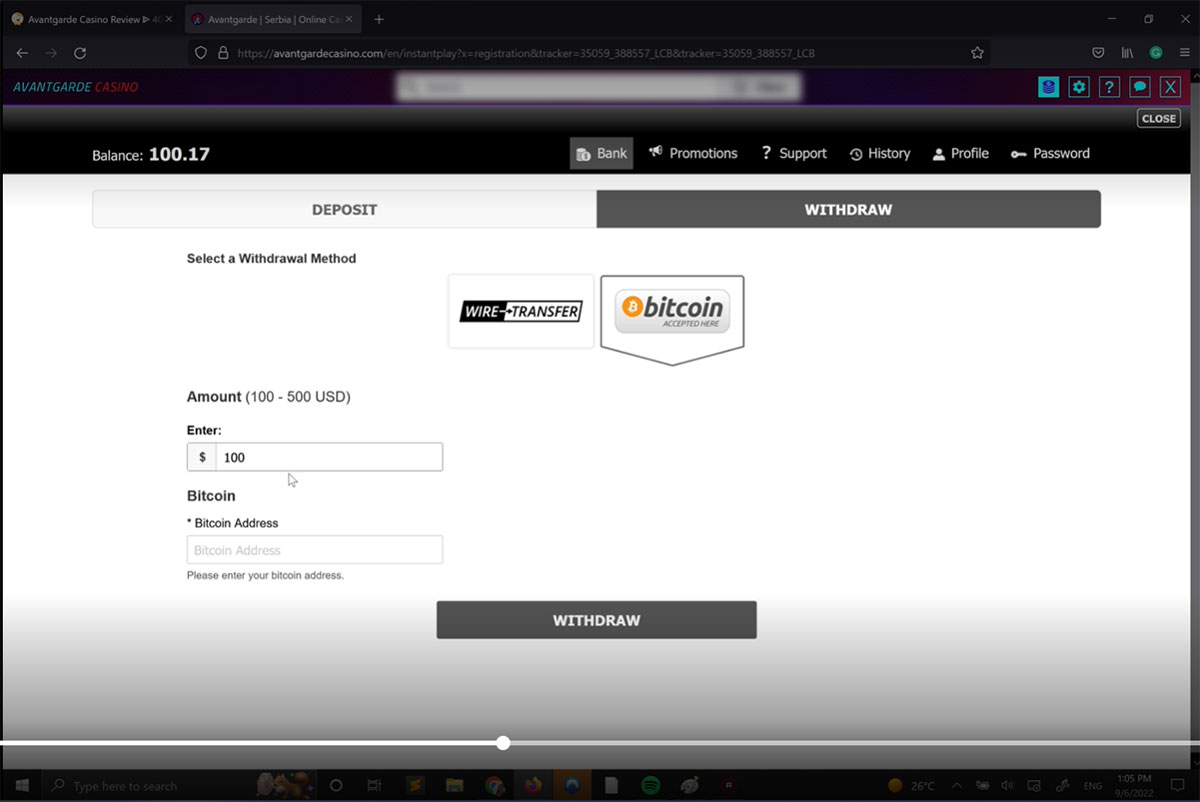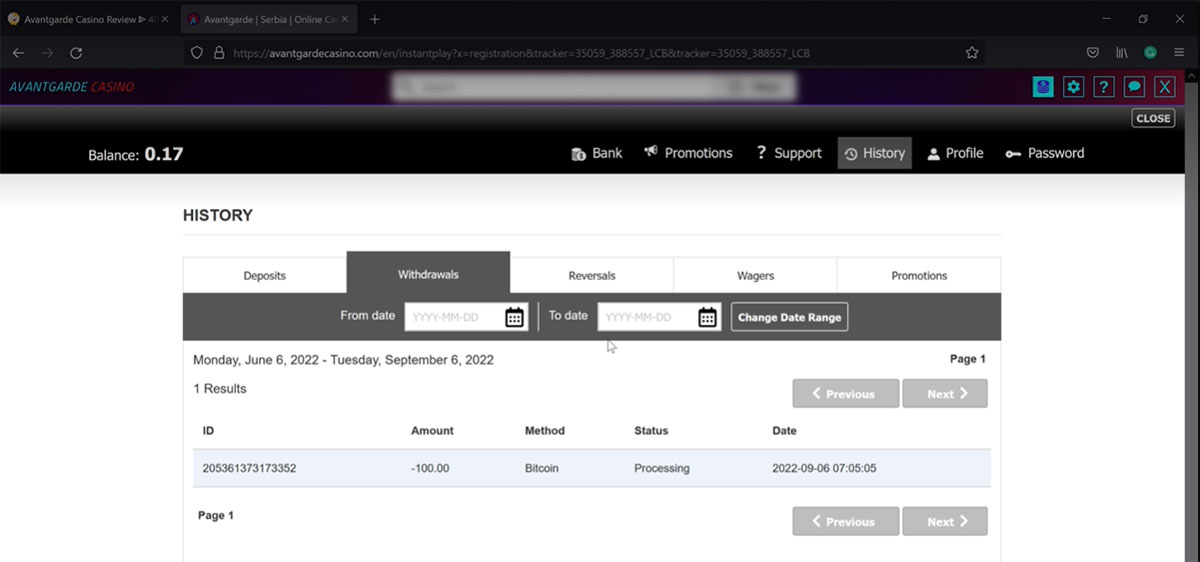 More than a week later after the withdrawal request was submitted, on September 14, 2022, the tester received an e-mail from the casino which informed her that "withdrawals can take up to 18 business days at the latest, from the day the account has been fully verified with the relevant documents".
It was also noted that withdrawal timeframes depend on the account activity, the total number of deposits, and seniority. The tester responded to that two days later, addressing such rules as "insane", but no response arrived in her mail.

Approximately a month and a half later after the request was made, the tester was asked to submit documents to verify her identity. On October 18, she sent an image of her passport and the utility bill. A response arrived two days later, confirming that the docs were approved. ko

Having uploaded the requested documents, our tester patiently waited for 18 business days to go by. A couple of days after the promised deadline, as her transaction was still unprocessed, she sent an e-mail to inquire about the status of her request.

This mail remained without response as well, which was the signal for the tester to consult with the "From the Players for the Players" team and see what to do.
One of the team members reached out to Avantgarde casino, explaining the situation with the delayed payment. As far as stated, the payment was supposed to be credited "on Thursday" (author's note: December 1, 2022). The payment arrived on November 29, 2022.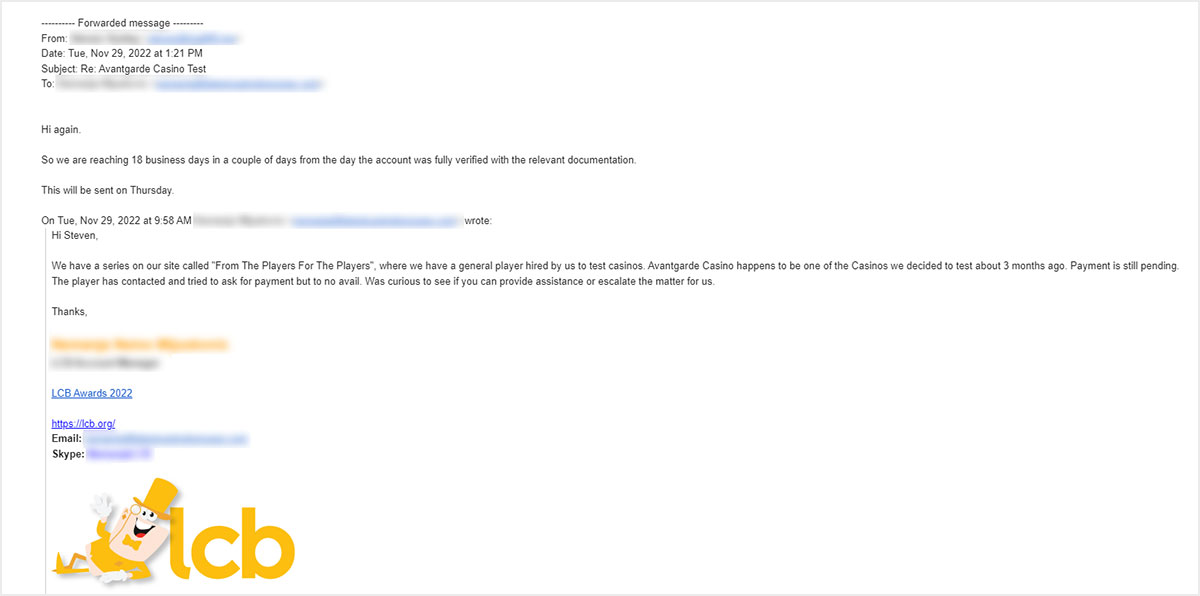 With regard to the rules related to withdrawal, available cashout options include Bank Transfer and Bitcoin. The minimum amount to request is €/$/£ 100 or 1,000 ZAR. Deposits need to be wagered at least once before a withdrawal is possible.
Moreover, the Terms state as follows:
"5.1. All Deposits of 249 USD/EURO/GBP/AUS or less have a max withdrawal of 10X the deposit for that specific play session (all other currencies pegged to USD). Once a withdrawal is approved, the casino applies the 10X rule and corrects the withdrawal to accurately reflect the 10X rule. The remaining funds are deemed 'Non-Withdrawable' and are cleared from the player's balance."
"5.12. A player that didn't add funds to his account for one month-long or more (30 days), will be considered a free bonus player and will not be eligible to withdraw winnings from free bonuses or cash granted to him by the casino. The possibility of withdrawing winnings from free bonuses is reserved for our active players only."
As for the fees:
"5.4. All withdrawals (Wire, Netteller, Direct-to-Card, etc) are subject to a 10-40 $,€,£ transfer fee. Fees are based on location and are determined by our payment processor and are the responsibility of the individual player to absorb."
Conclusion
The fact that the processing of requests takes between 15 to 18 business days upon approval of documents is already an issue, but even with that fact the casino delayed the withdrawal even further.
As a small reminder, the request was made on September 6, 2022. Even though the notification in the cashier noted that the operator reserves the right to request docs for ID verification, it was not until October 18, 2022, when the tester was asked to provide them. Her e-mail from September 14, 2022, remained unanswered.

Although things seemed quite fine in the initial phase (registration and deposit), troubles that emerged later spoiled the tester's journey. Leaving emails without a response, having lengthy processing time, and delaying a customer's transactions are huge no-nos for an online casino.
Our tester's disappointing experience, plus the fact that the operator holds no license are more than evident red flags, which is why players steer clear from this brand. If you are curious to take a look at more investigations involving unlicensed operators, read the Limitless Casino test report and Bitcoin Penguin Casino test report.
Have you had the opportunity to interact with Avantgarde Casino? If so, would you like to share your experience with us? Hit the comments section below, we'd like to hear from you.
Have fun and gamble responsibly!
"it turns out that the absence of a license equals lots of trouble"
From the Players for the Players
Back to articles