Back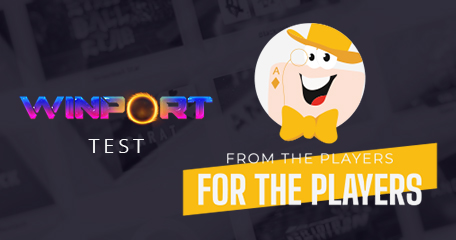 Is ID Verification Indeed Necessary for Bitcoin Transactions?
Throughout our largest project so far, dubbed "From the Players for the Players", our experienced testers have inspected a variety of online casinos and bingo rooms. Exploring both trustworthy and rogue brands, our reviewers paid special attention to efficiency in processing deposits and withdrawals, accompanying fees, and ID verification procedures via different payment methods. This time, our tester was tasked to analyze BTC-ready WinPort Casino's payment practices.
As you probably know, Bitcoin is one of the most widely used cryptocurrencies and definitely the most popular choice on iGaming platforms. That's mainly because they are praised as extremely efficient and anonymous, yet some operators need a couple of days to process it, plus they require players to go through the KYC procedure.
Now, before we dive deeper into all the details, let's briefly recap the highlights of our tester's multi-day investigation:
Tester of the day: Cactus198

Registration date: November 25, 2022

Deposit of $250 (BTC 0.01665987) via Bitcoin made on November 25, 2022; received $249.99

ID verification documents sent on November 25, 2022, verified on December 1, 2022

Withdrawal of $400 in BTC requested on December 1, 2022

Withdrawal of $ 400/ 0.02333065 received on December 7, 2022
Judging by these key points, there was a notable gap between the time the tester made a withdrawal request to the moment funds were credited to her. Also, a couple of days for ID verification finalization seems like a long period, doesn't it?
If you want to find out more about our tester's experience with this operator, keep reading our comprehensive WinPort Casino test report!
WinPort Casino Overview
Approved by the Curacao gaming regulator, WinPort Casino is a US-friendly operator supplied by Rival, Nucleus Gaming, and Dragon Gaming. Its lobby incorporates the finest works of art shaped as slot games, roulette, blackjack, and video poker.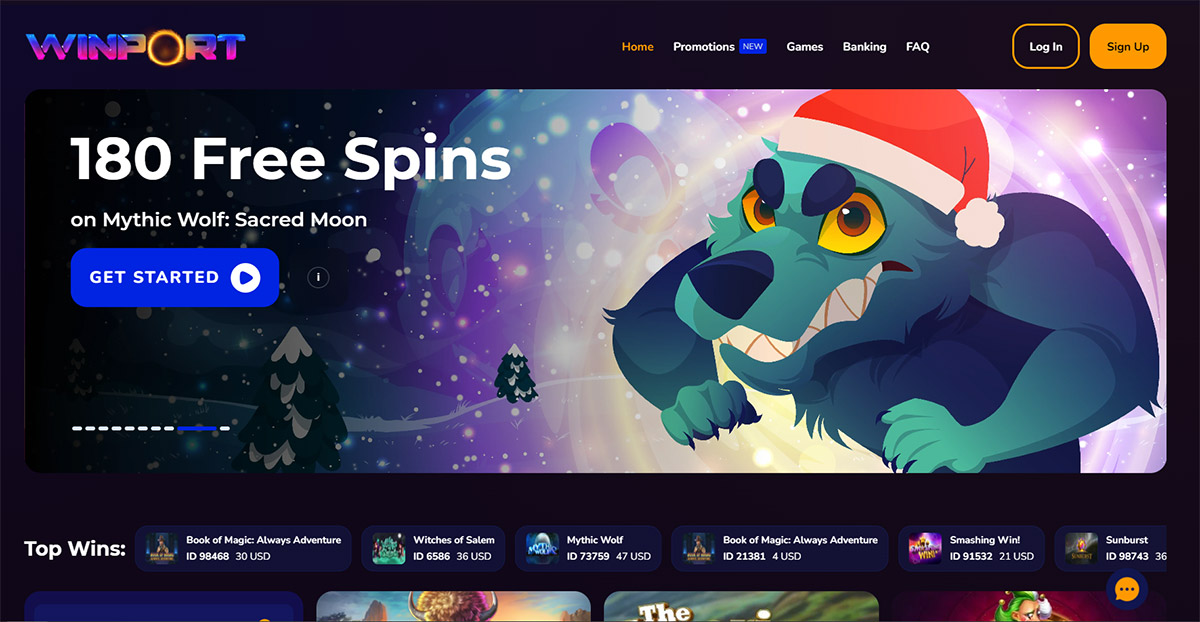 Taking a look at the corner where promotions are accommodated, players shall encounter all kinds of deals ranging from daily match bonuses, free spins, cashback offers, and more. There's a special "Portal Cooldown" feature that allows consumers to scale up the winning action radius plus the Loyalty program.
Its key markets include the United States, New Zealand, Canada, and United Kingdom. Let's not forget to mention that WinPort Casino is part of LCB's Rewards Program.
Registration
On November 25, 2022, our tester completed the registration form. Joining the platform was quite simple as it required a couple of basic info only. Upon verifying her e-mail address, she was officially a member of WinPort Casino.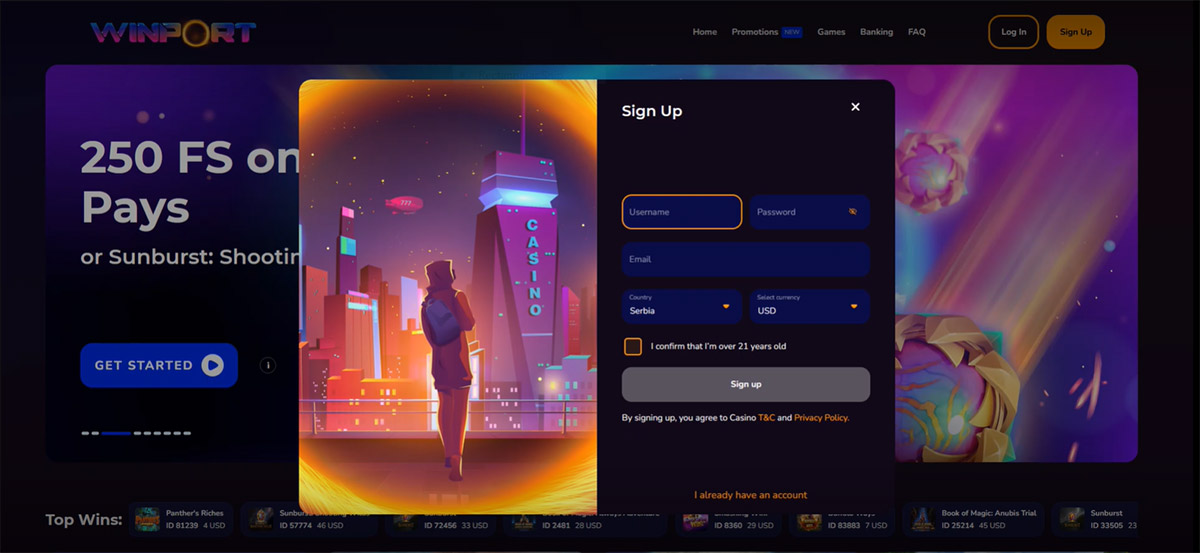 According to the Terms, a consumer needs to be at least 21 years old to create an account.
Deposit and ID Verification
Wanting to ensure waiting would be minimal when the time to cash out arrives, the tester uploaded her documents during registration. By using the option "Account Verification", she submitted an image of her passport to confirm her identity, a utility bill as proof of address, and a selfie in which she holds a document.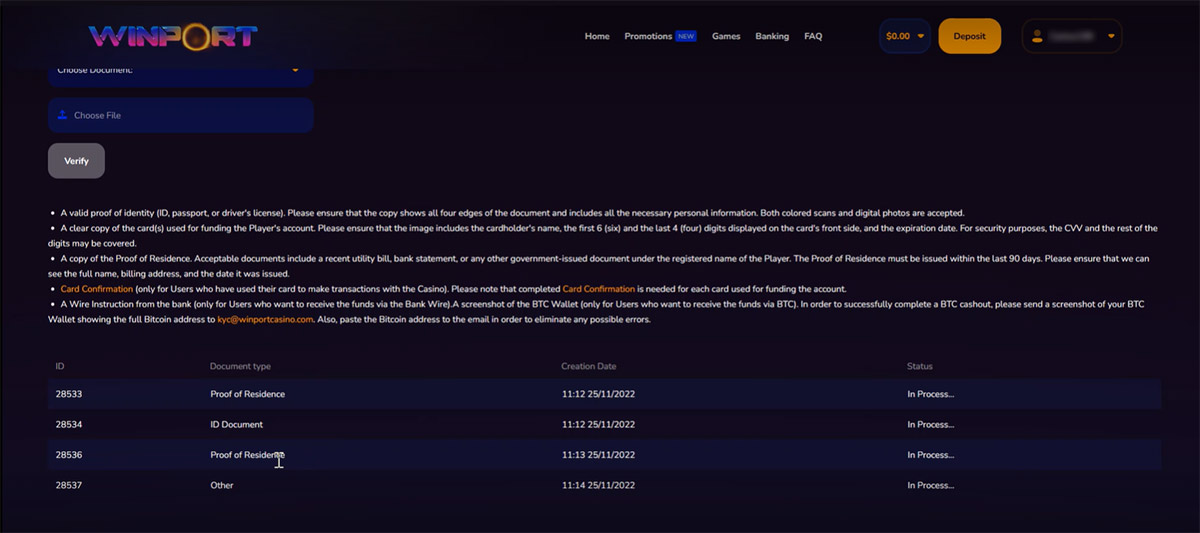 Having uploaded said documents, she made a deposit of $250 via Bitcoin. As soon as the payment was finalized, she included proof of successful deposit as well.
The available payment options for deposit include VISA debit and credit cards, along with multiple cryptocurrencies, namely Bitcoin, Litecoin, and Ethereum. The minimum amount to deposit is $30, however, ETH payments less than $50 will not be added to one's balance.
The max sum depends on the selected method. Cards and Interac are limited to $1,000, Neosurf to $250, while crypto deposits have no max limits. It's important to note that all transactions are irreversible. Deposit cancelations are strictly prohibited.
"10. Maintaining a high level of Players Privacy is our primary concern. Therefore, the transactions placed with us are provided with third parties' help and by no means are reflected as related to an online casino. For this reason, merchant names in transaction descriptions may vary. To prevent misunderstandings, we send an email notification with deposit confirmation and the correspondent merchant name after each transaction is placed. However, it is important to know that in some cases, the merchant name in transaction descriptions may differ from the one written in the email, in which case it is recommended to rely on the location mentioned."
Gameplay
As soon as money was added to her balance, the tester paid a visit to the operator's portfolio, determined to explore versatile slot adventures. Her first port of call was Buffalo Ways followed by Bigger Cash Win and Double Win Collection. The next in line was Buffalo Bounty.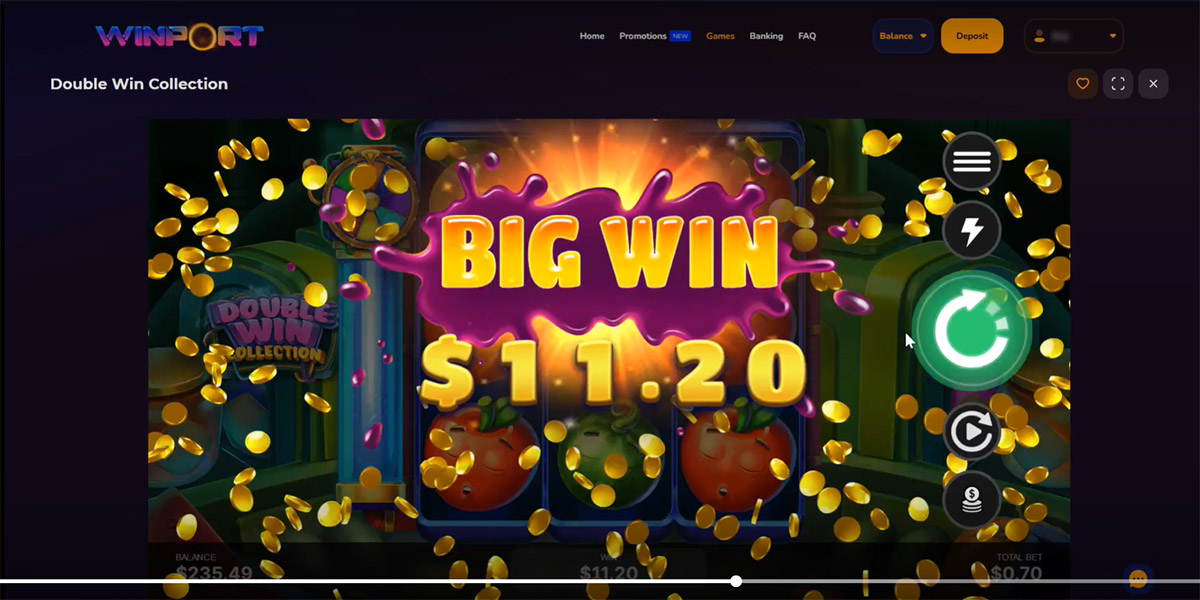 After these, she checked out Fairytale Fortunes: Queen of Hearts, as well as Cactus Goes Nuts and Honey Money Multiplier. The lattermost one brought her two mega wins, one amounting to $84, the other to $64.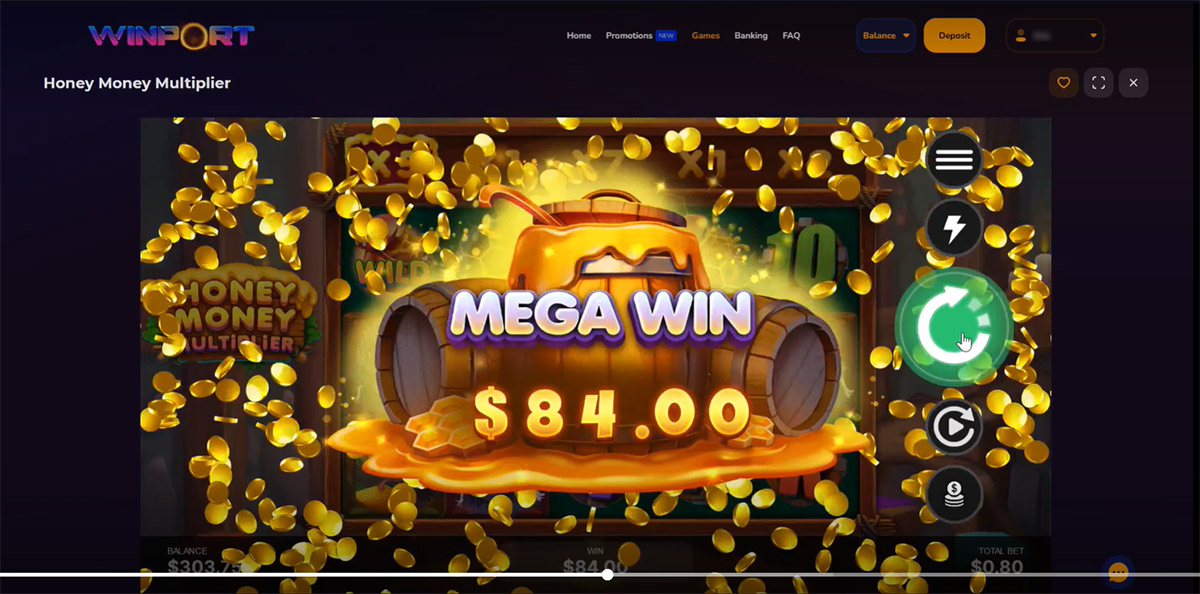 Her next choice was American Wilds, followed by Reel Crime: Stealing Christmas and Lucky Ox Jackpots. After spinning the reels of these adventures, she returned to Honey Money Multiplier and then ventured into Witches of Salem.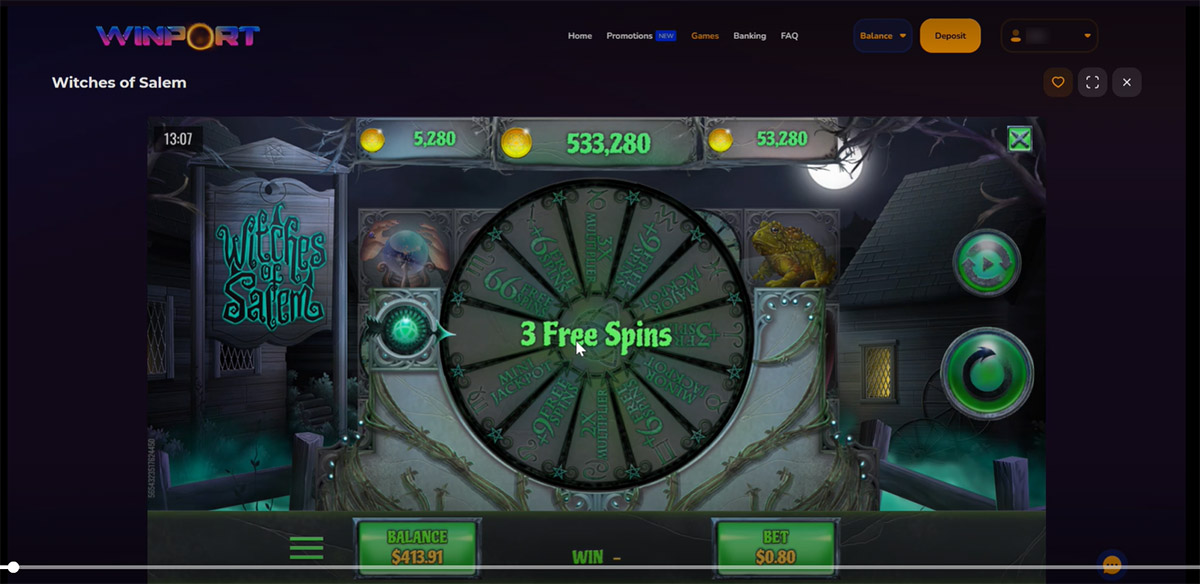 Shortly after, the tester returned to Honey Money Multiplier and played this release for a while. The next in line was Hail Ceasar! where she had multiple wins. Once again she revisited what seemed to be the adventure that seemed to have captured her attention the most- Honey Money Multiplier.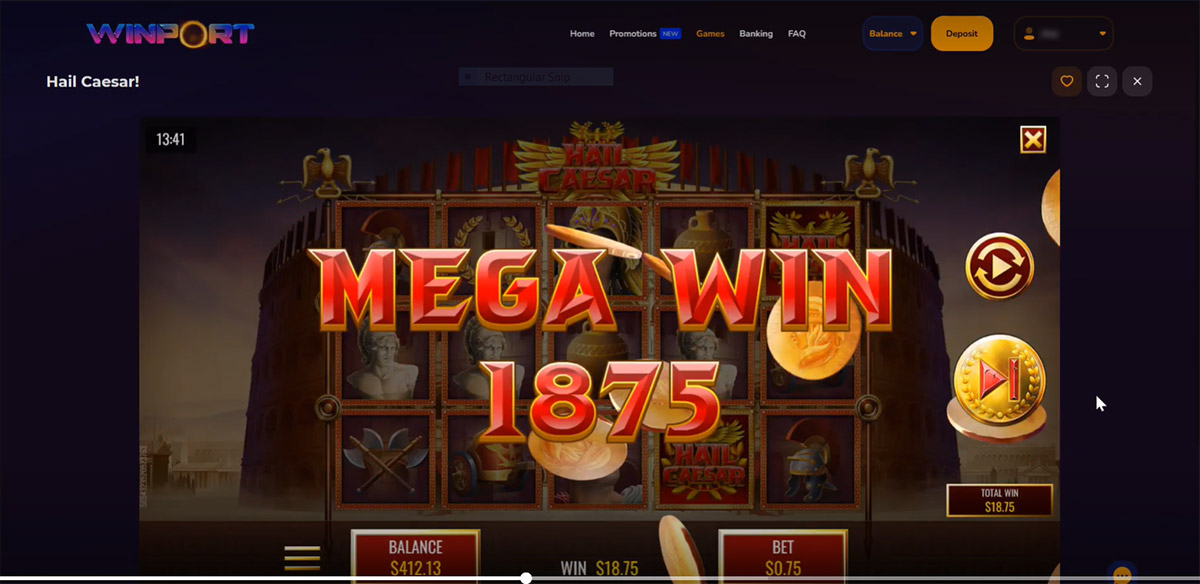 Withdrawal and ID Verification
Having finished playing games, the tester decided to upload the documents via e-mail as well, to be able to make a cashout request. On November 25, 2022, the tester submitted an image of her passport, a selfie with a document, a utility bill, and a confirmation of payment, along with her BTC address and username.

The response arrived four days later, on November 29, 2022, asking her to confirm that her BTC address was a permanent/ static one. The tester followed the instruction and confirmed it.
On December 1, 2022, the tester received an e-mail that indicated that the KYC process was successfully completed.

As the docs were officially approved, she was able to cash out. On December 1, 2022, she made a withdrawal request of $400 in BTC.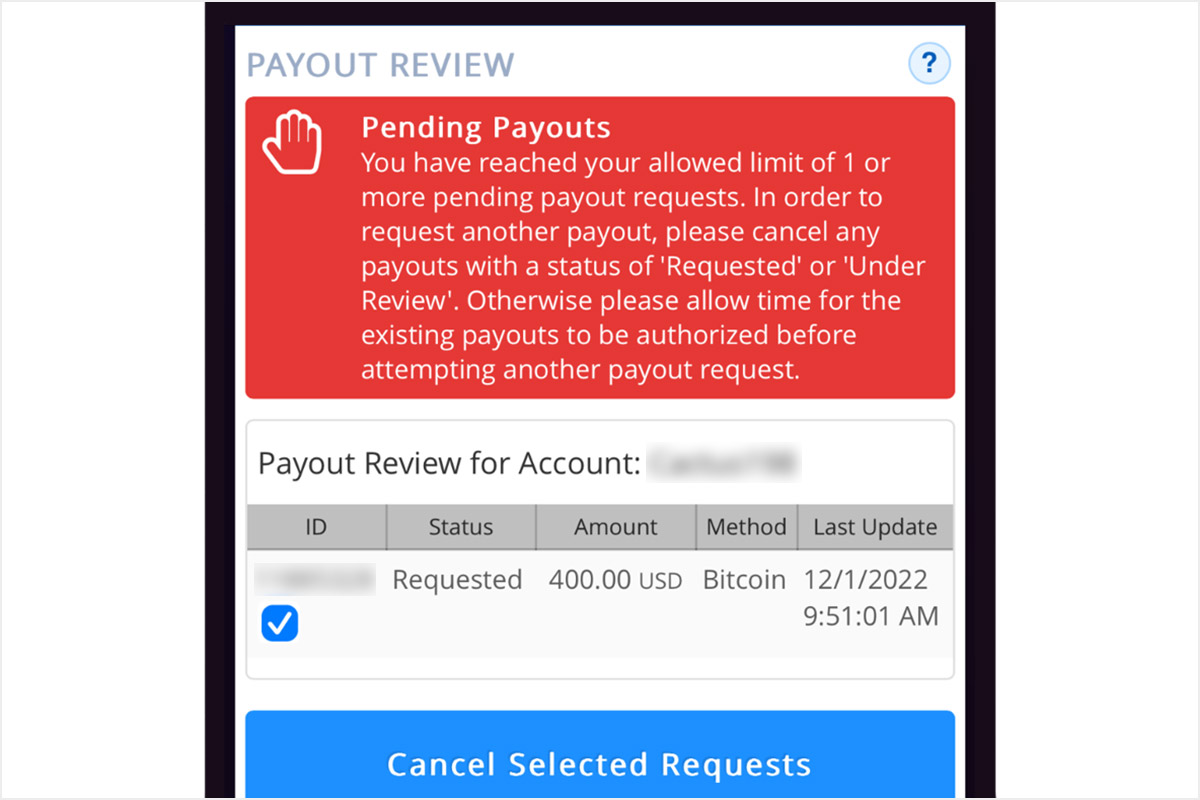 Six days later she received a response from the operator, which noted that her request was approved and sent.
Although the mail indicated that she'd have to wait up to 24 hours to receive her money, the funds didn't appear. She waited a couple of days, and then, on December 11, 2022, reached out to the support department to check what was going on with her request.
The operator responded on the same day, letting her know that funds were approved and sent on December 7.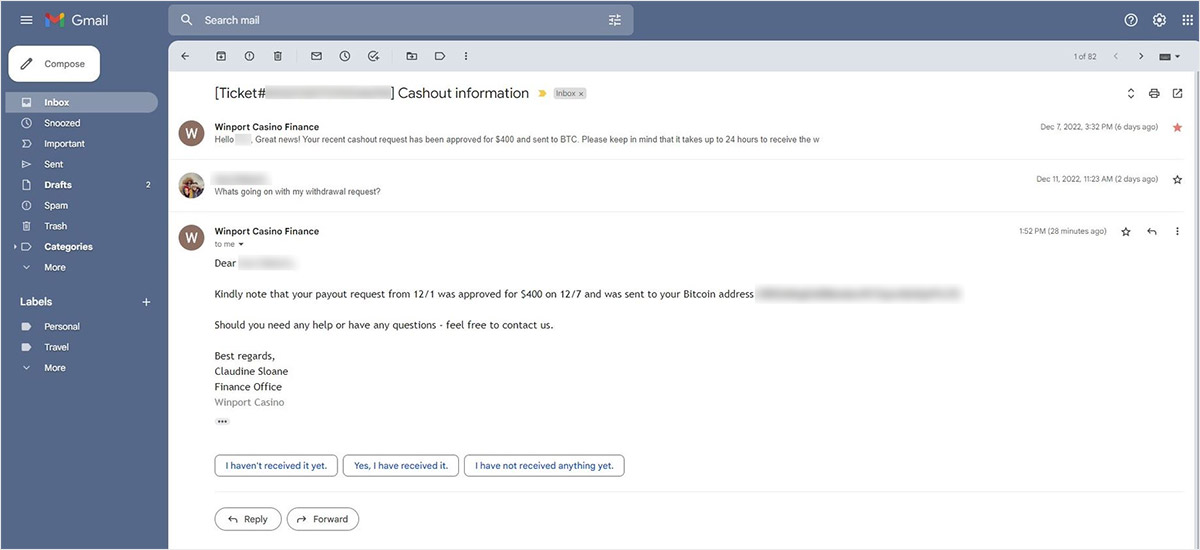 The tester received $400/ BTC 0.02333065 on December 7, 2022, with no fees charged.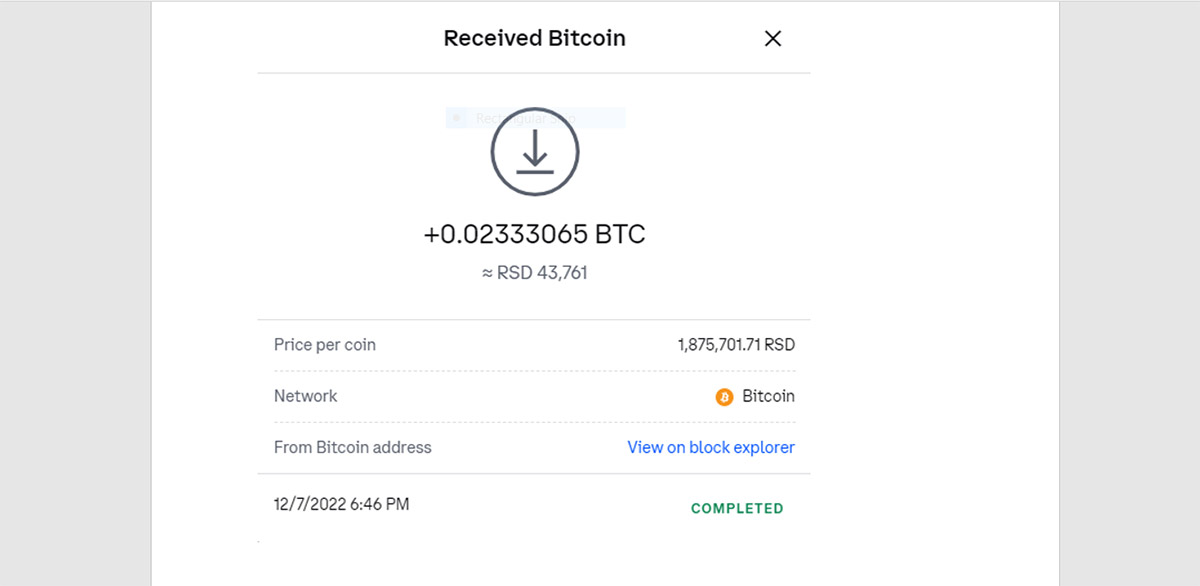 To be able to withdraw, a player needs to make at least one successful deposit. As a prevention of money laundering, each deposit must be wagered at least once before a player can cash out. A consumer can have only one pending withdrawal request at a time.
As for available methods, consumers can cash out via cards, BTC, and bank wire. The min limit for cards and Bitcoin is $100, or $300 in case a player opts for Bank Wire. The max weekly amount for all methods is $2,000, which is slightly lower than the industry's average.
"12. The Casino does not process cashouts to any card other than the one used to deposit money."
Processing times vary depending on the chosen method. If using cards or bank wire, the winnings are usually confirmed within 4-5 days. In case a consumer wants to withdraw using BTC, the processing time is around 3-4 business days.
Yet, the Terms claim as follows:
"6. Please note that it takes around 2-5 (two-five) business days to review and approve each cashout request."
According to AML Policy, the following is said on record keeping:
" 1.1. Records of data obtained for the purpose of identification must be kept for at least ten years after the business relationship has ended. Records of all transaction data must be kept for at least ten years following the carrying-out of the transactions or the end of the business relationship. This data will be encrypted and stored safely offline and online."
Conclusion
Paying attention to the operator's "Banking" page players shall notice the following, quite promising message:
"The stargates of Winport may take you to the most remote parts of the universe, but even there our banking remains fast and fluid."
Based on our tester's experience, the withdrawal transaction and ID verification procedures were shockingly slow, especially knowing that BTC was involved. Far away from "fast and fluid", wasn't it? Although the "Banking" page does indicate longer than the average processing time for all methods, our tester needed to wait for her winnings to be credited even longer than that.
Have you had the opportunity to deposit and play at WinPort Casino? If so, would you share the details of your experience with us in the comments section below?
Gamble responsibly, and always read the Terms!
"exploring both trustworthy and rogue brands"
From the Players for the Players
Back to articles