Back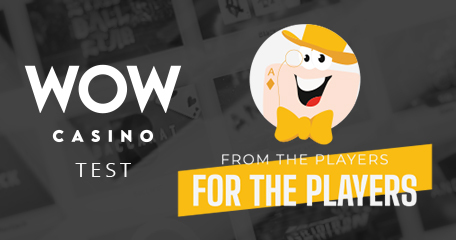 Does the Brand Justify Its Name?
As a part of our ambitious project "From the Players, for the Players", testers have so far participated in almost 100 missions, bringing tons of valuable insights from online betting venues all over the globe. Some of those brands justified their reputation (both positive and negative), the others brought our testers lots of unpleasant surprises.
For this particular investigation, the tester paid a visit to WOW casino, a non-US-friendly online casino that joined our thriving directory in January 2022. The entire journey, from registration to withdrawal approval was completed within a couple of hours.
Tester of the day: MarijaS
Registration date: February 9, 2022
Deposit made on February 9, 2022; sent $200 via Coinbase (0.0046 BTC); received $199.14
Withdrawal requested on February 9, 2022, $100 (0.0023 BTC)
Withdrawal received on February 9, 2022, $99.61 (0.00225072 BTC)
Taking a look at these highlights, things seem to have passed well for the tester. However, there was a discrepancy between the minimum permitted amount stated in the cashier, compared to what was displayed in the Terms.
Curious to hear more? Full WOW Casino test report ahead so stay tuned!
WOW Casino Overview
Launched in 2021, WOW Casino describes itself as a place that gathers experienced online gaming professionals. This Curacao-licensed venue operates on cryptocurrencies exclusively and offers the finest games from Revolver, Pragmatic Play, as well as a Rewards scheme with benefits.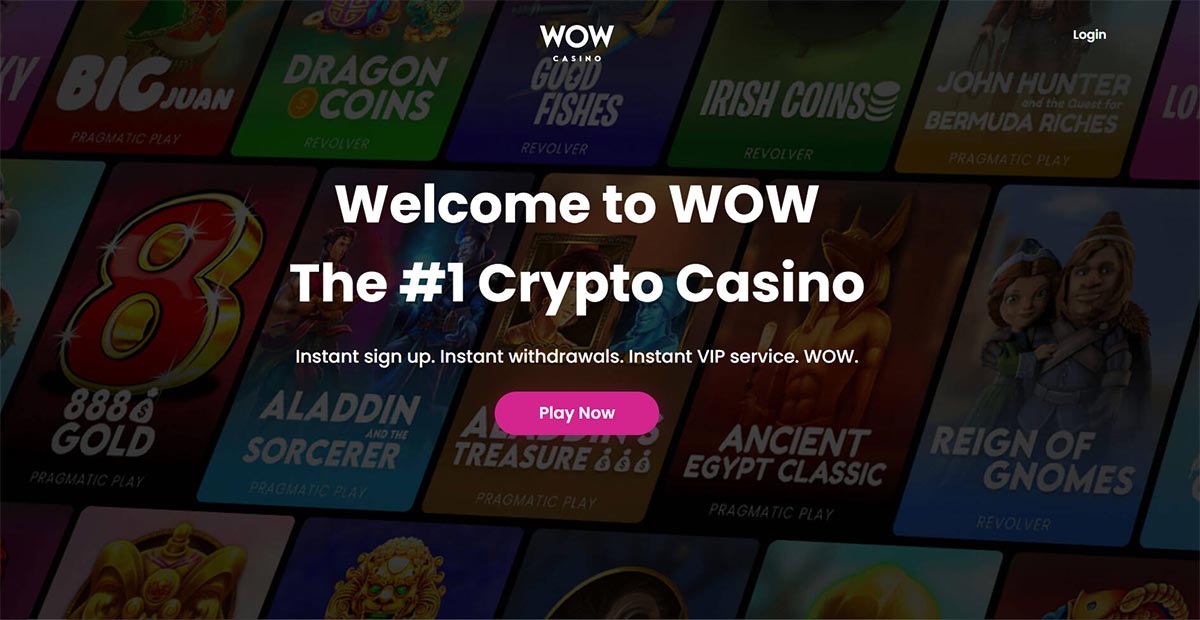 Registration
Our tester started her journey on February 9, 2022. She accessed WOW casino and joined this betting platform by filling in a simple form. All she had to do was enter her e-mail address and password, and she was welcomed to the community. She received a confirmation mail as well.
Having registered, the tester accessed her profile page. Aside from deposit and withdrawal buttons, this section allows players to set spending limits (daily, weekly and monthly), check our rewards, keep track of the history, and a couple of more options.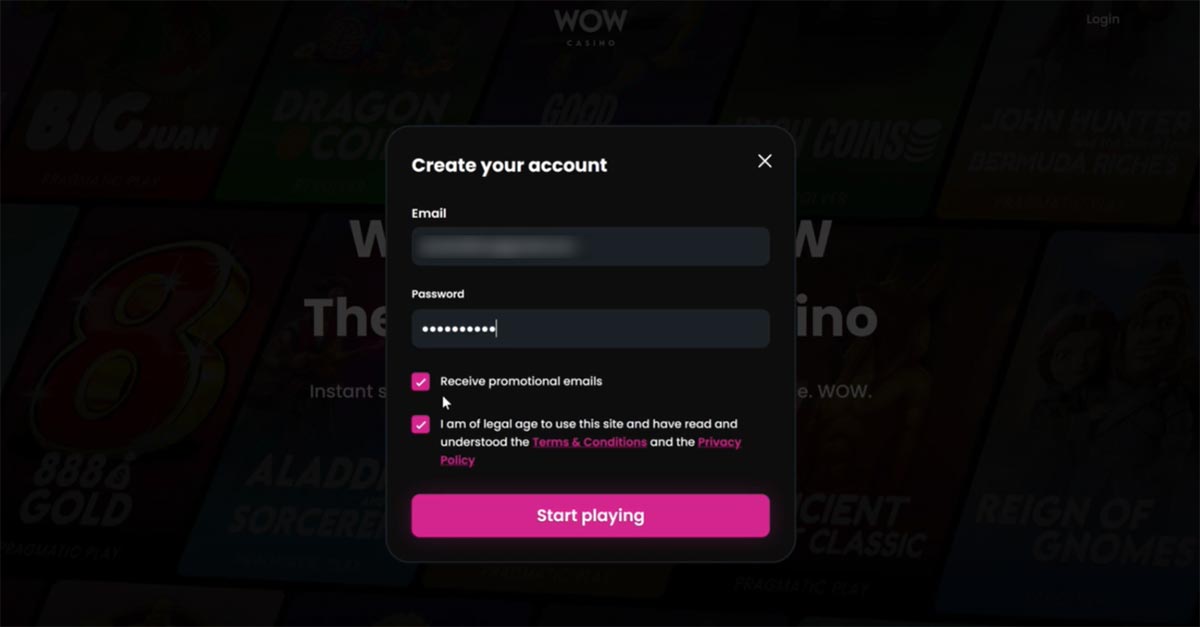 Worth noting is that after continuous inactivity of 180 days (meaning no transactions recorded), the account becomes classified as inactive, so the venue closes it and forfeits all the balance.
Though the tester wasn't required to, the Terms indicate that the ID verification may be required on certain occasions. This includes documents such as a color copy of your passport photo, driving license, other government-approved photographic ID, a duplicate of a recent utility bill, bank or credit card statement, a partially-covered copy of the card used for payment, and similar.
Deposit
Upon accessing the cashier, she was presented with multiple crypto payment options, of which she selected Bitcoin. On February 9, 2022, the tester sent $200 (0.0046 BTC) via Coinbase, and she quickly received $199.14.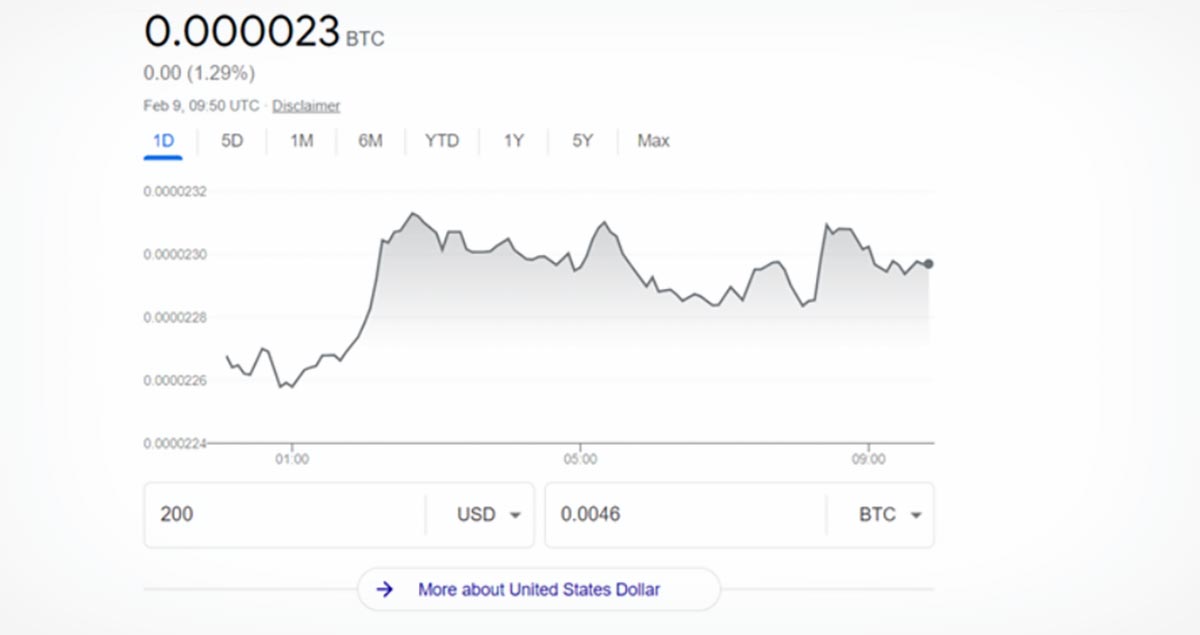 According to the cashier, deposits made via Ethereum are processed within 5 minutes, while transactions via Cardano take 10 minutes to be credited. Bitcoin and Litecoin require 30 minutes, while Dogecoin is processed in 40 minutes. Bitcoin Cash requires 60 minutes.
The available deposit options are Cardano, Bitcoin, Bitcoin Cash, Litecoin, Ethereum, and Dogecoin. The minimum deposit amount is 0.0002 BTC (or equivalent in other currencies).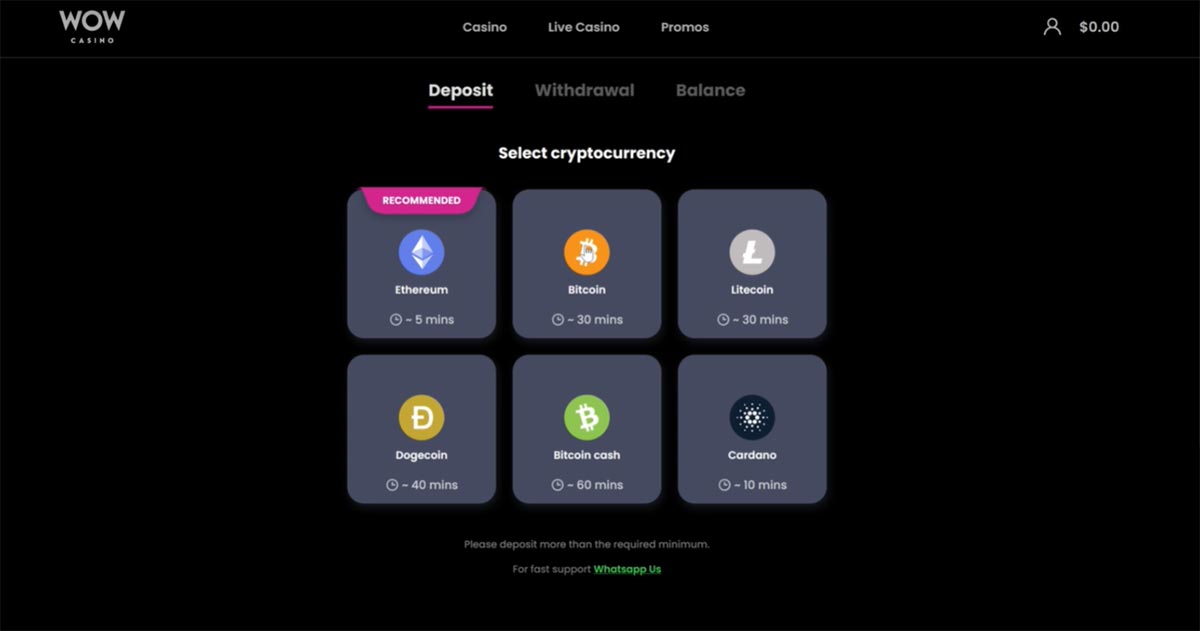 Gameplay
As soon as her account was funded, the tester went on to explore some of the many games featured in the operator's catalog. The first in line was Silverback Gold, followed by Nine Tails and Rome the Golden Age.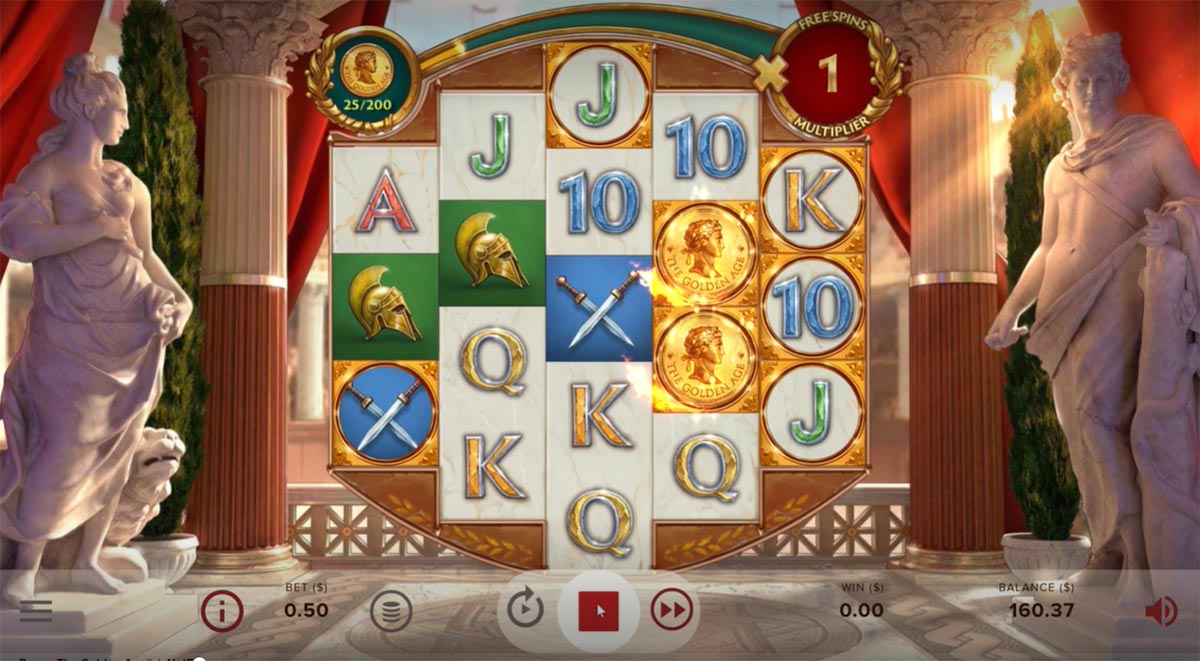 After that, the tester ventured into Calaveras Explosivas and then checked out Take Olympus, during which she triggered multiple features, and had some noteworthy wins.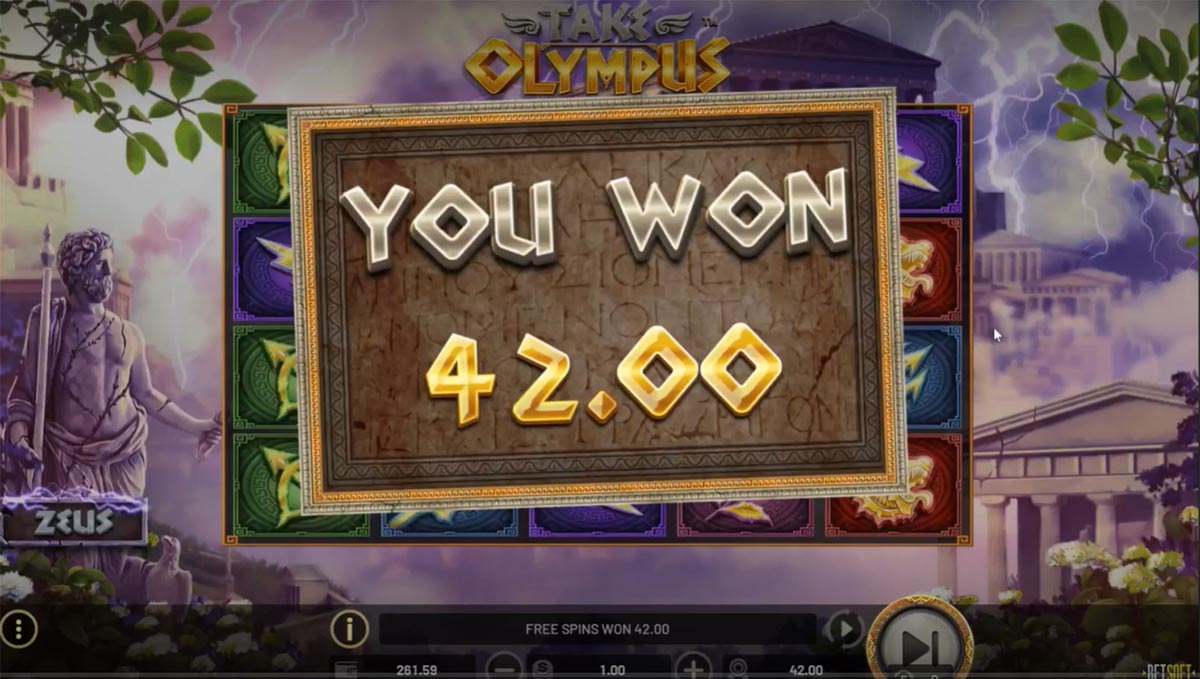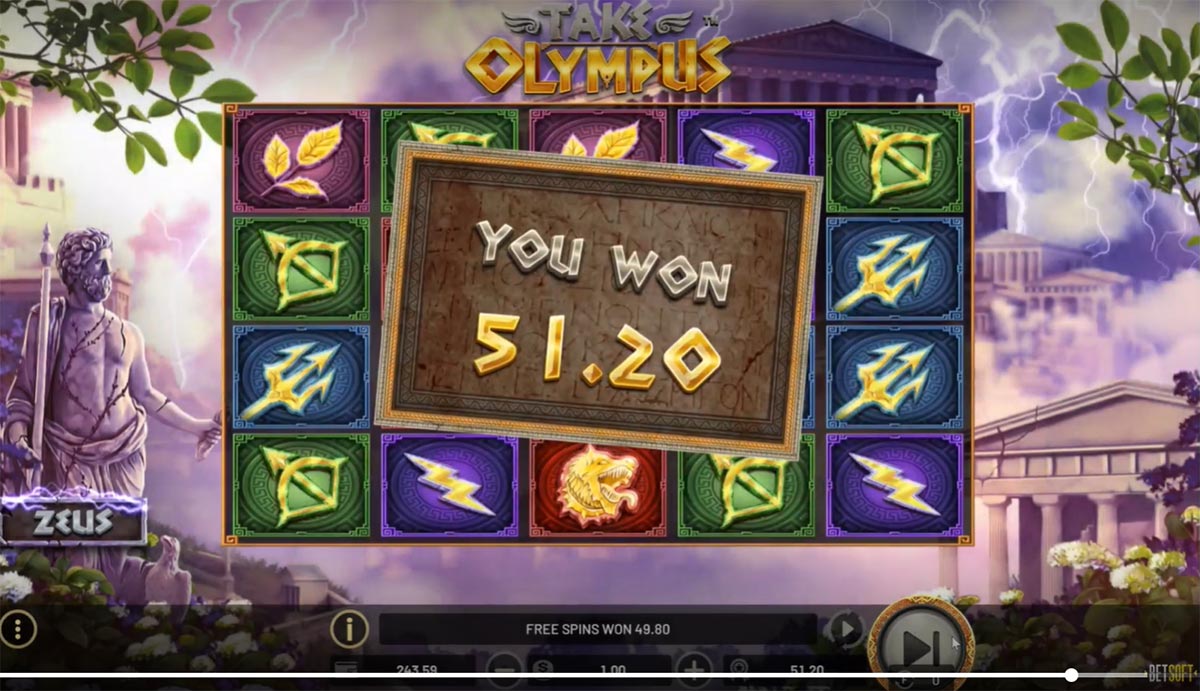 Later on, she explored Stacked and Golden Horns, as well as Dark King Forbidden Riches and The Wolf's Bane. Moreover, the tester also launched Yak, Yeti, and Roll, checked out Tycoons after which she returned to Take Olympus. Her next choice was Warlords- Crystals of Power, and Take the Kingdom, which also brought her some solid wins.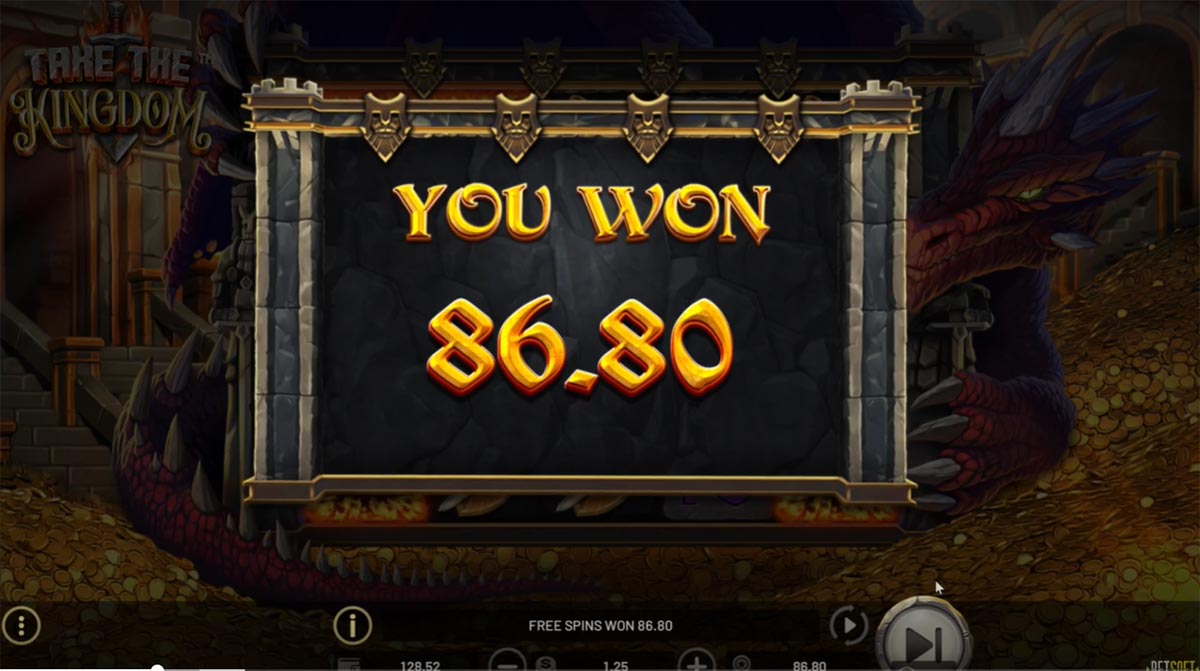 Withdrawal
Having checked out Warlords- Crystals of Power, the tester headed to the cashier, aiming to withdraw the remaining funds. She selected Bitcoin and typed in $50.14. However, upon entering the desired amount, the cashier notified her that the "Amount can't be lower than $100."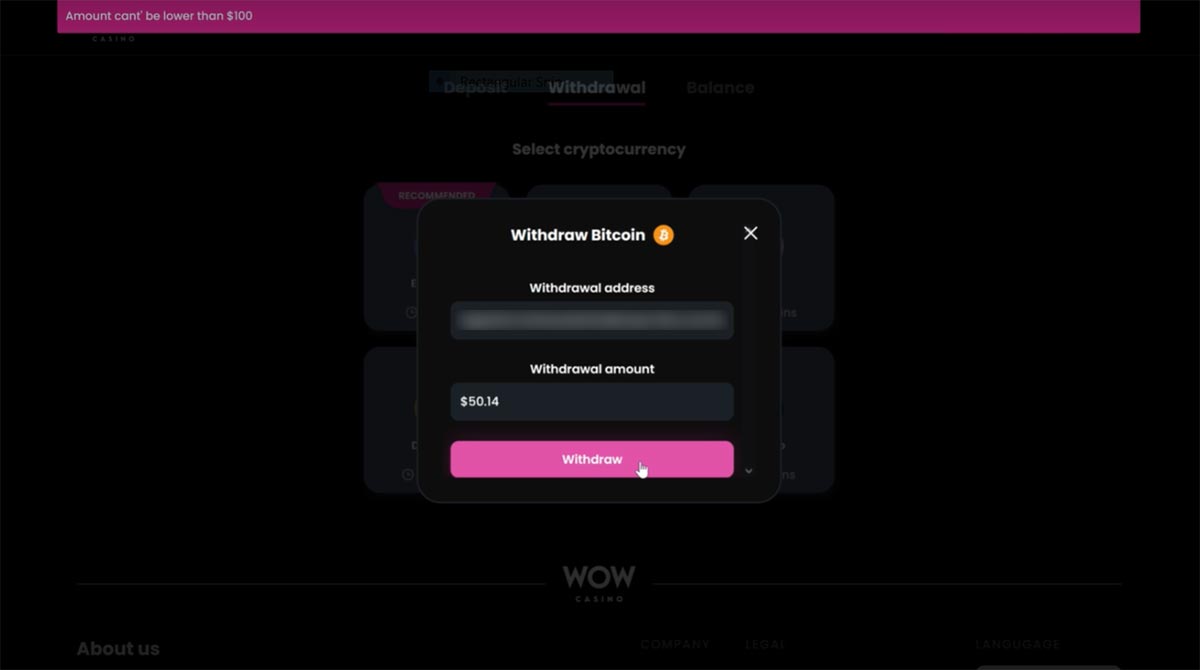 Exploring the official Terms, she encountered the following information:
"7.6 The minimum amount for a withdrawal is currently $20. Withdrawal of winnings and bonuses from pre-deposit free bonus money (if applicable) is currently limited to a maximum of $100. Any winnings or bonuses beyond $100 that have accumulated prior to your initial deposit is available for wagering but is not redeemable, irrespective of subsequent deposits. In order to withdraw winnings generated from pre-deposit free bonus money, a player must perform a successful deposit. We reserve the right to limit withdrawals to a maximum of $2,500 per calendar week."
She returned to the lobby to play one more game. As soon as her balance was $100.62, she made one more attempt to cash out on the same day. On February 9, 2022, the tester made a request to withdraw $100 via BTC.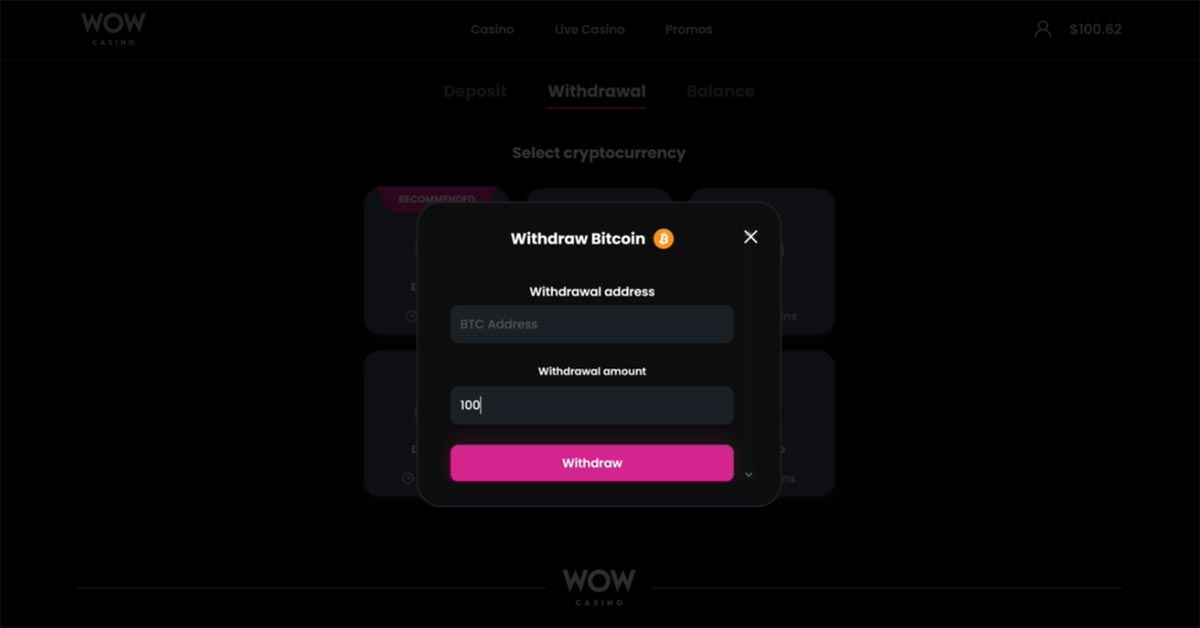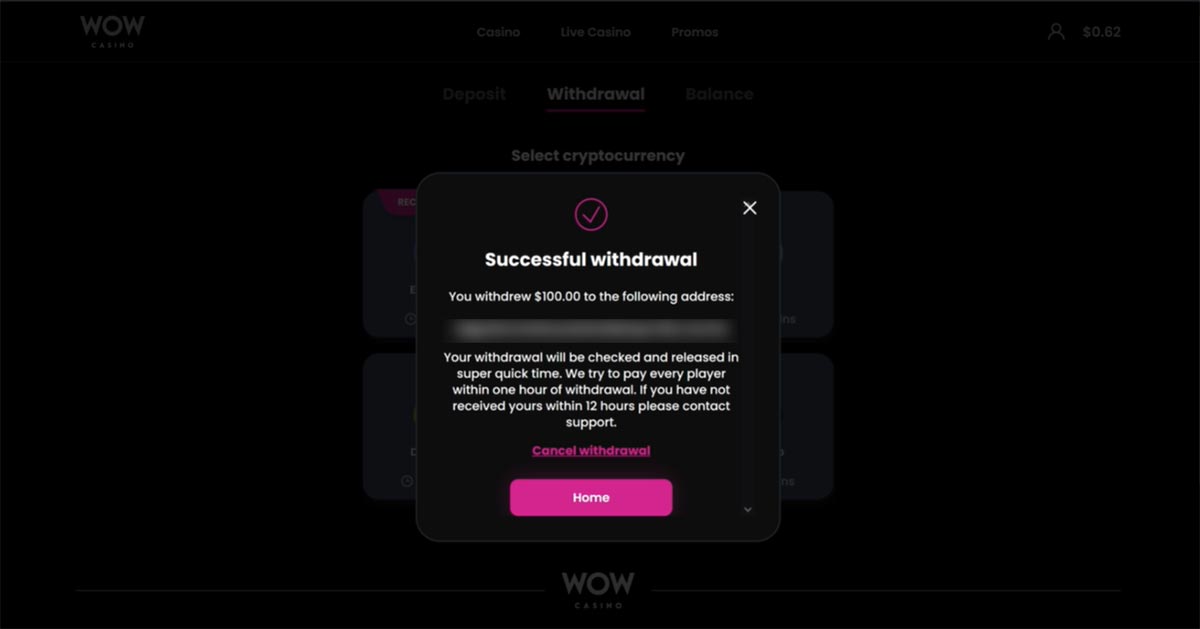 Shortly after, e-mails arrived, confirming that her request was received and processed. The transaction was finalized efficiently, and the tester received the funds on the same day.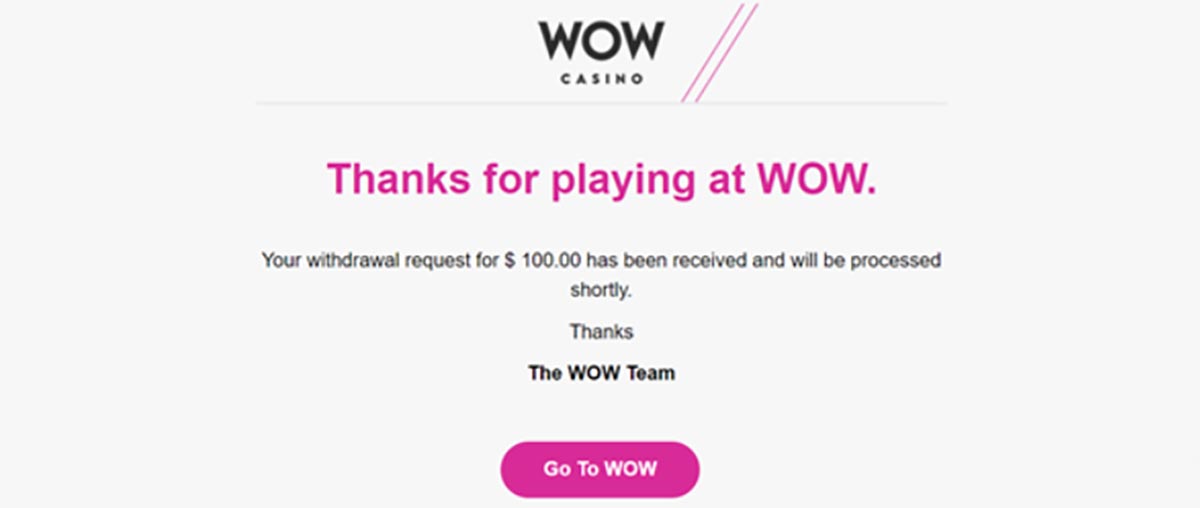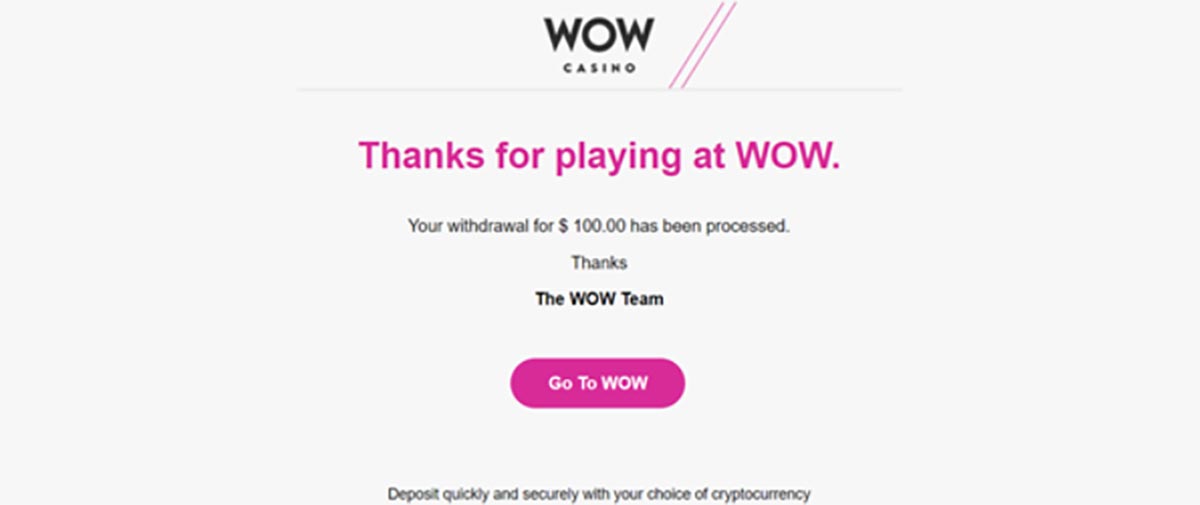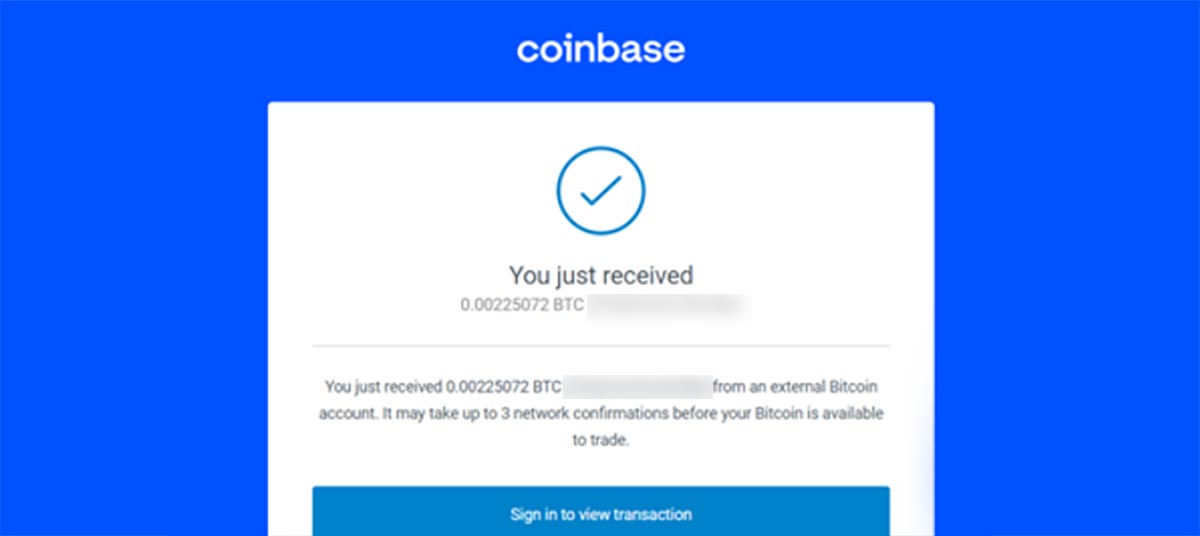 As Bitcoin value fluctuates constantly, there was a slight difference of USD 0.39 between the amount she requested and the one that was credited to her.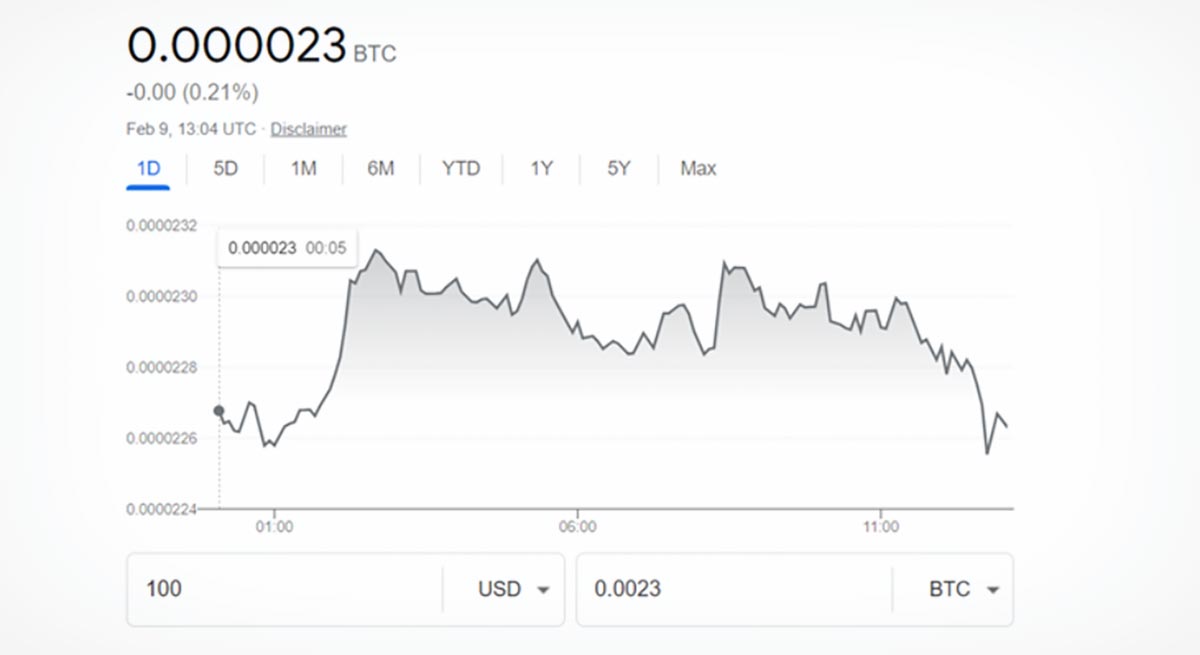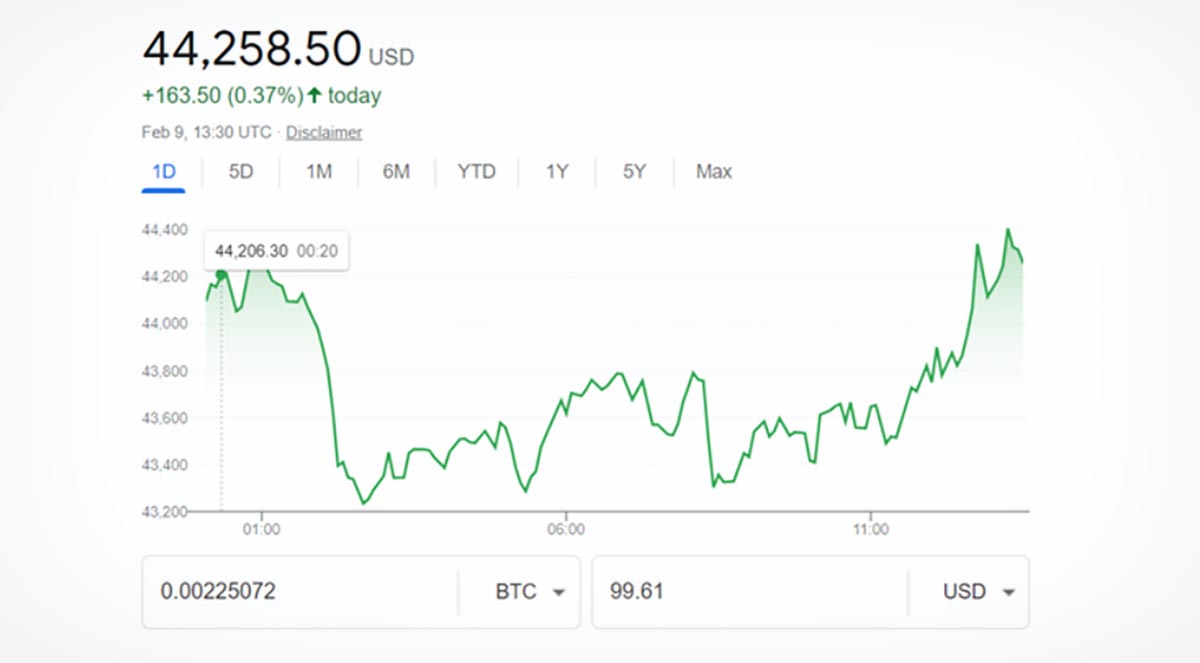 When it comes to available payment options, they are the same as for depositing- Bitcoin, Bitcoin Cash, Cardano, Ethereum, Litecoin, and Dogecoin. Processing times are the same as well.
Our tester wasn't charged any fees either, but the Terms do state that:
"7.9 We reserve the right to charge a reasonable administration fee on withdrawals if we have reason to believe a customer is not maintaining an appropriate level of play for the amount of deposits made."
"8.2 We reserve the right to charge any processing fees associated with your Crypto deposits and/or withdrawals."
"8.3 We reserve the right to alter these fees without the need to formally adjust these Terms. Any adjustment to the fees charged will be clearly shown either on our Banking Page and/or within the Cashier prior to you making a deposit or withdrawal."
Conclusion
Except for the misleading information on the minimum withdrawal amount, the tester experienced no other issues with WOW casino. Her transactions were processed in a timely manner, marking this investigation as a successful one.
Aiming to bring as many valuable insights as possible, this very tester has so far explored numerous online casinos, some of which blacklisted and on warning lists, the others reputable. If you are curious to find out more about her experiences with other betting venues, take time to read these test reports:
If you are a member of WOW Casino or consider making a deposit, we hope this report provided some useful information. In case you have already visited this crypto-friendly online casino, feel free to share your insights with us in the comments section below.
Gamble responsibly and stay tuned for more test reports coming soon!
From the Players for the Players
Back to articles