Back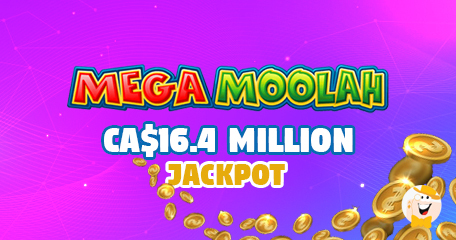 A huge strike of fortune occurred this last Monday, April 6th, when a new milestone for Microgaming's progressive jackpot network was achieved: the third largest jackpot in the history of Mega Moolah slot was won!
The exact amount is the staggering, unbelievable CAD $16,496,347.95 million!
A Massive Win
This marks the first win of the Mega Moolah top progressive jackpot prize this year…
…and it's the third-largest in history, making this lucky gambler truly a one-of-a-kind winner!
This is also the 63rd time that Mega jackpot was hit and it's way above the median jackpot range of $5,889,389. The largest ever win still remains the Grand Mondial one, of EUR 18,915,721. The second largest is the one won by the Zodiac Casino player from Canada last year, which totaled USD 20,057,743.
The Mega Moolah Mega Jackpot is hosted by Microgaming and their progressive jackpot network and can be won on a few different video slots offered by the company. The prize wins with every spin of the reels and can be won randomly on any spin.
This win has reset the progressive jackpot amount to just over USD 7 million.
Most Recent Wins
There is a long and telling history of Mega Moolah Jackpots…
…so let's revisit some of the most recent Mega Moolah wins! In late December 2019, a USD 4.9 million jackpot was won. That was the 62nd time the Mega Moolah jackpot was one.
Previously, in November of the same year, a Genesis Casino punter scored big when they won EUR 3,252,353.70 .
At the time when this happened, Andrew Clucas, Microgaming's COO, said:
"Congratulations to Genesis Casino and the lucky winner on this truly life-changing win. Mega Moolah has once again delivered an amazing payout. Our industry-leading progressive jackpot network has now paid out €1.1 billion and continues to lead the way, offering players thrilling and rewarding gameplay experiences."
Source:
"Latest Mega Moolah winner lands CA$16.4 million at Jackpot City Casino", megamoolah.com, April 7, 2020.
"unbelievable CAD $16,496,347.95 million"
General Gambling News
Back to articles