Back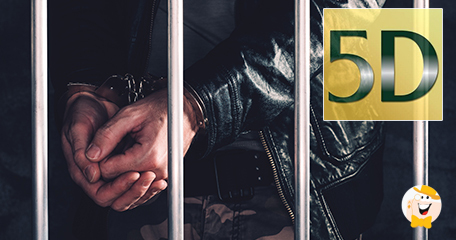 A new development in the case of kidnapped and murdered founder and owner of Costa Rica sportsbook 5Dimes, William Sean "Tony" Creighton, saw three suspects who were captured by police in Spain extradited to Costa Rica in order to be prosecuted by this country's juridical system.
The Central American nation's Ministry of Justice has published a report that says that the Spanish national police organization has shipped off a leader of this criminal scheme and two of his accomplices. They are just part of the group which counted twelve members...
...the remaining nine of which were found and captured in Costa Rica in January of this year. Several of them were police officers who were allowed to remain in freedom as they awaited trial.
Timeline of the Crime
All twelve suspects were apprehended by a coordinated efforts by Costa Rican and Spanish police forces in January, after eleven sites in two countries were raided following a trail of Bitcoin transactions that gave away the criminals' whereabouts.
After being reported missing by his family in September, the reports surfaced that 5Dimes Tony's body was recovered in remote parts of Costa Rica...
...however, these claims were soon refuted, as the country's authorities revealed that the body of a 43-year-old local sportsbook magnate has in fact not been found and that he was still regarded as missing. In the meantime, Creighton's wife said that she received a call from kidnappers who requested between $750,000 and $1 million in ransom money to be paid in Bitcoin which she and her family obeyed. This, as fate would have it, would prove to be the beginning of their downfall.
Having been traced down by Spanish authorities and international police, cybercrime departments via the full crypto transfer, the perpetrators were taken into custody and preventive confinement where they awaited extradition.
Justice to be Served
It appears that the mastermind behind the kidnapping was 25-year-old Costa Rican, Morales Vega, which was one of the wrongdoers caught in Zaragoza, along with his 45-year-old mother and 24-year-old wife.
The Deputy Prosecutor's Office against Drug Trafficking and Related Offences had already taken the preliminary statement of the accused trio and the first hearing is going to be held on Friday, May 3rd in the Criminal Court of the Second Judicial Circuit of San Jose.
The ironic part of this case is that Vega – who is a computer engineer by vocation – held a false belief that Bitcoin transactions cannot be traced. He was linked to the Bitcoin wallet which received the ransom payment. It's not yet clear if the ransom money was yet returned to Creighton's family.
Source:
"3 extradited to Costa Rica over 5Dimes kidnapping, murder", Erik Gibbs, calvinayre.com, April 29, 2019.
"suspects who were captured by police in Spain"
General Gambling News
Back to articles