Back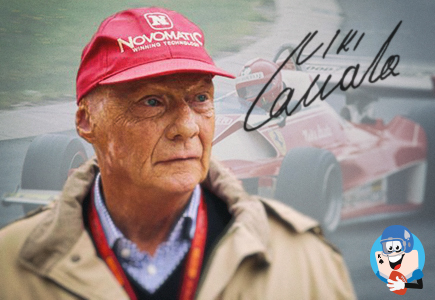 On Monday, May 20th, 2019, Formula One racing legend, Niki Lauda, died peacefully at the age of 70. Walter Klepetko is the doctor that performed a lung transplant operation on Lauda in August of 2018 and confirmed his death on Tuesday, May 21st, 2019.
Lauda was extremely lucky for living to age 70 as he almost died in a flaming race car crash back in 1976. He also had two kidney transplants as well. The first of which occurred in 1997 when he received a kidney from his brother as the organ donor. When that kidney began failing, he underwent another transplant in 2005. This time, his girlfriend donated the organ to help keep him alive.
Now that this legendary Formula One racing champion has passed away, this is the appropriate time to look back on his life, career, his amazing comeback, and anything else surrounding him. He was an amazing man who inspired so many people with his courageous desire to compete in doing what he loved to do despite what he went through.
Start in Professional Racing:
Lauda came from a wealthy family in Austria as his paternal grandfather was the famous Austrian industrialist, Hans Lauda. His family highly disapproved of his ambitions to avoid the family business and become a professional race car driver with his sights on Formula One racing.
He started racing with a Mini from the British Motor Corporation (BMC), and he moved on to Formula Vee or Formula Volkswagen, which is an open wheel, single seater junior motor racing formula. Progressively, Lauda upgraded to drive in private sports cars manufactured by Porsche and Chevron. 
Disappointed with his cars not being able to match his driving abilities, he took out a bank loan in 1971, secured by a life insurance policy, in order to buy his way into the March racing team driving in Formula Two racing (F 2). This was a very risky proposition for the young but promising European race car driver. Lauda could have lost everything as his family would not support his racing career, and he cut off any further contact with them over the issue.
Transition into Formula One Racing:
Lauda didn't waste any time and was promoted to the March racing's Formula One Team by 1972. Unimpressed by the team's custom racing cars, he decided to once again take out another bank loan to buy his way into British Racing Motors (BRM) Formula One team in 1973. His talented driving caught the attention of Enzo Ferrari, and Ferrari signed him in 1974, which allowed him to pay off his debts he acquired from the bank loans.
Driving for Ferrari:
In Lauda's first race and 1974 season opener for Ferrari in the Argentine Grand Prix, he placed second in the race. Three races later, his first Grand Prix win came in the Spanish Grand Prix, and it was the first GP win for Ferrari since 1972. He also won the Dutch Grand Prix that year (1974) as he finished the season in 4th place in the Drivers' Championship. Prior to the start of the 1975 campaign he devoted most of his time to testing and improving his car.
A slow start in 1975…
…until he started driving the new Ferrari 312 T. As soon as he took the wheel of the new car, which he helped design, Lauda won four of the next five races while dominating the Formula One racing circuit. Lauda locked in his first F 1 World Championship by the graces of his 3rd place finish at Monza in the Italian Grand Prix.
Teammate, Clay Regazzoni and Lauda, combined to contribute to Ferrari winning the Constructors' Championship, which was the first time the Ferrari race team had won that award in 11 years.
Historic Start of 1976 Season:
Lauda began the 1976 Formula One season by winning 4 of the first 6 races while finishing second in the other 2 races. He had over doubled the amount of points that his closest competitor and biggest rival of his career/life, James Hunt, had tallied. He earned first place victories in 5 of the first 9 races in 1976 while finishing no worse than third place in 8 of the first 9 races (1st – 5, 2nd – 2, 3rd – 1, Retired – 1) and was looking to beat Jim Clark's 1963 record for most races won in a season which was 7.
1976 Crash at the German Grand Prix:
Prior to the race at the Nurburgring in the German Grand Prix, Lauda tried to persuade the other drivers to boycott the race as it was poorly managed, lacking safety arrangements, and the weather conditions were rainy and wet.
The challenges that coincide with the Nurburgring are it is by far the longest circuit, it has major elevation changes (mountains), its narrow, its bumpy, it lacks run off areas, it has sections of wet and sections of dry surfaces, and it is very hard if not impossible for fire marshals to access the course in some areas.
His boycott of the race failed as other drivers out voted the boycott by only one vote, so the race was on that first day of August in 1976. During just the 2nd lap, his Ferrari veered off the course hitting an embankment causing his car to become engulfed with flames that he was unable to escape at first. The accident resulted in Niki receiving horrible burns to his face and head compounded with the inhalation of extremely hot and toxic gases and fumes damaging his blood and lungs severely, leaving him in a coma.
"The main damage, I think to myself, was lung damage from inhaling all the flames and fumes while I was sitting in the car for about 50 seconds. It was something like 800 degrees.''
"Then my lungs recovered and I got my skin grafts done, then basically there was nothing left. I was really lucky in a way that I didn't do any [other] damage to myself. So the real question was then will I be able to drive again, because certainly it was not easy to come back after a race like that," said Lauda.
Finish to 1976 Formula 1 Season:
Lauda refused the advice from doctors, racing professionals, and loved ones not to return to racing. After missing two races and approximately 6 or 7 weeks he was back on the course of the Italian Grand Prix.
He was still wrapped in bloody bandages and obviously was extremely scared (& scarred) out of his mind, but he refused to not finish out the season in attempt to win the F 1 World Championship. Hunt closed in on Lauda's huge point lead little by little until James was only 3 points behind him heading into the last race of the season, the Japanese Grand Prix.
The day of the Japanese Grand Prix, it was pouring rain once again leaving the track wet and unpredictable. Lauda retired after only two laps as to not push his life that he was lucky to still have. Hunt finished the race in third place, and the McLaren driver, Hunt, ended up winning the World Championship over Lauda by one single point.
"To me it was clear. It was simple. The circuit was flooded. Flooded," Lauda said.
"The rain did not stop for two hours and this idiot Japanese race director came and said the race is on now... this for me was the most stupid decision ever. I did one lap so that Ferrari gets the money and off I went."
"For me it was logical. I think I would do the same thing again today," he continued.
Final Season with Ferrari:
Although he beat out his intense rival of the McLaren racing team, James Hunt, to win his second World Championship in Formula One racing in 1977, he experienced a lot of turmoil and friction with his Ferrari racing organization. These issues revolved around other drivers on his team as well as the lack of support Lauda sensed from Ferrari. Before the end of the season, he quit driving for the upscale car company.
First Retirement:
For a $1 million salary, Lauda was picked up by Brabham – Alfa Romeo racing team sponsored by Parmalat. He drove for two years under his new racing team until deciding to retire from Formula One claiming he had no more desire to "drive around in circles," according to Lauda as he announced his retirement from the sport. He returned to Austria to run his charter airline company (Lauda Air) he founded full time.
Comeback with McLaren Racing:
In 1982, Lauda returned to Formula One racing by joining the Marlboro McLaren International team for a $ 3 million salary which was unheard of at that time. He finished 5th overall in 1982, and 10th overall in 1983. In 1984, he found love in his new car, and he finished in first place overall winning his third and final F 1 World Championship. The following season (1985) was his last as a driver as he retired from 11 of the 14 races he started.
What Others had to Say about Lauda
"Most courageous act of any sportsman," says teammate John Watson referring to his comeback.
"I came around shortly after the accident and the other drivers that were there managed to get him out of the cockpit and walked him away," teammate Briton Watson said.
"We lay him down and I put his head in my lap and he was able to communicate. Nobody realised the actual damage to Niki. The real danger he was in was not from the superficial injuries that we could see but from the deeper injury which was that to his lung."
"He'd suffered inhalation of toxic fumes from the burning fibreglass and we didn't appreciate the severity of the injury that he'd suffered. It was only after two or three days that the story came out that it was the lung damage that was the injury putting his life in danger. Racing 40 days after that accident was the most courageous act of any sportsman I've ever seen in my life."
Watson continues to say, "What was really more remarkable was the speed of his recovery and what he was able to achieve. His courage, his commitment, focus, determination and bloody-mindedness. All the naysayers were saying that 'Lauda is finished' but his health and condition at Monza was just remarkable."
"He was winning the world title in 1976 by a country mile up to that accident and it was this year where there was this battle between Niki and James Hunt, so there was a lot of motivation to get back into the car."
Sir Jackie Stewart said, "During that accident he died twice and was resuscitated. Recovering from that accident, he came to Monza [for the Italian Grand Prix], which I was doing commentary for. He shouldn't have been there but wanted to get back to racing. I will never forget him putting his helmet on and he was suffering so much pain. When he came out from driving at the end I was there and the blood was running down out of his helmet."
"It's very sad news. I've known Niki for a long time and he was just entering grand prix racing when I was retiring. We had a season together. He always had great integrity and was one the smoothest, best drivers I've ever seen."
Toto Wolff said, "First of all, on behalf of the team and all at Mercedes, I wish to send our deepest condolences to Birgit, Niki's children, his family and close friends. Niki will always remain one of the greatest legends of our sport - he combined heroism, humanity and honesty inside and outside the cockpit."
"His passing leaves a void in Formula 1. We haven't just lost a hero who staged the most remarkable comeback ever seen, but also a man who brought precious clarity and candour to modern Formula 1. He will be greatly missed as our voice of common sense."
"Our Mercedes team has also lost a guiding light. As a team-mate over the past six and a half years, Niki was always brutally honest - and utterly loyal. It was a privilege to count him among our team and moving to witness just how much it meant to him to be part of the team's success."
Nico Rosberg tweeted, "Dear Niki. Thank you for everything that you did for me. I learned so much from you. Your passion, your fighting spirit, to never give up, you belief that you always meet twice in life, and even your patience with us youngsters."
"Myself and all of your 100 million fans around the world whom you also so strongly inspired to never give up in the hardest of times are thinking of you and your family and wish that you rest in peace."
Actor Daniel Bruhl who played Lauda in the movie Rush said, "The bravest man, I've ever met, not only because he was an F1 world champion in the crazy '70s and had the most incredible comeback in sport's history, but also because of how he treated people."
"Always honest, straight forward, blunt. Niki told you the truth in your face, no matter how uncomfortable. He was totally unpretentious and incredibly funny. I learned a lot from him and deeply admired him. I know how much you enjoyed flying. Race the sky in peace immortal champ, we'll miss you."
Ferrari also released a statement: "Everyone at Ferrari is deeply saddened at the news of the death of our dear friend Niki Lauda. He won two of his three world championships with us and will always be in our hearts and in those of all Ferrari fans. Our sincere condolences go to all his family and friends."
World champion Damon Hill says, "He was a remarkable individual in every way. I was certainly one person that looked at Niki and thought 'I'll never be half the man he was. His career was stylised and characterised by his intelligent approach. When he came up against Alain Prost, he knew he couldn't beat him on speed so he beat him on tactics. He was thoughtful, intelligent, pragmatic and just got the job done."
Jenson Button who is a former World Champion said, "A legend has left us. Rest in peace Niki."
Driver Max Verstappen says, "Shocked by the loss of Niki Lauda. He was a true legend in our sport and someone I had great respect for. May he rest in peace."
Christian Horner from Red Bull says, "Rest in peace to an F1 legend that I was lucky enough to call a friend. A very sad day for the entire motorsport community. All at Red Bull Racing share their thoughts with Niki's family and friends at this time. Godspeed Niki."
McLaren said, "Niki will forever be in our hearts and enshrined in our history."
Driver Johnny Herbert says, "A real loss to sport and a big hole in our hearts. Courageous, chatty, and extremely funny. I am going to miss you being around the F1 paddock but the legend of Niki Lauda will live on, because you were a very, very special man. Thanks for all the memories."
Formula 1 said, "Rest in peace Niki Lauda. Forever carried in our hearts, forever immortalized in our history. The motorsport community today mourns the devastating loss of a true legend. The thought of everyone at F 1 are with his friends and family."
General Gambling News
Back to articles