Back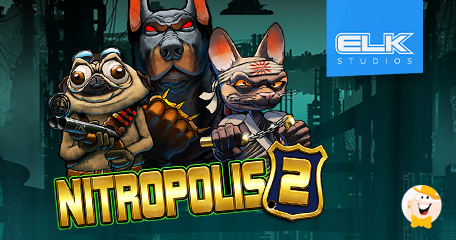 Six months after presenting a dystopian parallel reality with animal clans in Nitropolis, ELK Studios continues this ravishing story with Nitropilis 2. Once again, the online slot game triggers the fight over dominance between Dirty Dawgs, Gritty Kitties, Rouge Rats and Pug Thugs for the green nitro.
This time around, there is even more fun action commentary from the "crafty reel critters", so if you're into cleaning up the city, unite with sergeant Nitro Wolf and get the filth out by locking up Rogue Rats! Still, they will not give up without a fight, meaning that players are in for a bumpy ride!
The Dogs Are Back!
The next chapter through the post-apocalyptic, animal-run futuristic world in Nitropolis 2 is taking us on another volatile journey with a solid potential and challenging RTP levels.
It all plays out on a 6-reel setup with 4 rows, only this explosive version comes with Nitro Reels and an additional boosting top reel – the Nitro Booster. There are also some winning respins, wilds, both ways pay features, 4096 ways to win, and a bonus game with locked Nitro Reels in the picture, so brace yourselves!
Characterized as the game's biggest attraction, the Nitro Booster will add features to the main reels. While the green Nitro Boosters affect the Nitro Reels in the same column, the gold ones will affect all of them. Apart from these abilities, there are 8 different features ranging from upgrading the number of symbols in the Nitro Reels, to guaranteed wilds, bonus symbols, respins, and pay both ways mechanics.
When it comes to special game features, we must emphasize the provider's award-winning X-itersolution that allows players to jump right into the action and choose their favorite scenario over and over again... there are 5 different game modes in the picture, ranging from a 5x bet with a guaranteed win to a 500x Super Bonus.
While ELK decided to energize the original slot Nitropolis with "only" 85,155,840 it is interesting to mention that the sequel comes with a staggering 191,102,976 ways. This number of paylines is generated if players nail 24 symbols per reel though.
How, you ask? Well, since all non-winning symbols during the feature become sticky, the winning positions spin again and the process repeats as long as you keep nabbing those rewards.
Keep in mind that Nitro Reels cover 2 symbol places and contain 4, 6, 8, 10 or 12 payout symbols and if you land three or more bonus symbols, Nitropolis 2 will enter into complimentary spins. During this stage, all Nitro Reels lock in place for the remaining extra rounds and the bonus game can even be retriggered.
A Trip to Frozen Paradise Next
On 18 May, avid fans of ELK will have a unique chance to travel to the very coast of Antarctica in Tropicool, an island unlike any other featuring characters Tony Toucano and Fiona Flamingo.
These guys got tired of migrating every year and decided to create their own little paradise among palm trees, snowflakes, beach huts and frozen fruit, so if you're into a 6 columns, 6 rows frosty slot story with an additional feature reel, get ready for another round of stacked symbols, locked wilds and a surprising row swap feature, plus a bonus game with progressive multipliers.
Source: "Nitropolis 2 Live Now!", elk-studios.com, May 4th, 2021.
"ELK Studios continues this ravishing story with Nitropilis 2"
Casino Games
Back to articles