Back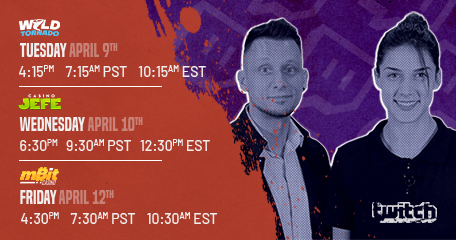 Well well well - it's a brand new week and 15 internet points goes to whoever guesses first what that means (hint: it's not about toiling at a workplace all over again). Okay, well, it's not that hard, is it – not after we've spoiled you so with our constant influx of Dunja and Alex, our delightful Twitch duet.
Much like a full-fledged, proper TV programme, we are getting on track to instating a regular time frame for our slot-spinning, jaw-dropping webcasts so if you've been around last week, get ready for a deja vu – only SORT OF a deja vu, of course...
...because the games we'll be playing will be totally new, as will everything else!
Roll On Tuesday!
Not one thing though, one thing will stay the same: you will again get to witness the hilarious antics of suave Alex and lovely, charming Dunja (and her Russian alter-ego, should we be so lucky it makes an appearance) one-upping each other as they go through all the slots they'll be playing.
And which would those be? We're not going to tell you. You'll just going to have to show up and see for yourself. The venue? WildTornado Casino!
So – down to business. The first Twitch stream this week is scheduled for TOMORROW, Tuesday, April 9th at 4:15 PM CET (7:15 AM PST/10:15 AM EST) and – as should be familiar by now – you are more than cordially invited to join us on THIS LINK HERE which is the whereabouts of our official Twitch channel.
Follow us and be there at specified time, but hold on...
Don't Forget Wednesday and Friday!
...that's not quite all, because we have TWO more webcasts this week alone!
On Wednesday, April 10th, at 6:30 PM CET (9:30 AM PST/12:30 PM EST) at Casino Jefe and on Friday, April 12th, at 4:30 PM CET (7:30 AM PST/10:30 AM EST) at mBitCasino!
Our hosts have their very own Forum topic where you can send your feedback and ask them questions – so, go ahead and do just that!
And, of Course – the $1000 Contest
We'd like to take this opportunity and remind you of our exclusive $1000 Cash LCB Twitch Contest …
...which is as easy as you becoming our Twitch follower, tuning in during our live shows, being active on chat (which is mindblowingly fun on its own!) and staying until the very end of stream!
Remember, the more active you are, the more points you will collect and your odds of ending up on a leaderboard among those sharing a $1000 prize pool will be highly boosted.
Check out all the rules of this contest on the link above and partake! After all, our Twitch shows make little sense without the active participation of you, our members and avid followers.
See you this week for a new round of live fun!
"Twitch shows make little sense without the active participation"
LCB News
Back to articles