Back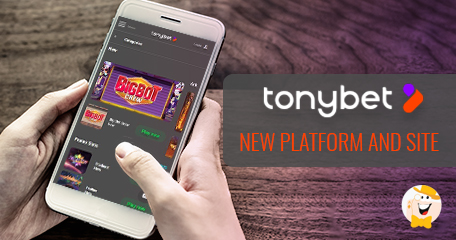 TonyBet Casino has re-launched their refurbished, overhauled and generally improved website, giving the online casino operator a new shine just in time for Christmas!
The new and improved platform has been in the works for some time now, having been constructed behind the scenes of a constantly operating website. Casino officials say that the "more robust and engaging online gaming experience" will boost the site's efforts to "expand their reach in the UK and EU."
The new platform also marks the first step towards UX optimization strategy.
Recognition of Mobile Functionalities
The brand-new online platform for table games, slots, poker and sports betting and its seamless user interface is released in time for the annual SiGMA conference...
...and the major part of the site's new platform is the improvement of its mobile functionalities which are ready to usher in the new era and demands made by the next-gen smartphones and tablets.
According to the casino's Managing Director, Viktorija Antenaviciute:
"We're excited to close 2018 with such a huge step towards our vision for TonyBet as a leading international online gaming platform. Our focus on user-friendliness, particularly on mobile devices, will continue into next year, as we believe that this is the only way to gain market share in the competitive space of online gambling."
New Site, New Promos
Very lightweight in nature, the site's improved loading speeds come with a minimalistic look typical for the new wave of web design:
Dark gray background creates an optimal contrast with casino's intuitively arranged content and user-friendly menu that points to all key directions.
Suitably enhanced to complement the site's new cloth is the Promotions section which now boasts No Goals, No Loss! Deal ( ), Backup deals and Double Winning offers, Accumulator deals for NBA and Football, Poker Starter Bonus and more, on top of generous 100% welcome bonus.
Branching Out From Lithuania
TonyBet was founded in 2009 by Lithuanian serial entrepreneur and professional poker player, Antanas Guoga (aka Tony G), and was subject to a delicate long-term growth strategy from day one. The business advanced quickly until it became ripe for international take off.
In 2016, an executive decision has been made...
...to hand over Lithuanian operations and diversify the sports and casino platform on a global market. Since then, this online casino has been focusing on new primary markets such as UK and larger EU member states. The expansion is still ongoing, as TonyBet maintains ownership of its brand products and gambling licenses.
Source:
"TonyBet Launches New Design: Another Step Towards Strategic Growth", TonyBet Press Release, December 7, 2018.
"The brand-new online platform"
General Gambling News
Back to articles