Back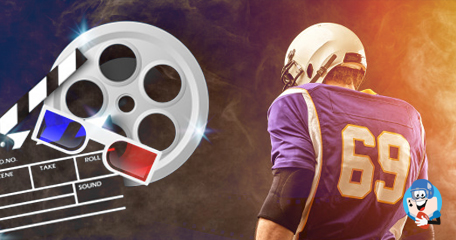 We're finally down to the final ten titles of the top 50 sports movies list, there have been plenty of memorable films listed so far in the first four parts of this series. The ranking has been done using the IMDb ratings for each of these movies and I can say with certainty that all those that are included in the top ten are outright masterpieces. 
Let's check out what we have in the top ten: 
10. An Impossible Job (1994)
This memorable documentary follows the England national football team through the qualification campaign for the 1994 World Cup. Manager Graham Taylor had a pretty hostile press and quite a bit of bad luck as his team failed to qualify for the final tournament, a real disgrace for a proud football nation like England. 
9. Touching the Void (2003)
This is a special film about two special people, Joe Simpson and Simon Yates, two mountain climbers who took on a never-before attempted ascent of Siula Grande in the Peruvian Andes. It all happened in 1985 and what goes on on that mountain is difficult to imagine. I won't give any spoilers but I do recommend this film because it will definitely teach you a lesson about just how much a human being can endure. 
8. When We Were Kings (1997)
This documentary tells the story of the most famous fight in the history of boxing, "The Rumble in the Jungle" that took place in Zaire back in 1974. The fight was between Muhammad Ali and George Foreman but it wasn't just a boxing match, at times it felt that it was an event that was larger than life. This film won the Academy Award for best documentary. 
7. Million Dollar Baby (2004)
This is a really emotional and inspirational movie, directed by the legendary Clint Eastwood who is also an actor in this picture. Hilary Swank did a huge job as the main character, while Morgan Freeman is as great as ever. It's the story of an underdog that manages to get to the top against all odds, with the help of a coach that seemed destined to live the last years of his life in bitterness and regret. 
6. Rocky (1976)
I don't think there's anybody in the world who has not watched this film at least once. I think I have watched it at least ten times, can't even remember the exact number, and it was always a delight. It has the classic story of the underdog, in fact Rocky has become the very definition of the underdog in sports. There are several sequences that have become popular culture since then, like the ascension of the stairs in front of the Philadelphia Museum of Art, the training session in the meat locker or the main character shouting "Adriaaaaan!" at the end of the exhausting fight. Actually, the only minus about "Rocky" is that they made so many bad sequels after this. 
5. Rush (2013)
This film tells the story of Niki Lauda, the Austrian Formula 1 champion that continues to be an icon of that sport. The action is focused around the battle between Lauda and James Hunt for the 1976 Formula 1 world championship, an epic fight between two powerful characters. The movie does a great job of reconstructing the atmosphere of F1 racing back in the 1970s, it's quite clear that they didn't spare any expenses when designing this production. 
4. Free Solo (2011)
This is an incredibly intense documentary about a sport that is only for the brave: free soloing. It's a variation of rock climbing, with the main and huge difference being that in free soloing you don't have anything to help you: no ropes, no tools, it's just you and the mountain. The film follows Alex Honnold on his quest to climb Yosemite's El Capitan, a massive vertical wall that can be incredibly difficult to climb even with ropes and tools. 
3. Raging Bull (1980)
This is a timeless classic, a masterpiece from iconic director Martin Scorsese starring a sensational Robert De Niro. The film tells the story of American middleweight boxer Jake LaMotta, a legendary fighter that had an incredible rivalry with Sugar Ray Robinson during the 1940s and the early 1950s. He also had a troubled private life, which makes for a big part of this movie. Oh, and there's also Joe Pesci in this film, doing a splendid job as always. 
2. Hoop Dreams (1994)
This is one of the best sports documentaries I've ever seen, an epic movie that follows the journeys of two boys from Chicago who are dreaming of making it to the NBA. Arthur Agee and William Gates were followed by the film crew between ages of 14 to 19, while trying to get the best opportunities towards developing their basketball careers. 
1. Senna (2010)
The best movie in this list is about one of the sports people that I loved the most in my life: Ayrton Senna. The legendary Brazilian Formula 1 driver was an inspiration to millions of people around the world and his tragic death is still an event that causes a lot of grief. He remains the greatest driver of all time and it's only right that I consider this film as the greatest sports movie of all time. 
I hope you have enjoyed this journey through my favourite sports movies and hopefully you have found a few titles to watch in here while we wait for the coronavirus pandemic to fade out and leave our favourite sports restart. Please make sure you check out part one, part two, part three and part four, and also share your favourite movies in the comments. 
Gambling Law & Society News
Back to articles