Back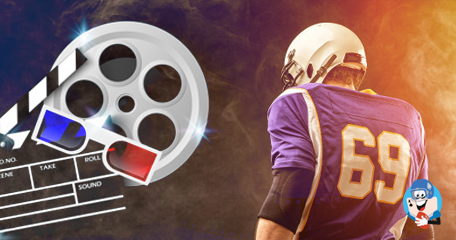 We are getting closer and closer to the top ten, but that doesn't mean that the movies listed between the 50th place and the 11th are not equally worthy. I remind you that I chose to rank them according to their IMDb ratings, but most times those ratings don't reflect my personal view or even the value of the movie itself. 
Anyway, let's see what we have between places 20 and 11: 
20. Moneyball (2011)
This movie is based on a real story, one that changed baseball forever. It all happened in the 2002 season, when the Oakland Athletics were expected to be in all sorts of trouble after having lost three key players at the end of the previous season. Manager Billy Beane, played by Brad Pitt, made some low-profile free agent signings to replace the lost players, but he had the bigger picture in mind. This is a gripping story and a film that could inspire team leaders in any field. 
19. The Hurricane (1999)
This one is based on another very inspiring real-life story, that of former professional boxer Rubin 'Hurricane' Carter. The former fighter, played brilliantly by Denzel Washington, was convicted of a crime he did not commit. The film is extremely emotional as other people get to know Carter's drama and try to help get him out of prison. 
18. A Sunday in Hell (1976)
This documentary is a must-see for any cycling fan, as it tells the story of the toughest one-day race on earth: Paris - Roubaix. It features cycling legends like Eddy Merckx and Roger De Vlaeminck and is an ode to this sport. The fans are also a big part of this film, as they gather on the toughest paved sectors of the race to watch the pain of the cyclists up close and try to encourage them towards the velodrome in Roubaix. 
17. Breaking Away (1979)
This is another title for cycling fans, one that you probably haven't heard about until now. This movie is not a masterpiece by any means, but it has become a bit of a cult classic. The film tells the story of a 19-year-old boy in Indiana that sees himself as an Italian cycling great, triggering furious reactions from his father. Dennis Christopher and Dennis Quaid star in this film, a must-see if you like cycling and a bit of comedy. 
16. Diego Maradona (2019)
This HBO documentary follows the life and career of football's greatest and most controversial player, his rise to stardom and his fall from grace. There's absolutely everything in this movie, from Maradona's fabulous moments on the pitch to his downfall off the pitch. Beyond sports, this is a story about life, about balance and about how things can quickly change and take you from the top to the gutter. 
15. Fire in Babylon (2010)
This is a documentary about a great team in cricket history, the West Indies cricket team of the 1970s and 1980s. This team dominated the world for almost two decades, defeating the biggest nations in the sport. The film is beautifully shot and edited and it also touches the issues of civil rights and racism, which sport can deeply affect. 
14. Murderball (2005)
This is another eye-opening documentary, which follows the story of the American and Canadian wheelchair rugby teams before the 2004 Athens Paralympics. Yes, wheelchair rugby does exist and it is an extremely intense sport. It is the most violent Paralympic sport, hence the "Murderball" nickname. 
13. This Sporting Life (1963)
This time we're talking about conventional rugby in a classic sports movie. This film tells the story of a Yorkshire coal worker who also is a rugby star in the amateur league. The screenplay is adapted from the novel by David Storey, who used his own experiences as a miner and rugby player to develop the story. 
12. The Wrestler (2008)
This is a film that sheds light on a sport that is not viewed as such by most people outside of the United States of America. We're talking about professional wrestling, something that is viewed more as a show than a sports event. OK, maybe it's not a sport, but this film does lift the veil on what really happens behind all that glamour and shining lights that accompany wrestling events. Mickey Rourke does a brilliant job as the main character. 
11. Cinderella Man (2005)
This is one of the most inspiring stories that has ever been put on screen, the story of boxer James J. Braddock. He is a real-life character, a real-life fighter that has made history by winning the world heavyweight title against all odds in the 1930s. Russell Crowe plays the main character in this movie, which was nominated for three Academy Awards.
Make sure you check out part one, part two and part three of the top 50 sports movies list, the final bit is coming up tomorrow! 
Gambling Law & Society News
Back to articles