Back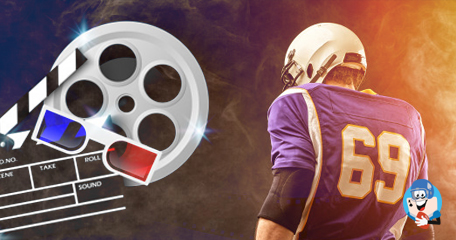 Almost all sports competitions will remain on hold at least until the beginning of June, if not even later, as the coronavirus pandemic keeps making victims all over the world. Many people remain on lockdown without their favourite pastime, watching sports, so getting into sports movies instead could be a good idea. 
So far I have listed the first two parts of my all-time top 50 sports movies, check out part one here and part two here. Now it's time for part three, let's roll! 
29. Friday Night Lights (2004)
This movie is based on real-life events, in fact the screenplay was put together with inspiration from a non-fiction book about these events. The story is about a high-school football team in a small town in Texas, going through all sorts of problems until the final game of the season. Billy Bob Thornton plays the coach of this team. 
28. A League of Their Own (1992)
This is a really inspiring movie, it reminds us that what we might take for granted today was very difficult to obtain just a few decades ago. The movie tells the story of the formation of the All-American Girls Professional Baseball League by a bunch of women that were trying to replace their men counterparts as World War II was raging on. The cast is filled with huge stars like Tom Hanks, Geena Davis and Madonna. 
27. Invictus (2009)
This film tells the real story of the 1995 rugby World Cup, which was played in post-apartheid South Africa. The Springbox won that title, their first ever World Cup title, and the movie tries to put that into perspective as a victory against racism and apartheid. The movie was directed by Clint Eastwood and it features Matt Damon and Morgan Freeman. 
26. National Velvet (1945)
This is a timeless classic, the oldest movie in my top 50. It tells the story of a girl that dreams of winning the Grand National with her beautiful horse named Velvet. The girl is played by a very young Elizabeth Taylor, and Mickey Rooney also appears in this film. It is pretty much a Hollywood classic melodrama, but still very enjoyable to watch for the whole family. 
25. Seabiscuit (2003)
This film is based on a real story, set in the years of the Great Depression. It is about Seabiscuit, a race horse that was an obvious underdog due to its reduced size, but despite that managed to rise to huge success and fame. The movie was nominated for seven Academy Awards and it stars Toby Maguire and Jeff Bridges. 
24. Eddie the Eagle (2016)
This is another unbelievable but real story, a story about a man's incredible passion for a sport. Michael "Eddie" Edwards loved ski jumping for some reason, and he dreamed about getting to the Olympic Games. He didn't remotely seem prepared for that, and he actually wasn't, especially in a sport that can be really dangerous if you don't know what you're doing. But his dream was bigger than anything else. 
23. Field of Dreams (1989)
This is a beautiful film, an ode to baseball and sports in general. The main character of the movie, played by Kevin Costner, is an Iowa farmer that starts building a baseball diamond in the middle of one of his fields. That looks crazy for everybody around him, but his dream won't be stopped. James Earl Jones and Ray Liotta also star in this movie. 
22. I, Tonya (2017)
Almost everybody that follows sports at least a little has heard about the infamous incident involving American ice skater Nancy Kerrigan. She was attacked with a hammer just before the United States trials for the 1994 Winter Olympics and the person responsible for setting up the attack was rival skater Tonya Harding. This movie tries to tell the story from Tonya's perspective and let us know more about her life and the events that led her to become the person capable of doing such a reprehensible act. 
21. The Damned United (2009)
This is another movie inspired by real-life events and characters, it tells the story of Brian Clough, the manager who led Nottingham Forest to a highly unlikely top-flight title in 1978 and European Cup glory in the next two seasons. The film follows the most difficult 44 days of his career, when he decided to leave Derby County to take over at their rivals, Leeds United. 
20. The Edge (2019)
I'm not a cricket fan, it's not a sport that has a huge following outside of England, India, Pakistan and a few other countries. However, this documentary film can make you fall in love with this sport. It follows the England Test cricket team between 2009 and 2013, a period in which this team rose from nothing to the absolute top of this sport. 
Make sure you check out part one and part two of this top 50 sports movies list, and stay tuned for the last two parts coming up in the next couple of days! 
Gambling Law & Society News
Back to articles